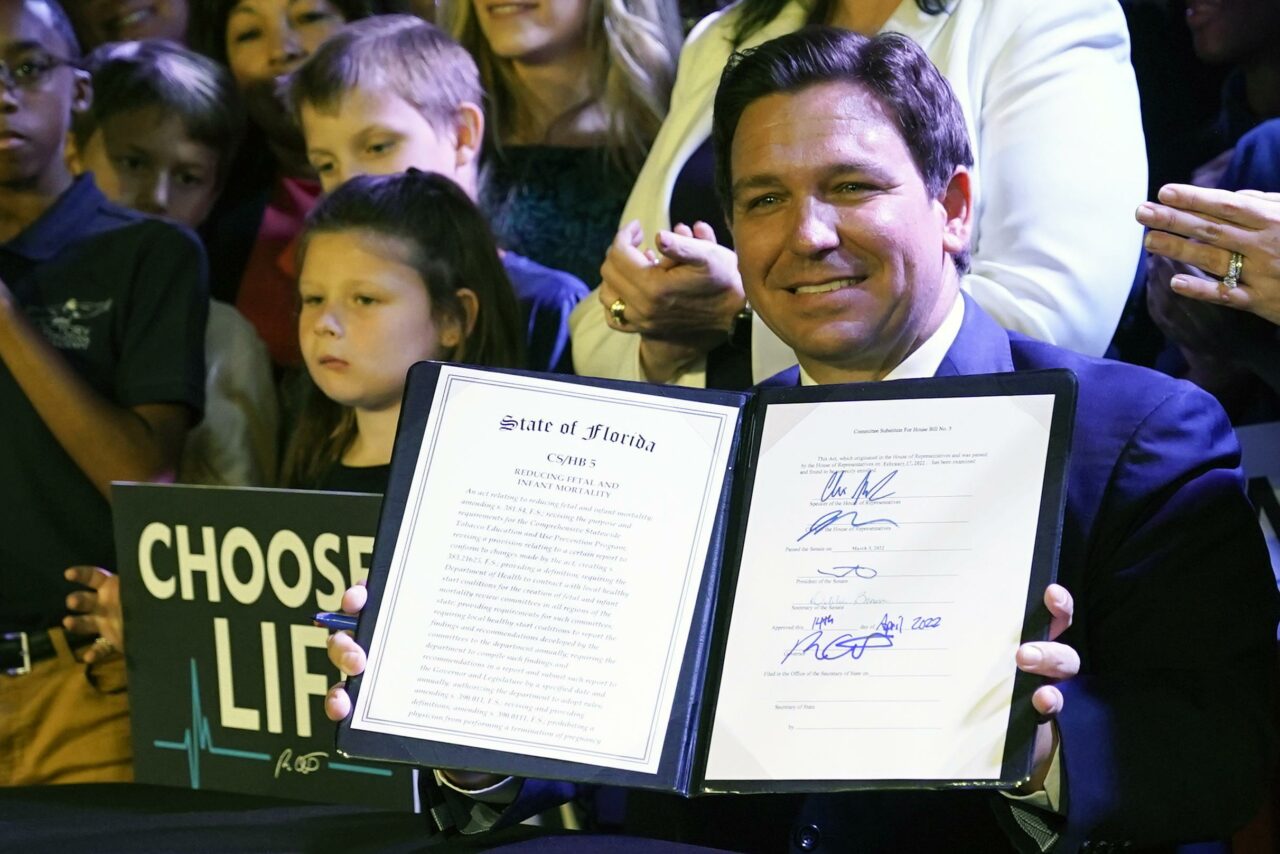 Abortion rights advocates point out the law's wording makes no distinction between patients and medical providers in calling for penalties for violating the law.
Gov. Ron DeSantis' rapid response team is promoting his remarks denying women would be prosecuted for having abortions after six weeks of pregnancy. But others say it points out exactly the problem with the law he signed this year.
The DeSantis War Room posted a clip of the moment from his sit-down with CBS Evening News anchor Norah O'Donnell that aired Wednesday night: "WATCH: @RonDeSantis shut downs (sic) CBS' Norah O'Donnell pushing a manufactured narrative about Florida's Heartbeat law."
🚨 WATCH: @RonDeSantis shut downs CBS' Norah O'Donnell pushing a manufactured narrative about Florida's Heartbeat law.

O'Donnell: "We asked the governor whether the penalties in Florida's [Heartbeat law] would include women."

DeSantis: "The penalties are for the physician."… pic.twitter.com/1k2nLpaRuH

— DeSantis War Room 🐊 (@DeSantisWarRoom) September 13, 2023
O'Donnell quotes the line in the legislation (SB 300) that says that it will be a felony of the third degree for "any person who willfully performs or actively participates in a termination of pregnancy." Some states have taken that to mean anyone who helps a pregnant woman seeking an abortion, even relatives.
"The penalties are for the physician," DeSantis said.
O'Donnell followed up: "The woman is not actively participating in the termination of a pregnancy?"
DeSantis replies, "No, because she's not a medical practitioner."
But Democrats and abortion rights advocates pushed back against that characterization Thursday. Orlando Democratic Rep. Anna Eskamani, who participated in the floor debate on the law, said that who would be subject to punishment for violating this abortion ban was one of the issues that 50 rejected amendments tried to clarify, but Republicans resisted.
"Where it says, 'any person who willfully performs or actively participates in the termination of pregnancy,' is just so broad, it could impact anyone," Eskamani said, noting it could be the person who calls the taxi to bring the person to the clinic.
DeSantis suspended Andrew Warren from his position as Hillsborough County's State Attorney, in part, because he signed a pledge not to prosecute for violations of the abortion ban. Much of that pledge focuses on the individual making the decision and how seeking the procedure can be the result of "sexual abuse, rape, incest, human trafficking and domestic violence."
"Saying there is no penalty for women who receive an abortion is an absolute lie," Warren posted. "Florida's draconian six-week abortion law expressly covers anyone who 'performs or actively participates' — covering doctors, nurses and the participating patients."
The new law does allow the procedure between six and 15 weeks of pregnancy, if the patient has documents attesting to rape, incest or human trafficking. But it has no mention of domestic violence.
As far as prosecuting women for having an abortion, Florida Democratic Party Chair Nikki Fried said the law is not what DeSantis promises — it's the words in the law. And the words in this law open the door for the prosecution of those who end their own pregnancies.
It "will be interpreted by courts that he helped stack with extremist Federalist Society Justices," Fried said in a written statement, identifying a group that has promulgated rolling back abortion rights.
Laura Goodhue, Executive Director of the Florida Alliance of Planned Parenthood Affiliates, said even though the law doesn't explicitly call for prosecuting those who seek an abortion past the six-week point in pregnancy — before most know they are pregnant — it's already created a dangerous climate for those seeking care.
"Ron DeSantis may try to pull the wool over voters' eyes, but Floridians know that he'll stop at nothing to ban abortion and punish the people who have them," Goodhue said in a written statement.
Read the pledge Warren signed here: