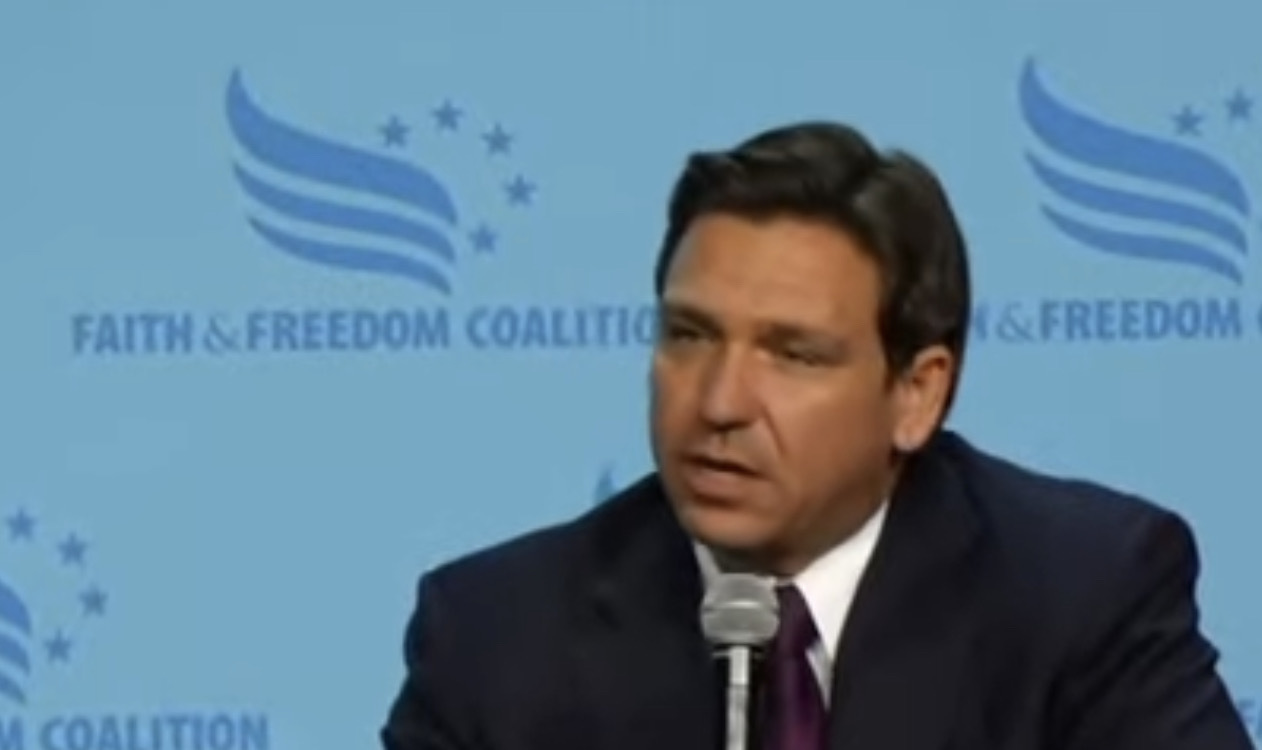 'When I'm president, on Day One, that policy goes into the trash can where it belongs."
Gov. Ron DeSantis is telling Iowans that he backs an Alabama U.S. Senator's holds on military officers, saying it's necessary to quell the Armed Forces' promotion of "abortion tourism."
During remarks Saturday at the Iowa Faith and Freedom dinner, the Florida Governor and 2024 candidate suggested that military members shouldn't value reproductive rights and questioned leadership priorities given recruitment issues.
"They are breaking … violating the law by funding abortion tourism with tax dollars," DeSantis said.
Noting that there is "a limited amount of money in a defense budget" and that ammunition is running short, the Governor continued.
"Our recruiting is in the absolute gutter now, and you're funding abortion tourism. Is that really something that is helping to protect this country? So we need to fight back against it," DeSantis added. "I can tell you when I'm president, on Day One, that policy goes into the trash can where it belongs."
Earlier this year, the DOD rolled out a policy that "provides Service members the time and flexibility to make private health care decisions while accounting for the responsibility placed on commanders to meet operational requirements and protect the health and safety of those in their care."
"Our Service members and their families do not control where they are stationed, and due to the nature of military service, are frequently required to travel or move to meet operational requirements," the Pentagon said in February.
"The efforts taken by the Department today will not only ensure that Service members and their families are afforded time and flexibility to make private health care decisions but will also ensure Service members are able to access non-covered reproductive health care regardless of where they are stationed."
The Governor has made this argument before.
During an interview with Hugh Hewitt, the Florida Governor and presidential candidate sided with Republican Tommy Tuberville, who has blocked hundreds of promotions over the DOD abortion policy, telling Hewitt that those holds should not be removed.
"What the military's policy is, is not following U.S. law. They are using tax dollars. They are funding abortion tourism, which is not an appropriate thing for the military to be doing. So, I think our Republicans in the Congress should just take a stand on this. The DOD should stand down," DeSantis said.