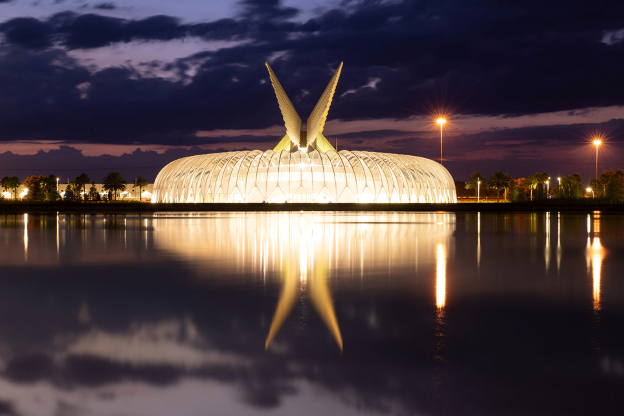 The college got great marks in the latest round of rankings.
Within a decade of its founding, a Lakeland-based university has established itself as a go-to engineering school.
U.S. News & World Report on Monday ranked Florida Polytechnic University (Florida Poly) a top-20 public engineering program without a Ph.D. in the nation. The widely-cited rankings also put the school at No. 1 on its list of public Southeast colleges for the third consecutive year.
Florida Poly President Dr. Randy K. Avent said it was "exciting" to witness the college's trend toward Science Technology Engineering and Math (STEM) dominance.
"We're just about to wrap up our first decade as Florida's only public all-STEM university, and the remarkable accomplishments our students and alumni are having in industry are evidence that our strong curriculum and deliberately small classes provide incredible value and great success," Avent said.
The fall 2023 semester marks the university's tenth academic year in operation. In addition to third-party rankings, Florida Poly points to its exponential and precocious growth as an indicator of success.
Enrollment of graduate and transfer students increased this year over last, for example. Academic offerings also grew with the addition of two new degree programs (civil and industrial engineering). The school added those degrees to align curriculum with industry needs.
Last year, the Florida Poly opened a 90,000 square-foot academic facility that significantly expanded the school's research capabilities. And to accommodate more students, the university is building a third student residence hall and expects it to be ready by fall 2024. It also says it should soon begin construction on a new engineering building.
Florida Poly also is looking forward to the spring semester, when Fortune 500 IFF opens its citrus innovation center in partnership with the school.
"In the short history of Florida Poly, so much has been achieved. The University has been recognized now, not once, but year over year, for the excellence of its academic programs, student outcomes, and affordability," said Dee Voss, interim vice provost for enrollment management at the University. "Rankings tell only a small part of the outstanding Florida Poly story. It's an exciting time to be a part of this amazing institution."