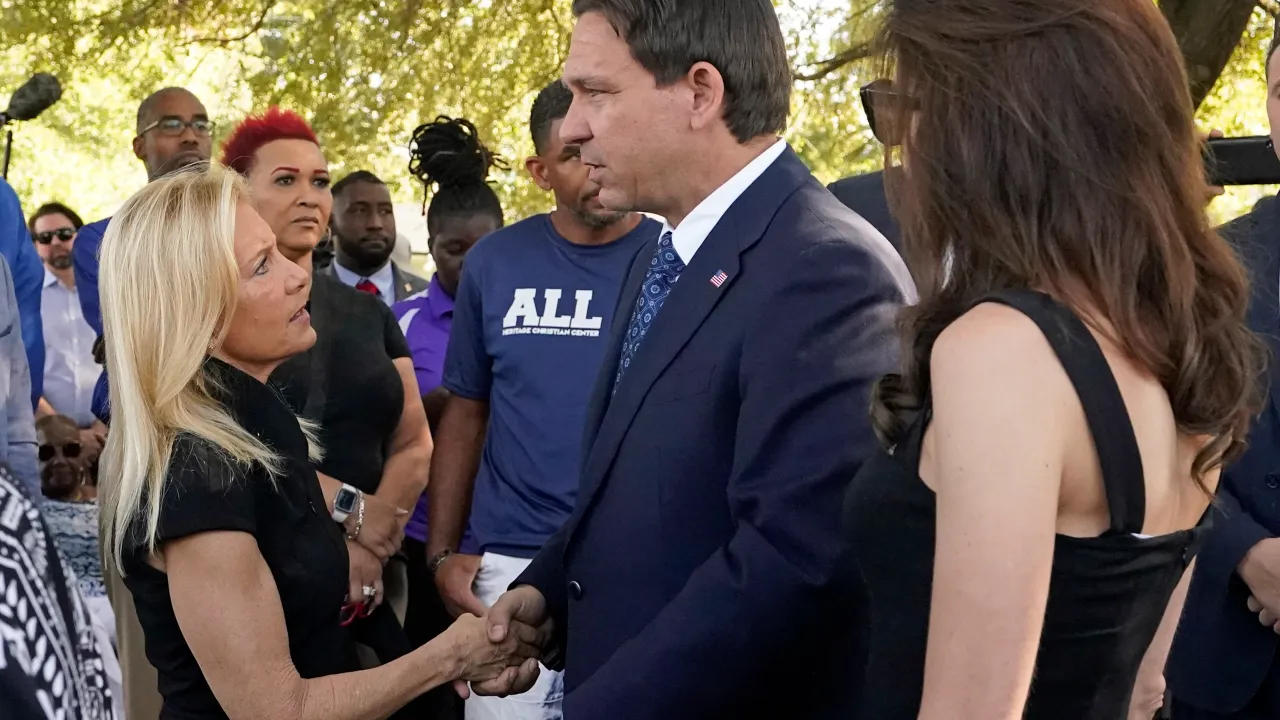 'If they can advance their political agenda, then that's what they look to do, and that's just wrong.'
Gov. Ron DeSantis called an official presser in between three Jacksonville-area fundraisers, and he was compelled to yet again address a racist killing last month in the city.
"I do think you just have some people that any time something happens, if they can advance their political agenda, then that's what they look to do, and that's just wrong," DeSantis said.
He didn't specify who "some people" are in this case, nor later in his remarks when he urged people "not to try to use their remarks in the face of tragedy." But his comments ensured that a news cycle that began on an August weekend when three Black people were gunned down by a White killer from Clay County with swastikas on his rifle would continue.
The Governor also addressed reports of a conversation President Joe Biden had with Sheriff T.K. Waters, who DeSantis endorsed in 2022.
Per The Messenger, Biden told Waters "White supremacy is our biggest terrorist threat," a framing Waters rejected given his belief that "more problems in inner city, urban America than the threat of White supremacy." Meanwhile, the President called the killing a "terrorist act" when he was in Live Oak this month, suggesting that the phrasing likely was no surprise to Waters.
"I think T.K. said it very well and I appreciated his comments on that and, you know, when things like this happen, we should be rallying together and we should all be unified to say this is wrong, this is evil and it doesn't matter your party, it doesn't matter any of the nonsense. We've got to all come together and get on the same page and I think this community by and large did that," DeSantis said.
The Governor's latest comments come after his previous Jacksonville press conference was upstaged by an audience member, a Black military veteran who was not a reporter, confronted him over advocating laws and policies that "allowed people to hunt people like me in broad daylight."
DeSantis was defensive, saying the audience member was trying to "accuse (him) of committing criminal activity.
"You don't get to come here and blame me for some madman," DeSantis said. "That is not appropriate and I'm not going to accept it."
Surgeon General Joseph Ladapo addressed reporters after the formal event ended, unusually.
The Surgeon General called it "terrible that people take advantage of the fact that he's a different color from the poor victims of that tragedy to try and tie him into something."
"It's immoral and unfortunately it's reflective of what we've been seeing for, you know, for many years, but certainly during the pandemic where people hide reality and they spin it and they try and make you buy what they're trying to sell you. And it's not true. It's a total lie, and they try and take advantage of the Governor just because he's not the same color as these people," Ladapo said.
The Governor came to Jacksonville for a vigil last month after the racist murder. He was jeered by some members of the crowd, before City Council member Ju'Coby Pittman urged the crowd to quiet down. DeSantis vowed to offer financial help to boost the security of Edward Waters College, where the "scumbag" gunman tried to go before he went to the store.
Pittman, a Democrat, has taken criticism since. She has contended the Governor was "not invited to speak" and has condemned "armchair generals, extreme right-wing politicians who created policies for racists and gun-toting White supremacists to thrive."