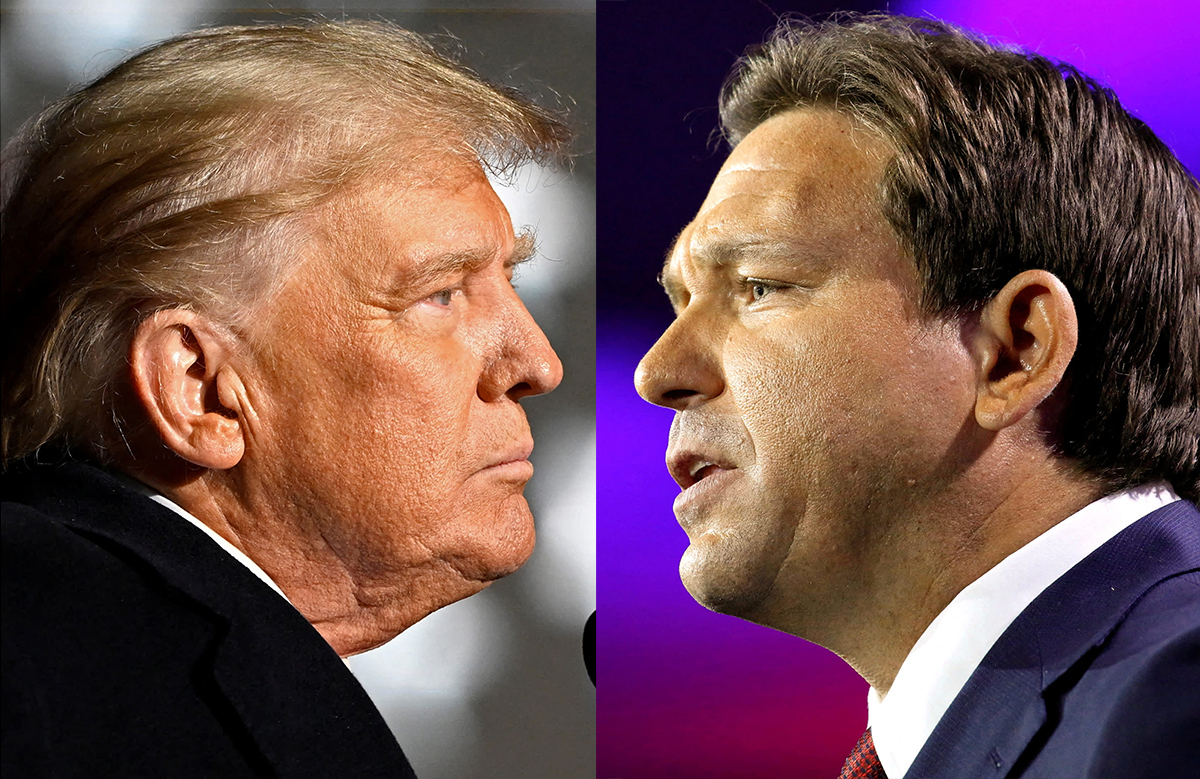 'I think all pro-lifers should know that he's preparing to sell you out.'
Abortion battles continue in the Republican presidential race.
Gov. Ron DeSantis said that when it comes to the "pro-life" vote, former President Donald Trump will "sell you out" based on Trump's recent comments on the subject of reproductive rights. These include Trump saying that Florida's Heartbeat Protection Act was a "terrible mistake" on Sunday's Meet the Press.
"Donald Trump may think it's terrible. I think protecting babies with heartbeats is noble and just and I'm proud to have signed the heartbeat bill in Florida and I know Iowa has similar legislation," DeSantis said on Radio Iowa. "I don't know how you can even make the claim that you're somehow pro-life if you're criticizing states for enacting protections for babies that have heartbeats."
DeSantis described Trump's position as a "danger that we all have to look at" with respect to the anti-abortion cause, and denigrated the former President's ability to negotiate with congressional Democrats.
"I've given him credit for his accomplishments, whether it's the court appointments, whether it's the Abraham Accords … the deregulation, and I think he does deserve credit for that. But anytime he did a deal with Democrats, whether it was on budget, whether it was on the criminal justice 'First Step Act,' they ended up taking him to the cleaners," DeSantis said.
"I think if he's going into this saying he's going to make the Democrats happy with respect to right to life, I think all pro-lifers should know that he's preparing to sell you out."
The Governor's comments come after Trump's interview singled out the Florida legislation.
"I think what he did is a terrible thing and a terrible mistake," the former President said of DeSantis signing the measure.
DeSantis has been making the case that Trump was "soft" on abortion for months.
Asked by David Brody of the Christian Broadcasting Network if he thought Trump was "soft" on abortion, DeSantis exploited the opening in an interview this summer on the "700 Club."
"I think so. I mean, I was really surprised because he's a Florida resident and I thought he would compliment the fact, you know, that we were able to do the heartbeat bill, which pro-lifers have wanted for a long time. He never complimented, never said anything about it," DeSantis recounted.
"Then he was asked about it and he said it was 'harsh.' But, you know, these are, these are children with detectable heartbeats. And I think to do that was very humane and I think it was something that every pro-lifer appreciates that we were able to get that done."
For his part, DeSantis has stopped far short of promising a national equivalent of Florida's ban on abortion after the sixth week of pregnancy.
"I support pro-life policies. I'll be a pro-life President. But at the same time, you know, I've got to chart the course and be honest with people about, okay, how do you advance the ball like we did in Florida? And the way you do that is really bottom up," the Governor said during an interview this month on CBS Evening News.
DeSantis has suggested that a national abortion ban wouldn't fly in various places, arguing that 'liberal" New Hampshire, other states in New England, New York and California, wouldn't accept a national Heartbeat Protection Act. He has taken criticism from anti-abortion groups, including Susan B. Anthony Pro-Life America, for his stance.