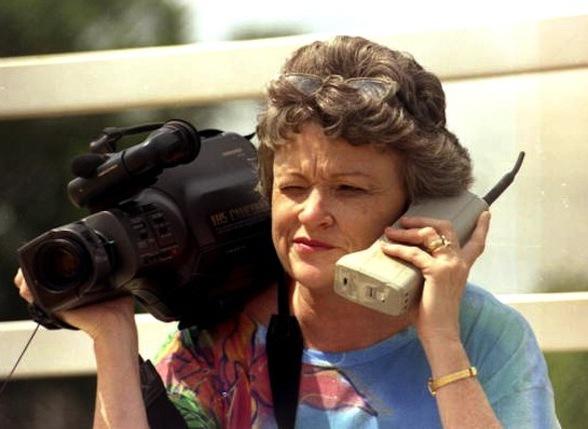 Former Tallahassee reporters remember the 20-year bureau chief as a fearless, generous mentor.
Of all the stories and tributes bubbling up about journalist Lucy Morgan in recent days, none land with quite the impact of a pleasant but uneventful evening at a Tallahassee restaurant.
Charlotte Sutton recalled that April 1990 dinner in a Facebook post.
"While we enjoyed our wine, Lucy started looking around the room, her eyes narrowing. She excused herself from the table to chat with some men whose mere presence had her suspecting that big news was afoot," she wrote.
Morgan returned to the table, where she dictated a story to the St. Petersburg Times that former Sen. Lawton Chiles was coming out of retirement to run for Governor in November.
"This was huge national news, and Lucy had it first," Sutton noted in the post. She was in her first year as a reporter in the Tallahassee bureau Morgan oversaw.
"She was incredibly nurturing, but woe be unto anyone who crossed her," Sutton, now the Philadelphia Inquirer's managing editor, told Florida Politics. She remembers Morgan as unimpressed by party or politics, as "fair and balanced, whatever that cliché is, she really was that."
Morgan died Wednesday at 82, several months after a fall.
She leaves the kind of imprint her accomplishments barely touch, even sharing in a Pulitzer Prize for local reporting in 1985 for an investigation of a corrupt Pasco Sheriff or her expose of a drug-smuggling ring three years earlier, a Pulitzer finalist. She protected confidential sources and was even sentenced to jail for it, a threat that ultimately did not manifest.
The most enduring part of Morgan's legacy might be found in the journalists she trained, especially women, some of whom went on to become newsroom leaders.
"One of the crazy things about working for Lucy is that she would disarm everybody with that charm she had," said Julie Hauserman, a capital reporter for several years starting in the mid-1990s.
For example, Hauserman said, Morgan posed the question, "Are you behaving yourself?" the way most of us might say, "How are you?"
"She used to say to everybody, 'Are you behaving yourself?' Hauserman said, "No matter if it was a Governor, a Senator or the person cleaning the office. People didn't know what to say. They would think, 'What does she know?'"
Their reactions might have meant nothing, or they would give her an idea. She might have been just chatting or playing. You could never be sure. Politicians learned to watch what they said around her — or did.
Some high-visibility folks were so concerned about stories Morgan might publish they visited in person.
"People would come in and cry in her office because they were worried she would expose them," Hauserman said. "We called it the crying couch."
By all accounts, Morgan made a point of alerting the subjects of sensitive stories in advance. She might even read their quotes back to warn them of what to expect.
Staffers had their own stresses to manage. They worked the run-up to the 2000 presidential contest between George W. Bush and Al Gore, expecting at least a brief respite at the end. Instead, election night was the start of a six-week sprint.
"All of us got sick at one point or another and took a turn on the crying couch," said Hauserman, who remembers Morgan as a calm and deliberate leader at a time when fewer women held management positions generally, including at newspapers.
Hauserman went on to become the founding editor-in-chief of Florida Phoenix in 2018, which is still running and now handles communications and outreach for Earthjustice, an environmental nonprofit. She continued her old boss' practice of reading quotes back to sources on occasion, to "soften the landing."
Jennifer Liberto got her start at the Tallahassee bureau in the early 2000s. "It was one of the funnest journalistic experiences I've ever had," Liberto said. "I was brand new, and (Morgan) just threw me everything."
Even some of those exhausting days look like fun in hindsight. After a late day at the bureau, Morgan might suggest dinner at a restaurant, Liberto said. Because this was Tallahassee during Session, the seeds of other potential news stories might take shape in real time — requiring further action — "and the job's not over," she said.
Yet Morgan did not encourage total absorption in work, nor the idea of women getting ahead by mimicking men.
"She was the first female journalist in my life to recognize that family is important," Liberto said. "She encouraged us to respect the people we love and make time for them."
After seven years at the Times, Liberto spent chunks of years at CNN, POLITICO and NPR, and is now economics editor for the Washington Post. She didn't have children in those early years, but she does now. And she encourages her reporters to get out of the office, meet sources face to face, and to wear comfortable sneakers, another Morgan axiom.
Joni James, a former Tampa Bay Times editor, started as deputy bureau chief under Morgan in Tallahassee. Her first day, Morgan took her to Andrew's Downtown, a restaurant. They sat at a patio table but didn't order food. Morgan knew many of the people who passed by their table and introduced them to James, letting them know about her new position, on the first day of what James now likens to "a graduate-level course in investigative journalism."
Its premise was simple enough. "Just talk to people," said James, now a communications vice president for Baycare Health Systems.
All her reporters had seen firsthand the seamless way their boss integrated business and pleasure without compromising either. With husband Richard Morgan, an editor she met at the newspaper, she had hosted elected officials, including Senators and Governors, at her home for dinner.
"Some people might say that's a conflict of interest," James said. "She would say, 'No, I'm just getting to know them.'"
That grad school class was always in session. "By watching Lucy, you got better at your job," James said. "That's the kind of journalist she was. She was not a wordsmith getting into your stories. She was the critical-thinker, find-the-source kind of journalist."
Leading by example taught her mentees more than techniques. According to a Tampa Bay Times story, some people, either in Pasco County or Tallahassee, displayed various ways of voicing their displeasure at Morgan's anti-crime, anti-corruption stories, including occasionally flashing firearms.
"It's almost like it never occurred to her to be intimidated," said Molly Moorhead, a former Times writer and editor who is now an editor for Yahoo Finance. "I think she was just so thorough in her work, and she knew she was being fair, and she knew when she was calling someone out and wasn't afraid to do it. That courage could be contagious for those of us who weren't so naturally confident."
Moorhead, who worked primarily in the Pasco bureau, was covering hurricanes in 2004 when she met Morgan in Tallahassee. Morgan had known her father, Evening Independent critic Jim Moorhead, and they hit it off. Over subsequent years, Moorhead and a core group of other former staffers gathered periodically at the "Morgan Home for Wayward Girls," the club moniker Morgan had bestowed on a property she owned in western North Carolina.
"She was hilarious to be around on those North Carolina trips," Moorhead said. "We would sit around their big dining room table, drinking wine and soaking it all in, even stories we had heard before."
Carrie Johnson O'Brion also started in Tallahassee in 2005, where she saw the Morgan legislators saw, sitting through Legislative Committee meetings, her hands making little loops in her lap with knitting needles. She made O'Brion a Christmas stocking that way and created tiny dresses for Hauserman's daughter to put on her Barbie dolls. She also made scarves and sweaters.
She took O'Brion through the Capital building, chatted with dozens of people, and remembered what they said. There were no unimportant people in Morgan's world. Anyone could be holding onto relevant information.
"She did not kowtow to the people in power, and as a result, they respected her," said O'Brion, who now oversees marketing and communications at the University of South Florida St. Petersburg. "She always had that mixture of steel and softness. In the front row with her knitting, who knew that this woman sitting there so benignly had the power to take down politicians with her prose? I always love that contradiction about Lucy."
Morgan retired twice within a decade in Tallahassee but couldn't stay away for long either time. Katie Sanders arrived in 2011, in between those brief pullbacks, and liked the unselfconscious way she went about her business.
"She worked loud, which is the best kind of trait in a lively newsroom," Sanders said; she also saw that Morgan was good at developing sources, "cultivating them so that they wanted to be the ones to tell her what she knew."
That way, if an investigative ax were to fall, "they had a better chance of not being the bad guy," the sources reasoned. Sanders is now the managing editor for PolitiFact at the Poynter Institute.
All these lessons, in and out of the newsroom, helped Morgan's devotees advance their careers. As Liberto put it, "She led us to kind of believe we absolutely could have the ability to be the best and to shine. We could be, not just for ourselves but for the ones to follow."
___
Morgan's viewing will be held from 5-7 p.m. Thursday, Bevis Funeral Home, John Knox Road, Tallahassee. A memorial service will be in the House Chambers at 1 p.m. Friday.