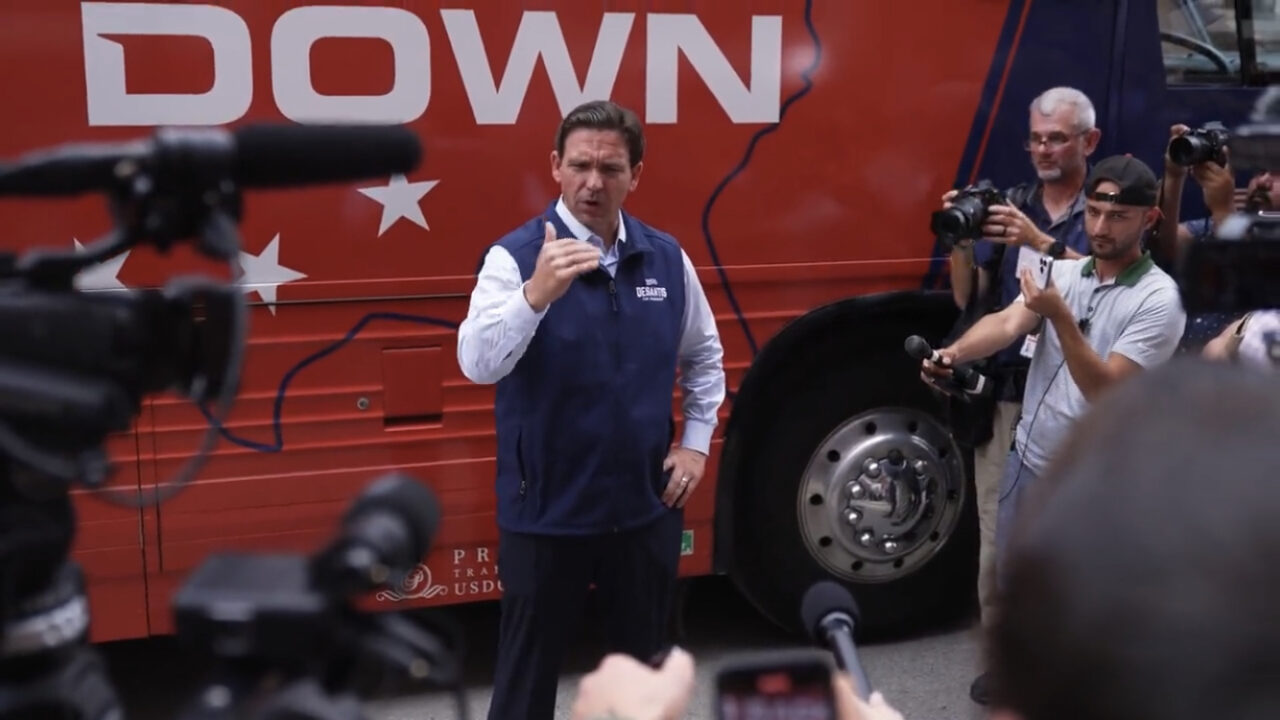 Is Ron DeSantis a RINO? A new poll shows 4 out of 7 Republicans seem to think so.
Gov. Ron DeSantis may have an edgelord messaging operation online, but Republican voters see him as a normie.
That's one conclusion to be drawn from the latest Monmouth Poll at least.
In the survey, 57% of Republican Primary voters see the Florida Governor as part of the "political establishment," while 33% do not.
That's the highest number of any candidate surveyed, though it's just marginally more than former United Nations envoy Nikki Haley's 56%. However, only 22% of the 510 people polled are confident she is not part of the establishment.
Why does this matter?
"Nearly half of the GOP electorate says it is either extremely (26%) or very (21%) important for the next president to be someone from outside the political establishment," the pollsters argue.
"Just 22% say this is not important to them. This is a particularly high priority among strong MAGA supporters (47% extremely and 24% very important). Most Republican voters — whether a MAGA supporter or not — see Donald Trump as more of a political outsider (69%) than insider (26%). This paints the former president in a similar image as business entrepreneur Vivek Ramaswamy, who has never held office (63% outsider)."
Trump has blasted the Governor as a "RINO globalist" and other such aspersions for close to a year now, and it's clear those attacks are sticking.
Ironically for DeSantis, the polling comes after months of his attempts to position himself as a counterweight to the GOP establishment. As National Review Online noted this winter, DeSantis' "The Courage to Be Free" presented him, and the wisdom he attained as Governor, as a counterweight to sclerotic thinking in Washington.
During a Newsmax interview in March, DeSantis distilled that message in response to a question about whether he really was just a RINO.
"I mean, all people have to do is just open their eyes. There hasn't been a bolder Governor in the country," DeSantis contended.
To make his case, he revisited familiar talking points and well-trafficked feuds and story arcs.
"I mean, who was taking on the establishment during COVID? Me. Everything we did in Florida from April of 2020 to the present I did against people like Dr. Anthony Fauci, the corporate media, a lot of the other entrenched bureaucracies and we made sure that the state was able to thrive," DeSantis said.
"We also last year had a bill to make sure we were protecting the rights of parents to be able to send their kids to school without having things like gender ideology shoved down their throats," DeSantis added. "You should not be telling a kid in school that they may have been born in the wrong body."
Even before that, DeSantis presented himself as anti-establishment. During a speech to the Conservative Political Action Conference just weeks after Joe Biden's inauguration, DeSantis derided the "failed Republican establishment of yesteryear."