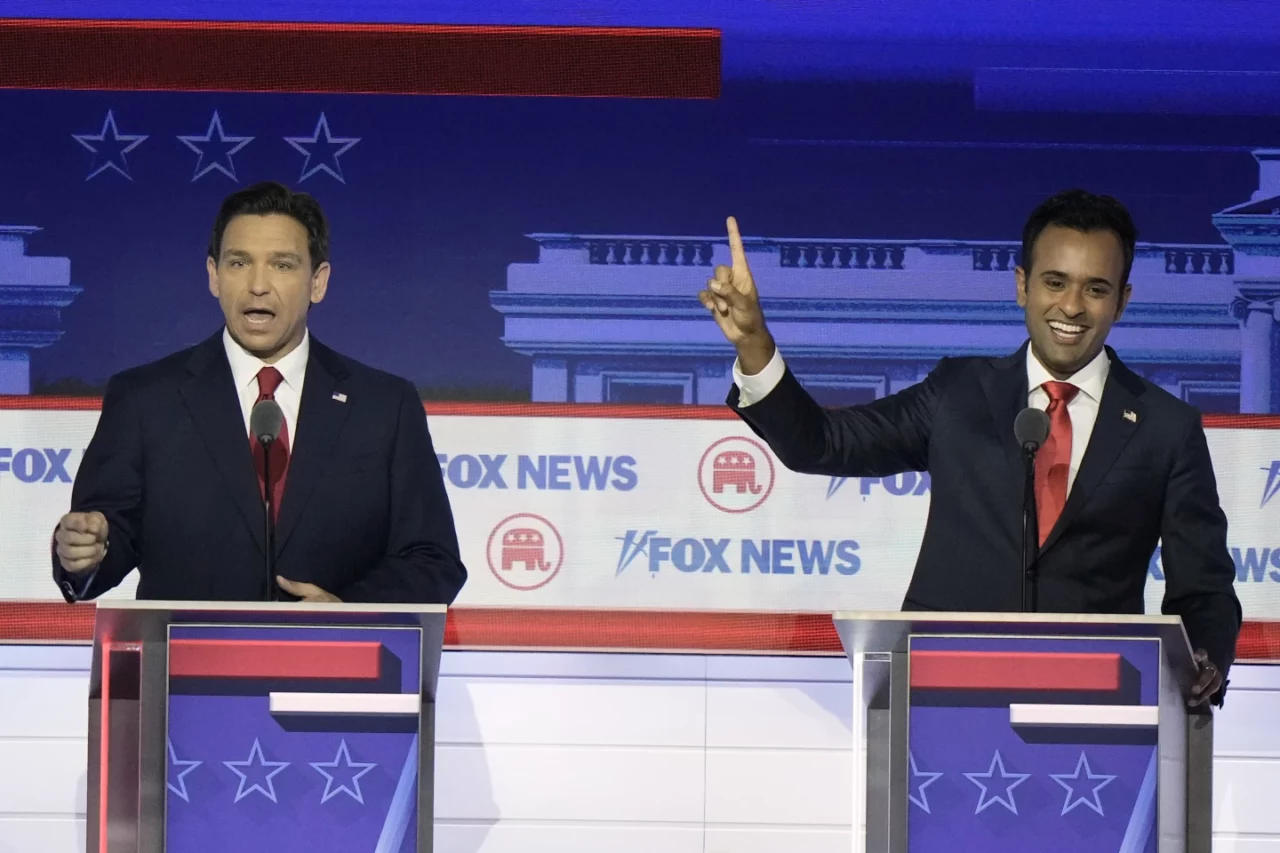 The numbers show DeSantis is expected to turn in a strong, but not dominating performance.
Entrepreneur Vivek Ramaswamy is better poised to win the second GOP debate than Ron DeSantis. That's according to online oddsmakers, who are also predicting the Florida Governor won't be the first to mention a certain former President.
Newly released odds from Bovada, a "crypto-friendly" online sportsbook, center on several potential outcomes during Wednesday night's debate at Ronald Reagan's presidential library in California.
The numbers show DeSantis is expected to turn in a strong, but not dominating performance onstage.
Oddsmakers believe he'll outshine U.S. Sen. Tim Scott and former New Jersey Gov. Chris Christie, while fighting for speaking time against Ramaswamy, former Vice President Mike Pence and former U.N. Ambassador Nikki Haley.
Notably, North Dakota Gov. Doug Burgum, who qualified for the second debate, was not included in the site's predictions.
Ramaswamy is likeliest to win the debate, according to Bovada, which gave him +175 odds. DeSantis and Haley sit at +200, far ahead of Pence (+1200), Scott (+1500) and Christie (+2000).
Christie and Ramaswamy are equally as likely (+300) to first mention the Republican front-runner — former President Donald Trump, who is again skipping and counterprogramming the debate — followed by Haley (+400), Pence (+450), DeSantis (+450) and Scott (+650).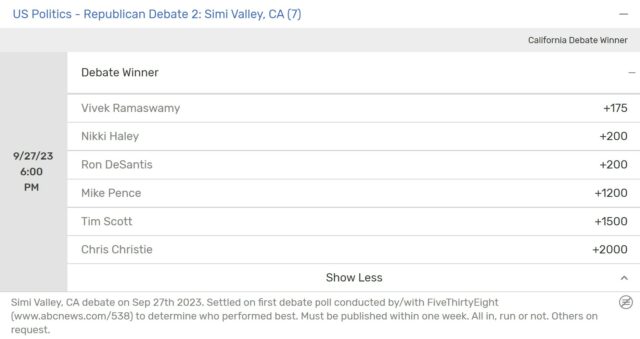 At +300 odds each, Pence, Haley and Ramaswamy are considered slight favorites for having the most speaking time during the two-hour event, which will air live on Fox Business and Univision at 9 p.m.
Expectations for DeSantis' mic time trail a smidgen behind them at +325. And while oddsmakers gave Christie a shot at surprising and producing a greater share of the discourse (+400), they gave Scott a far slimmer chance (+1500) of doing the same.
Bovada examined the outcomes of a few other actions, some of which are more probable than others.
In terms of who will first reference Trump's baseless claim that the 2020 election was fraudulent, oddsmakers gave Christie double the likelihood (+150) of saying "stolen election" than Ramaswamy (+300). All other candidates considered were given +600 odds.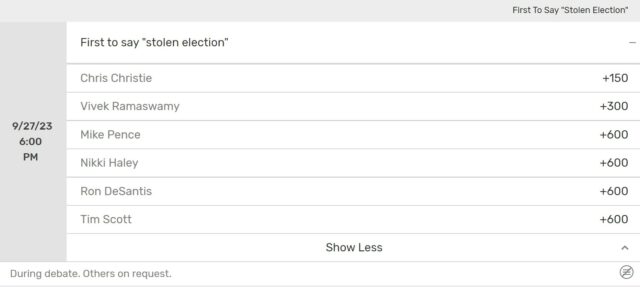 Christie and Ramaswamy are expected to be the thirstiest candidates onstage, each receiving +300 odds for being the first to take a sip of water, followed by DeSantis at +400 and the others at +500.
Then there's Bovada's "Vivek Ramaswamy Special," which focuses on a couple of quirky things the candidate has done while on the campaign trail.
Oddsmakers believe it is extremely likely (-1500) that Ramaswamy will at some point mention his headline-grabbing rendition last month of Eminem's "Lose Yourself."
They predict it is much less likely, but far from an impossibility, that he'll deliver an impromptu encore of the performance during Wednesday's broadcast (+500). For bettors to cash in, Ramaswamy must rap at least 30 words of the song.
Bovada gave identical odds to him doing a burpee during the debate.