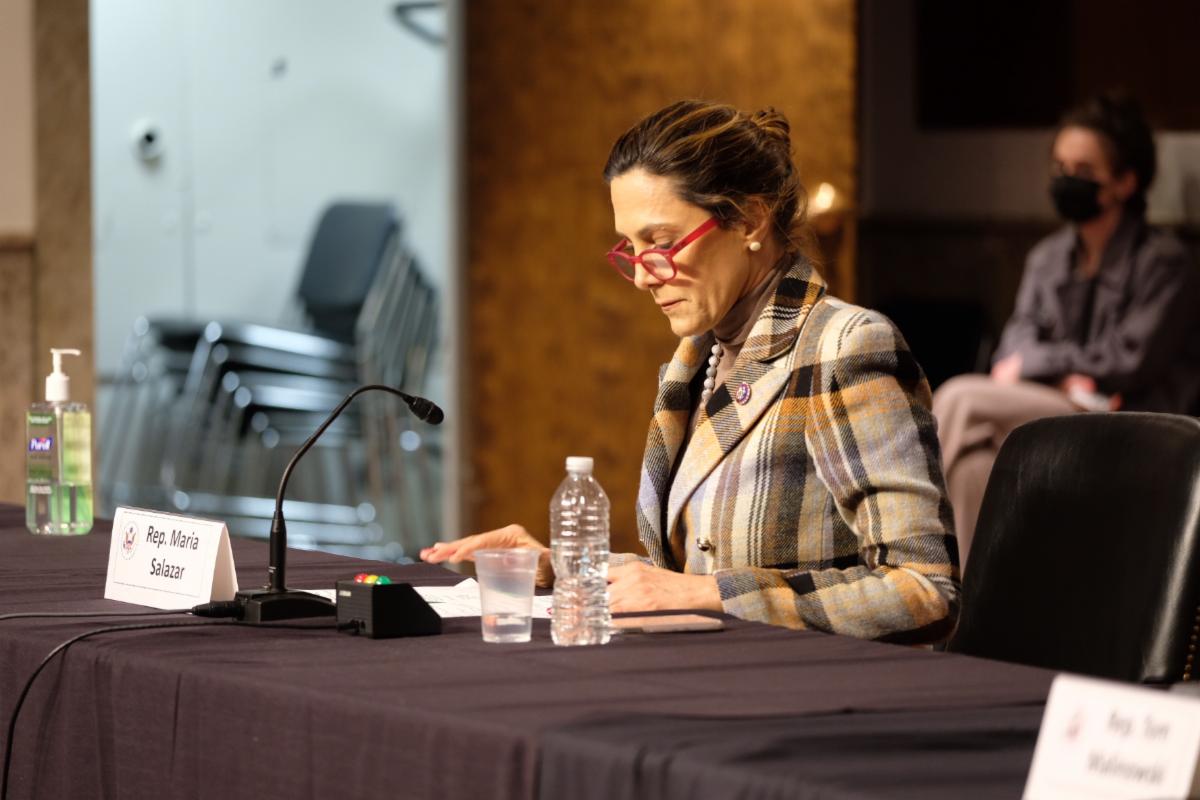 'Floridians deserve responsible governance, not MAGA brinkmanship at the expense of middle class families.'
The Democratic Congressional Campaign Committee is hitting U.S. Rep. María Elvira Salazar over a bill she supported amid negotiations to avoid a shutdown.
The U.S. House took up, but failed to pass, an agriculture appropriations bill late Thursday night. Dozens of pro-choice Republicans joined with Democrats to nix the bill over limiting access to an abortion pill.
But Salazar, a Coral Gables Republican, voted for the legislation. House Democrats, who have targeted Salazar as one of Florida's most vulnerable incumbents, criticized the vote as an attack on women's rights.
"María Elvira Salazar is so obsessed with chipping away at reproductive freedom that she is willing to shut down the federal government if she doesn't get her way," said Justin Chermol, a DCCC spokesperson. "Floridians deserve responsible governance, not MAGA brinkmanship at the expense of middle class families."
The Agriculture, Rural Development, Food and Drug Administration, and Related Agencies Appropriations Act (HR 4368) died on a 237-191 vote, with 27 Republicans defecting to kill the bill.
Florida's congressional delegation broke along party lines on the bill, with all Democrats voting against it and all Republicans present voting in support. U.S. Rep. Anna Paulina Luna, a St. Petersburg Republican, missed the vote because she is out on maternity leave.
But those Republicans who did vote with Democrats and killed the bill cited a provision regarding access to Mifepristone.
"Leadership knew that this was going to be a problem, and yet here we are," U.S. Rep. Nancy Mace, a South Carolina Republican, told Axios. She ultimately voted against the legislation, and said the issue with restricting access was the chief concern.
Salazar has not publicly discussed her vote in favor of the project, and her office did not return calls for comment. She has supported a number of votes to fund the government as a potential shutdown looms, including a resolution on Friday.
"The average American doesn't want to shut the government down. Let's start with that," she told CNBC. "Neither do we, the Republican Party. No American wants that."
But Democrats intend to hammer Republicans over abortion access next year. Florida state lawmakers passed a ban on abortions as soon as six weeks into pregnancy after the U.S. Supreme Court overturned Roe v. Wade and with it decades of abortion rights protections.
The DCCC has already criticized Salazar for cheering the decision to overthrow Roe.
"As a Christian and the mother of two beautiful daughters, I support life," Salazar posted on social media after the court decision last year. "The Supreme Court decision gives power back to the states and their voters — where decisions should be made, just as the Constitution intends."