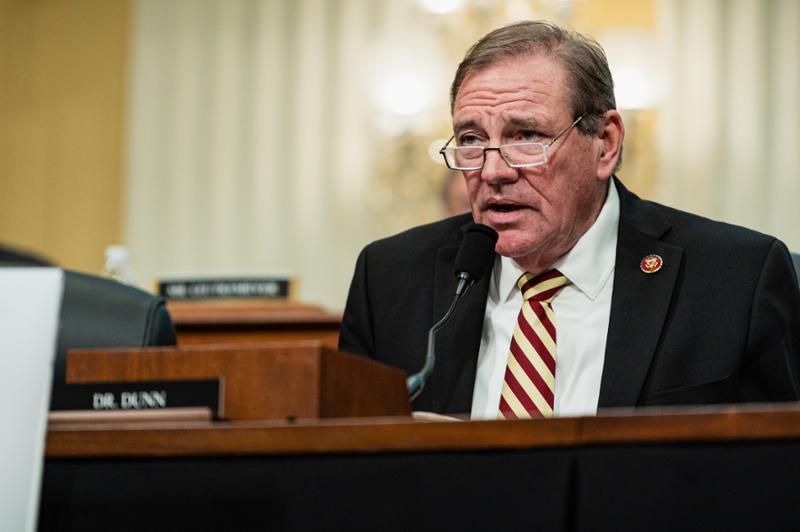 The Big Bend Representative was in the minority of Florida Republicans voting for measure averting a government shutdown.
The ink was barely dry on the 45-day agreement to keep the government open when U.S. Rep. Neal Dunn issued a release explaining that the measure's disaster funding won his vote.
"While a continuing resolution was not the solution I hoped for, it does include disaster funding that's critical for Florida's Second Congressional District," Dunn said in a prepared statement.
Dunn's district covers those areas hardest hit by Hurricane Idalia, including Taylor County, where it came ashore.
Dunn's Office issued the statement late Saturday afternoon before President Joe Biden spoke about the agreement. Dunn parted ways with 10 Republican Florida colleagues who opposed the stopgap measure to avoid a government shutdown.
Florida had the second-largest number of Representatives from a single state opposing the resolution. Texas was No. 1, accounting for 16 of the 91 votes against it.
Florida Representatives casting "no" votes were U.S. Reps. Aaron Bean, Kat Cammack, Scott Franklin, Matt Gaetz, Brian Mast, Cory Mills, Bill Posey, Greg Stuebe, Mike Waltz and Daniel Webster.
Republican Reps. Republican U.S. Reps. Anna Paula Luna and Byron Donalds were recorded as not voting on the spending plan. Luna's absence was an excused one, however.
Seven Republican Representatives joined with the entire Florida Democratic congressional delegation to cast "yes" votes for the 45-day continuance of government operations.
Besides Duun, Republicans voting "yes" were U.S. Reps. Gus Bilirakis, Vern Buchanan, Mario Diaz-Balart, Carlos Gimenez, Laurel Lee, John Rutherford and Maria Elvira Salazar.
Dunn's release also said he was voting not to aggravate his constituents' pain as they struggle with current economic conditions. Many government workers would have had to make do without a paycheck had the government shut down.
"I chose to support our military, contractors, and families already grappling with sky-high inflation as a result of Bidenomics," Dunn said in his prepared statement.
Dunn also acknowledged the drama yet to come. "I will work with House Republicans toward a fully funded government in the next 45 days."
Other background in the release noted that the plan included $16 billion in supplemental funding for disaster relief and an extension of the National Flood Insurance Program.
"It does not include pay raises for Members of Congress or additional funding for Ukraine," the release said.