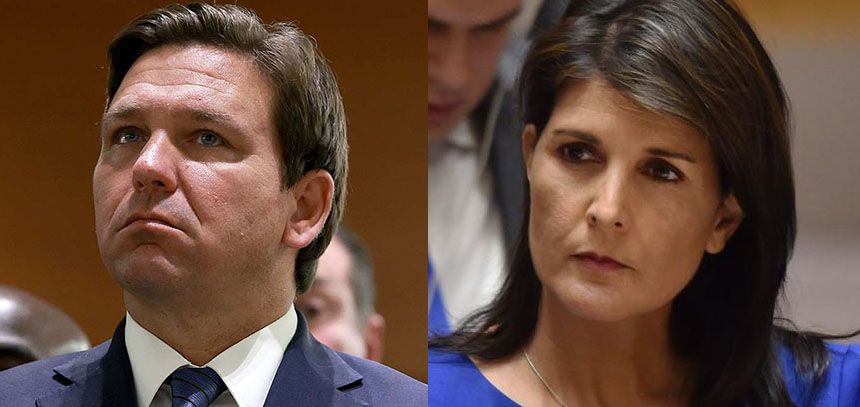 'DeSantis and Haley are the only remaining viable candidates of the current field of candidates.'
The Republican presidential race is a two-person battle … for second place.
That's the takeaway from new national polling that shows Ron DeSantis in a statistical tie with Nikki Haley for the runner-up spot.
According to a new InsiderAdvantage survey in the field Sept. 29 and Sept. 30, the former South Carolina Governor has achieved effective parity with the current Florida Governor in the wake of Wednesday night's GOP presidential debate at the Ronald Reagan Library in Simi Valley, California.
DeSantis has 15% support, while Haley has 14%. The 1-point spread is well inside the poll's stated margin of error of +/- 3.36 percentage points.
Both candidates are way behind former President Donald Trump, who has 45% support in the survey. The continued failure of any non-Trump candidate to get sustained traction leads the pollster to muse about whether the ongoing primary debates that Trump is skipping mean anything in the trajectory of the race.
"Trump increased his lead by about five points from our most recent polling. DeSantis and Haley are the only remaining viable candidates of the current field of candidates. In my opinion the debates are having a diminishing impact on the race," said InsiderAdvantage chairman and founder Matt Towery.
"Absent some major unexpected shakeup, it appears Donald Trump is the prohibitive favorite to win the GOP nomination. However, anything can happen and my focus is now on the Haley-DeSantis battle to become Trump's primary rival."
Though DeSantis has described the 2024 battle as a "two-man race" with Trump, he also has devoted energy to countering the threat Haley poses.
During an interview on Tuesday night's "Ingraham Angle," the Florida Governor and 2024 presidential candidate told Fox News viewers that he was an alternative to the "corporatism" represented by the former South Carolina Governor, as evidenced by a war of words over one of Florida's most famous entities, the Walt Disney Company.
"We've seen corporations go very woke and you know, Nikki attacked me for standing up for the kids of Florida and she sided with Disney when we had a big fight over parents' rights in education," DeSantis told Laura Ingraham.
"We took the position that you shouldn't sexualize curriculum in elementary school. Disney fought us. They tried to stop the bill, then they tried to get the bill repealed afterwards and we stood strong against the most powerful company in our state. I think she's indicated she would have bent the knee in that situation. And I think that's been more indicative of her approach, but that approach is a dead end."
DeSantis has also mocked Haley's performance as the Palmetto State's chief executive, questioning what her record would be last month on the Mark Levin Show.