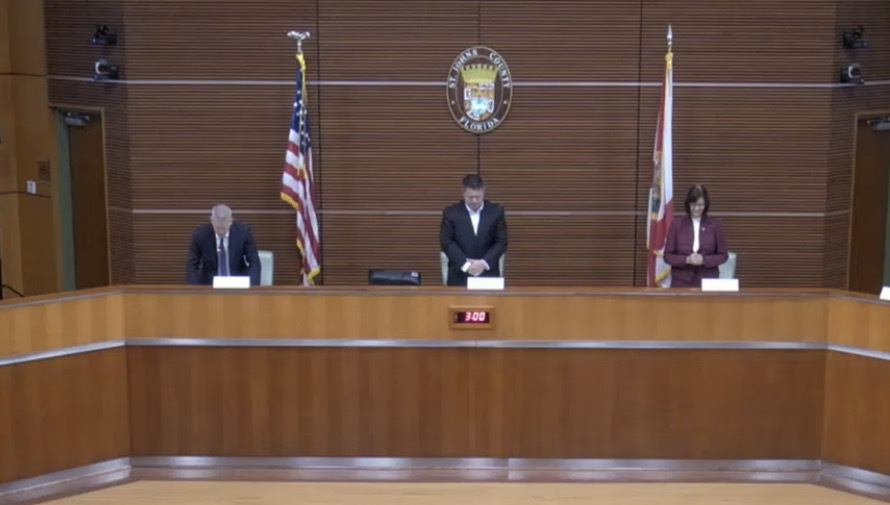 After bringing home $59M in 2023's Session, local legislators will be 'back for more' in 2024.
House Speaker Paul Renner, Sen. Travis Hutson and Rep. Cyndi Stevenson were again greeted with familiar asks from the fast-growing county south of Jacksonville as St. Johns County's veteran legislative delegation heard from community stakeholders.
Commissioner Sarah Arnold of the St. Johns County Commission noted desires for capital improvement projects, and "decisive action to remove regulations" that "impede" the construction of public schools.
She noted the county drew down $59 million last Session, and joked "we're back for more."
Sheriff Rob Hardwick also expressed gratitude, this time for a bill imposing age restrictions on golf carts pushed by Stevenson in the 2023 Legislative Session.
He also noted the need for a new Backup 911 center. The current backup center is in a flood zone, he noted.
Mayor Nancy Sikes-Kline of St. Augustine likewise expressed gratitude for the delegation's work, and brought new asks.
Among the needs: $7 million for septic to sewer conversions; $1 million for a Spain-Florida underwater archaeology exhibit; and $2.1 million for the Ravenswood land conservation acquisition, to "serve as a buffer" from flooding.
She also urged support on "policy issues," including flood mitigation issues and a bill to increase fines for historic structure demolition, and "more definition of prohibited … home based businesses," including bans on concerts and machine work.
St. Augustine Beach Vice Mayor Dylan Rumrell also thanked the delegation for bringing a record amount of money to the county in 2023, and asked for more help with stormwater mitigation, noting that even this week's non-tropical rains created flood impacts.
Flagler College's Beth Sweeny brought gratitude from her own institution, which just started (with the Legislature's blessing) a "classical institute" in the last year and is also immersed in the long sought Hotel Ponce de Leon renovation, which is far enough along to allow students back in the 135 year old building.
Sweeny noted the west wing of the building's renovations would start in May, after the current academic year ends.
The Florida School for the Deaf and Blind's Tracie Snow said the school was "overjoyed" with its own capital projects, meanwhile, and "thrilled" that the school got full funding from the state Department of Education. The school is looking for another renovation project this Session, for McClure Hall, an on-campus building last updated in 1988.