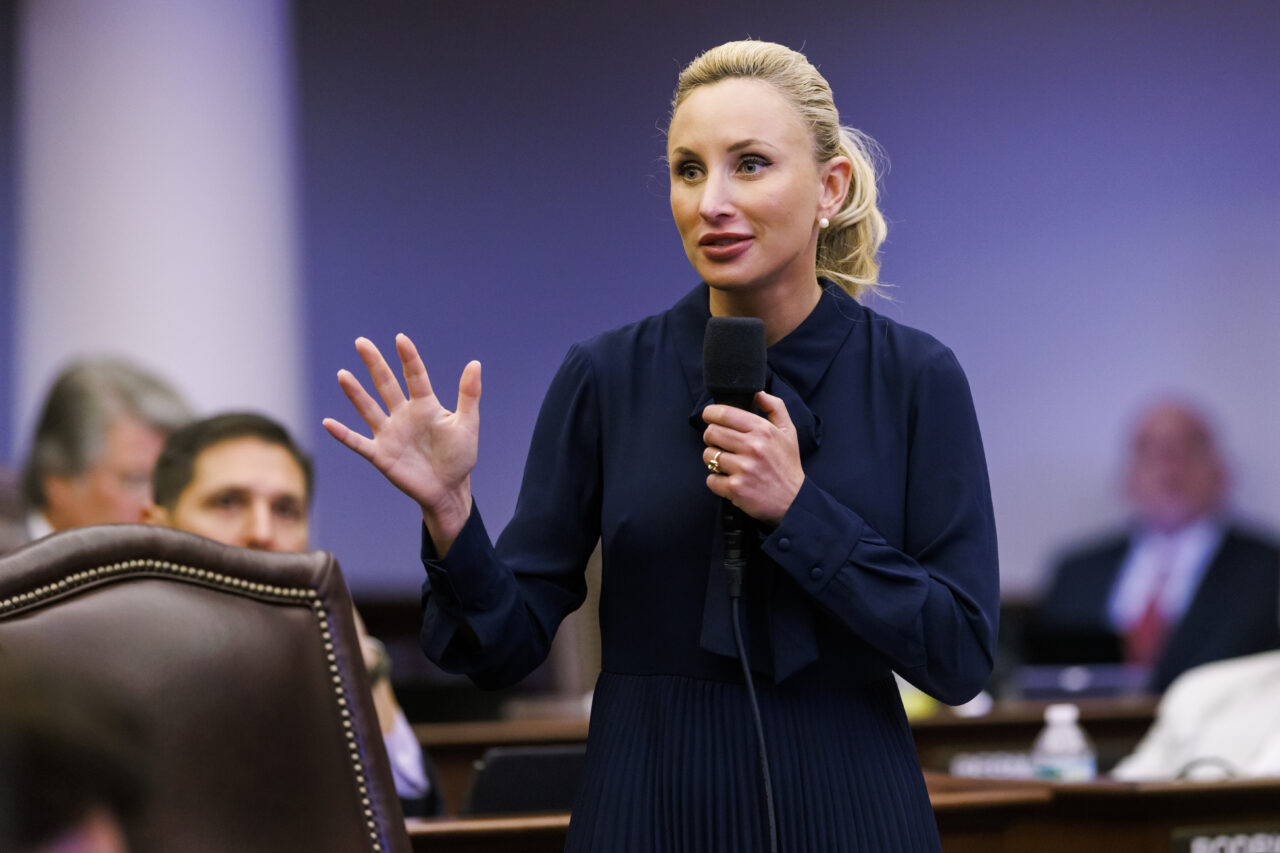 'Women deserve access to legitimate and trusted reproductive health care services, and the freedom to safely receive care without fear of misinformation, harassment, or harm.'
Senate Democrat Leader Lauren Book wants to ensure that women in Florida aren't misled by unlicensed operations masquerading as reproductive health clinics and protect those seeking services at real ones from harassment or harm.
To that end, Book filed a pair of related bills this week tripling the number of abortion-focused measures she'll carry into the 2024 Legislative Session.
One, SB 256, is titled "Pregnancy Support & Wellness Services." It focuses on crisis pregnancy centers (CPCs), which represent themselves as legitimate reproductive health clinics that provide care for pregnant people.
In reality, CPCs are nonmedical facilities that work to dissuade people from accessing abortion care and contraceptives, among other reproductive health options, according to the American Congress of Obstetrics and Gynecologists.
They are not required to be licensed or inspected in Florida and enjoy exemption from compliance with HIPAA, the federal patient privacy law.
Millions of public dollars in Florida funded CPCs yearly before the past Legislative Session, and far more is now being rerouted to them. The controversial measure banning most abortions after six weeks of pregnancy that Gov. Ron DeSantis signed in April included a $25 million increase in recurring annual funding from the state's General Revenue Fund, up from $4.45 million.
Florida outsources oversight of CPCs to the Pregnancy Care Network, a private nonprofit with more than 95 locations in the state. And that organization is the target of Book's bill. SB 256 would require the Department of Health to perform yearly financial and compliance audits of CPCs under the Pregnancy Care Network's purview and prohibit CPCs from sharing information that is not medically accurate.
There is evidence many CPCs operate in bad faith and promote misinformation, including the unverified claim that abortion causes cancer.
"Our state claims to be a beacon of freedom, but abortion bans, health care restrictions, and the funneling of $25 million annually into fake clinics that peddle anti-abortion propaganda infringe upon those principles," Book said in a statement. "Until women are free to make their own choices about reproductive health, our state is not truly free."
The other bill, SB 254, is titled "Picketing or Protesting in or Near Health Care Facilities." Accordingly, the measure would make it illegal to protest within 150 feet of a reproductive health clinic and ban interfering with the people working at or going to them.
The bill mandates that before a person is arrested for a violation — a second-degree misdemeanor punishable by up to $500 and 60 days in jail — a police officer must give them a warning.
"Women deserve access to legitimate and trusted reproductive health care services, and the freedom to safely receive care without fear of misinformation, harassment, or harm," Book said. "It's long past time for Florida to prioritize women's health, protect the safety of doctors and patients, and ensure that public funds are directed toward accurate and accountable health care services."
Democratic Rep. Kelly Skidmore will carry a House companion to SB 256 that did not yet appear on the Senate or House websites by 6:30 p.m. Monday.
"In order to ensure the well-being and autonomy of women in vulnerable situations, this bill provides transparency and oversight to the state's unregulated pregnancy crisis centers, ensuring that women receive medically accurate information and comprehensive support," Skidmore said.
The two new measures come more than a month after Book filed SB 34, which would codify an assertion DeSantis made on national TV in early September that Florida will not prosecute women and girls seeking abortions beyond the state's not yet effective six-week limit.
She called it a "glitch bill" because the language of the abortion measure doesn't match what the Governor told NBC's Norah O'Donnell about its impacts.
The ban states that "any person who willfully performs or actively participates in a termination of pregnancy" would face a third-degree felony, punishable by up to five years in prison and $5,000 in fines.
SB 34 would simply add to the measure's language, "This paragraph does not apply to the pregnant woman who terminates the pregnancy."
Book was arrested in April alongside Florida Democratic Chair Nikki Fried and others after the Senate approved the six-week ban, which will go into effect only if the Florida Supreme Court rules that the state constitution's right to privacy doesn't extend to the decision to have an abortion.
A 15-week ban that the Legislature approved in 2022 is now in effect.
Abortion rights advocates pointed to DeSantis' comments to O'Donnell as evidence that the Governor is trying to soften his hard-line position on abortion so it's more palatable to General Election voters in next year's Presidential Election.
___
Anne Geggis contributed to this report.