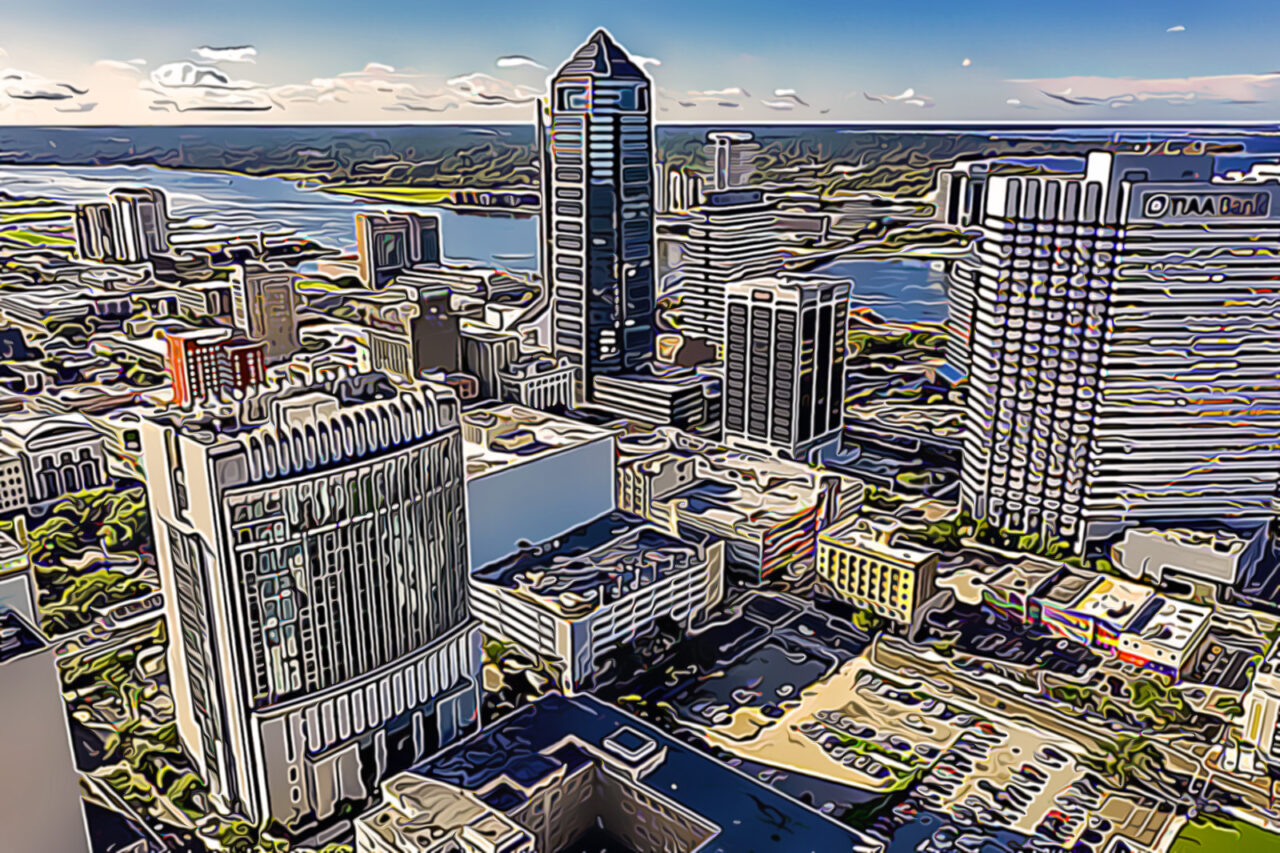 Donna Deegan travels in style.
— Five-star accommodations —
Jacksonville Mayor Donna Deegan and her entourage traveled in style to jolly old London for the Jaguars' "home" game this year.
Well that was fun! #Duuuval pic.twitter.com/vlWASnR3t0

— Donna Deegan (@DonnaDeegan) October 15, 2023
According to The Florida Times-Union, which was luckier than we were in being first to get its public record request fulfilled about the cost of the junket, taxpayers spent $5,937 on "hotel lodging at the five-star Grosvenor House London, transportation in taxis to various events and a couple of dinners" for the Mayor.
"I was asked to go over by JAXUSA and the Chamber because they felt that having the Mayor involved would show a level of seriousness and commitment to companies considering Jacksonville," Deegan said in a statement to the Times—Union. "The conversations went very well, and I believe we're going to end up getting a lot of business out of it."
But wait, there's more.
Taxpayers also funded the trip for Office of Economic Development head Ed Randolph and Strategic Initiatives Director Melissa Ross. Per David Bauerlein, that included "the cost of airfare for coach seats, lodging at Grosvenor House and some meals for Randolph and Ross. The total taxpayer cost for Randolph's trip is $7,554, and for Ross, it is $7,794."
In other words, the city spent $22,000 on the trip — enough to buy some new cars, if one buys compacts, or pay a few years of property insurance, should one be lucky enough to own a home.
Meanwhile, the Mayor's Office is shooting down rumors, which are persistent in the Council, that others were on the trip. Comms officer Matt Kingston was in London but on vacation and not on the city payroll.
Previous Mayors made the trip also, and costs have varied Bauerlein notes.
"When Alvin Brown took part in the London trips, the taxpayers' cost for his airfare, lodging, ground transportation and game tickets totaled $7,128 in 2013 and $5,301 in 2014, according to city records. In Lenny Curry's first year as Mayor in 2015, the taxpayer cost for Curry's trip was $2,537 for airfare, lodging, meals and ground transportation."
Interestingly, Deegan's opponent in the mayoral race has a statement lauding her participation in the trip, complete with praise that few would have predicted during the pitched campaign this Spring.
"This trip was about continuing to build our relationship in Fintech and health care, along with pushing for a direct flight to London," said JAX Chamber President and CEO Daniel Davis. "Mayor Deegan is a tremendous partner on economic development, was the leader of our delegation and we look forward to continuing to work with her on these trade missions."
Don't expect the City of Jacksonville to defund the Chamber anytime soon, in other words, despite the objections during the mayoral campaign about city funding for the operation and Davis campaigning while making more than half a million a year in his job.
A cynic would say that the trip, the delayed public records disclosure, and the happy talk quote from the Chamber CEO suggests that for all the noise made about change in City Hall being a central theme of this election, the reality is that the more things change, the more they remain the same.
This is especially relevant given that Deegan has a much bigger ask ahead on behalf of the Jaguars than Brown and Curry. Recall that Jaguars' owner Shad Khan wants the city to commit more than $1 billion to a stadium renovation that would include the development of the surrounding district — pitched as an unprecedented economic uplift for the long-suffering Eastside.
At this writing, there needs to be more indication as to what part of the proposal, if any, Deegan will object to. And why would she? If she's looking to run for re-election, she will want and be able to count on support from Khan. Presumably, that would apply to runs for other offices as well.
Of course, it's worth noting, as Times-Union columnist Nate Monroe has recently, that the city has just wrapped up a spending spree, and the good times may be about over.
Monroe points out that City Hall's debt will round to $3.1 billion by 2027 "at a time when city leaders are also considering costly renovations to TIAA Bank Field, building a new jail, waging a campaign to fortify Jacksonville against the rising sea, and preparing for new rounds of negotiations with the unions representing city employees." That will add up to $236 million in interest payments, representing more than 10% of what the general fund budget likely will be at that time.
The stadium deal will send that total well over $300 million by Monroe's reckoning, which will push interest in the range of 15-20% of the general fund budget.
"Finance officials have previously estimated that every $10 million in debt the city issues adds about $800,000 in annual costs to the city's books. So, $1 billion in debt would, by itself, add about $80 million in annual debt payments."
As a cure of sorts, the administration's then-acting chief financial officer suggested breaking previous promises by paring down the list of capital projects approved during the Curry administration. That should be a delightful task for Council members and community members who counted on the fulfillment of the long-cited "broken promises of Consolidation."
In this context, the Deegan administration spending $22,000 on a London junket with Davis' Chamber is small potatoes, but it does indicate a more significant dilemma. Who will the Mayor say no to? How will she get there? And how will people who expected help from this administration that simply won't be budgeted react?
— No-bid contract —
Another optics issue is emerging for the Deegan administration in the form of its selection of a campaign backer to oversee lobbying.
Now, while this is not uncharted territory necessarily, the Deegan administration's selection of Langton Consulting, the principals of which held a fundraiser for Deegan's mayoral bid, suggests that the administration's "change for good" mantra sounds like "change for supporters," continuing a recurrent theme.
As we were first to report back in August, the administration rescinded its deal with Ballard Partners, despite fence-mending efforts after its local principles were on the wrong side of the 2023 mayoral race. At that time, the scuttlebutt was that Langton would end up being the selection.
Council members, including the increasingly active Nick Howland, have already voiced their displeasure, suggesting Deegan could have gone with a different lobbying outlet.
"I could name four or five off the top of my head. Ballard, Southern Group, GreyRobinson, et cetera," said Howland to Action News Jax earlier this month.
The irony is that Langton needs an assist to fulfill its end of the deal, per the Florida Times-Union. "Langton will use Becker & Poliakoff, a firm based in Washington that has Florida offices in 11 cities, to handle the lobbying part of the contract."
It's doubtful this issue will matter to voters — a lobbyist is a lobbyist to most of them — and if Deegan can bring the federal grants home that she said were neglected in recent years, she can justify the move. But among the smart set, there is a lot of grumbling and second-guessing, not just from Republicans but from Democrats who are outside the administration for one reason or another.
One line of thought is that this deal may explain why Deegan didn't veto the controversial City Council grants in the budget to nonprofits to which members were connected. But the Mayor likely won't get credit for that generosity in the current situation.
Tweet, tweet:
My office is continuing to investigate this matter thoroughly, including exploring options to terminate this contract and run a proper competitive solicitation. I urge @MayorDeegan's staff to attend our Nov 7 Finance Committee to answer questions and provide needed transparency. https://t.co/bnkbI2emVR

— Nick Howland (@NickHowland15) October 25, 2023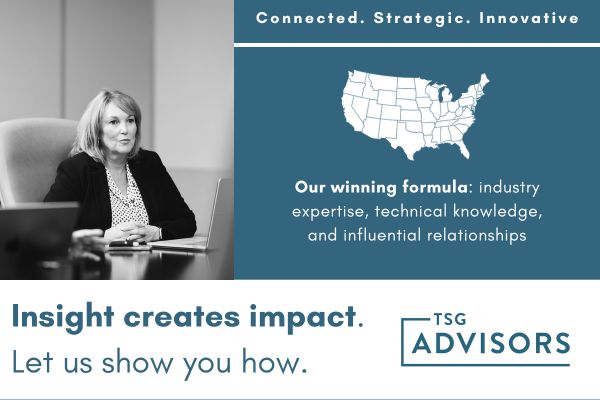 — Fentanyl felony —
A Jacksonville Republican seeks to impose hard time on those who expose first responders to fentanyl.
Rep. Jessica Baker's HB 231 contemplates felony penalties for "persons who unlawfully & intentionally possess specified controlled substances or mixtures & who expose law enforcement officers & others who are acting in their official capacity to such substances or mixtures & causing serious injury."
The bill would protect law enforcement officers, firefighters, emergency medical technicians, and paramedics should it become law.
Guilty parties "must be sentenced to a mandatory minimum term of imprisonment of 15 years. If the injury sustained results in death or great bodily harm, the person commits a felony of the first degree … and, upon conviction thereof, must be sentenced to a mandatory minimum term of imprisonment of 30 years. As used in this subsection."
Baker is an Assistant State Attorney in the 7th Circuit. Her bill comes as Melissa Nelson, the elected State Attorney in the 4th Circuit, is launching a fentanyl awareness campaign called "On High Alert."
"The five-part series will feature first responders, those in recovery, victims and their next of kin and elected officials. Our goal with this program is to educate the public, but specifically reach parents and their teenagers who we hope are having important conversations about the dangers of today's street drugs," Nelson's office announced.
To watch the first video in the series, which runs for the next few weeks, please click the image below:
— Grave situation —
A new bill (SB 248) from Sen. Clay Yarborough would clarify and expand legislative intent regarding which medical expenses resulting from medical negligence may be recovered after someone dies.
"The medical expenses described in this paragraph include amounts paid by the decedent or the decedent's estate for the course of negligent medical care or treatment that caused the decedent's death and for any medical care or treatment resulting from the negligent medical care. Any outstanding charges submitted to the decedent or the decedent's estate by a health care practitioner or health care facility found to have committed medical negligence that caused the decedent's death must be canceled by the court," the bill proposes.
Canceled charges would include those for "negligent medical care or treatment and any charges by the practitioner or facility for care or treatment resulting from the negligence."
The personal representative for the decedent's estate could claw back damages for the benefit of the adult children or the parents of the person killed by medical malpractice if this bill becomes law. It would apply to the practicing physician if a Department of Health panel finds the doctor "committed a violation of law or rule relating to his or her profession which constituted a breach of the prevailing professional standard of care and caused the decedent's death, as well as to health care facilities judged to be "vicariously liable" by breaching the accepted "standard of care."
— Policy pitch —
Sen. Tracie Davis and Rep. Angie Nixon are looking for your suggestions as they prepare to file bills for the 2024 Legislative Session.
On Oct. 30, the two Democrats hold a "Pitch Your Policy" event, in which they will urge attendees to share "ideas on how we can change Florida laws to improve your quality of life."
While not every idea is guaranteed to lead to a bill slot, and while state representatives are limited to just six bills (Senators have no such cap), this may be the best opportunity for policy-minded members of the public to advance an idea for legislative consideration.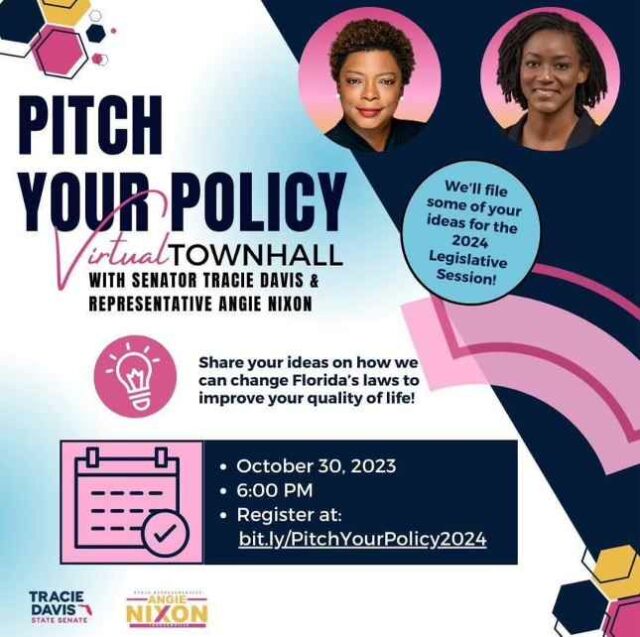 — Judge James —
Last week, DeSantis named Jacksonville's James Nealis to the Duval County Court as one of three appointments.
The reliably conservative Nealis has worked as an Assistant State Attorney of the 7th Judicial Circuit since 2015. Before that, he worked as an associate at the law office of Harris Brown.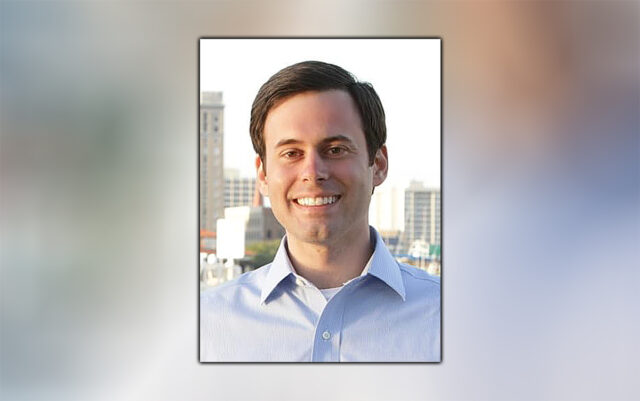 He also worked with the Jacksonville City Council before running for a seat in 2015. While he didn't win, he scored an endorsement from former Jaguars' QB Mark Brunell.
His law degree is from Regent Law School, and he did his undergraduate work at Vanderbilt, where he majored in Political Science. He also has a master's degree in Environmental Law and Policy from Vermont Law School.
Nealis will replace Judge Jonathan Sacks, whom DeSantis tapped in April to succeed retired Judge Adrian Soud on the 4th Judicial Circuit Court.
Nealis was nominated for the post in August.
Though he has not donated to DeSantis, Nealis has given small sums to several other members of the Florida GOP over the years, including $50 to Yarborough and $25 to U.S. Rep. Aaron Bean.
— Just checking in —
While Jacksonville is celebrating a new judge, we have a dispatch from the other side of the legal system, in which a former City Council member has filed a motion to vacate his fraud conviction from years ago.
Democrat Reginald Brown, convicted back in 2019 (along with former colleague Katrina Brown) for misuse of city economic development funds for a BBQ sauce plant that never actually made the product as pitched, argues that his trial attorney was negligent.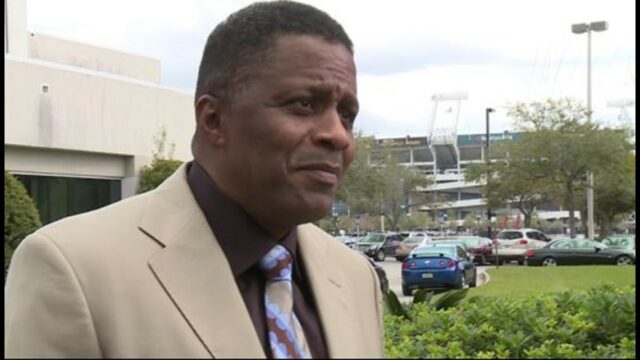 Brown, already out of prison, says the lawyer failed to object to bank records introduced during the trial as forensic accounting evidence of the scheme between the two Browns (who are unrelated). The motion claims that the records were outside the scope of the indictment.
While Brown has unsuccessfully appealed his conviction previously, he blames his appellate lawyer for not introducing the issue that his trial attorney "failed to preserve."
Brown also objects to the use of "shell companies" as descriptors for his "RB Packaging" and "A-Plus Training and Consulting," companies which seemed to exist as a mechanism to launder some of the more than $3 million expropriated between the $600,000 from the city and a $2.62 loan from the federal Small Business Administration.
— Capital idea —
Northeast Florida's private colleges are looking for capital.
Flagler College is on a quest to secure $65 million in private philanthropy, money that will augment a $35 million appropriation from the state of Florida for the renovation of the Hotel Ponce de Leon.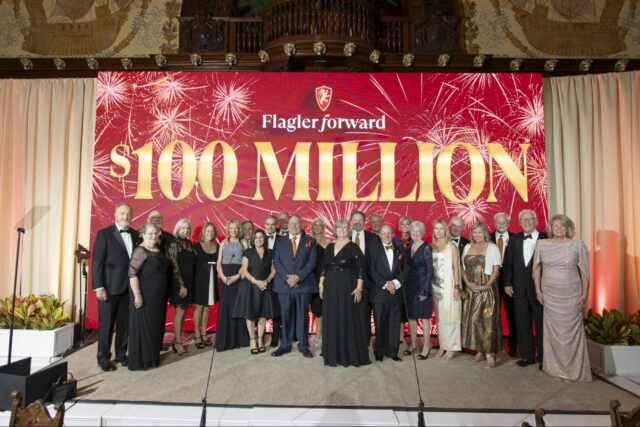 "We are incredibly grateful to Speaker Paul Renner, President Kathleen Passidomo, the entire Florida Legislature and Gov. DeSantis for recognizing the historical significance of the Ponce and prioritizing this funding in the State Budget," Chair Ambassador John Rood said. "We thank these government officials not only for their support in restoring the building we stand in right now but for fueling our commitment to transformational education."
Fortunately for stakeholders, this St. Augustine institution is approaching its $100 million goal.
"As evident from the College's March 2022 announcement of the William R. Kenan, Jr. Charitable Trust's lead gift of $12 million, the Flagler Family of supporters has risen to the challenge by providing more than $50 million in private support toward Flagler Forward. Adding the state appropriation of $35 million, the College has already secured $85 million toward the $100 million planned investment," Flagler notes.
"Our vision for moving forward encompasses not only the growth of our institution but also the advancement of our people, the enhancement of our programs, and the transformation of our places," said Flagler College President John Delaney.
The money will help facilitate scholarships, the hiring of 10 new instructors, experiential learning programs, and both old and new facilities on the campus.
Meanwhile, Jacksonville University is on its cash dash for $175 million for its FUTURE. MADE program. Happily, the school is at least 60% of the way there already, having raised $103 million in the "quiet phase" of the campaign.
"'FUTURE. MADE. represents our core identity and mission as a university: building a better future. It's who we are and what we do," said Jacksonville University President Tim Cost. "For decades, Jacksonville University has worked hard to be a force for positive change and meaningful progress in northeast Florida. We are now positioned to extend that impact on a much larger scale for the good of all."
The money will go toward "tackling some of the greatest challenges the world faces."
"Climate change, cybersecurity, access to quality health care services, the value of artistic expression in an AI world, the shortage of nurses and pilots, deadly antibiotic-resistant pathogens, the growing mental health crisis and respectful, civil discourse that promotes a stronger democracy — these are issues Jacksonville University students and faculty are actively exploring in the search for new solutions," JU says in a media release promoting the campaign.
— Resiliency money —
The Jacksonville Public Education Fund has secured funds from the Consortium of Florida Education Foundations and the Florida Department of Education to help students develop resiliency skills.
"In response to the growing understanding of the importance of mental health, JPEF will serve as a convening partner to drive local change and improvement as part of the Florida Department of Education's approach to building resiliency skills in students. As schools and communities continue to recover from the pandemic, it is more important now than ever before to support educators and community providers helping children in crisis and teach skills to foster student resiliency in the classroom," said Rachael Tutwiler Fortune, president of JPEF.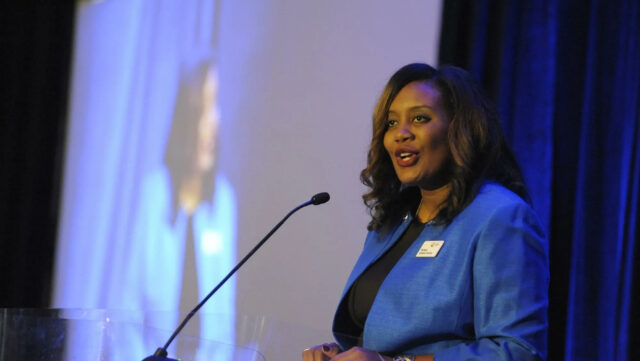 The initiative includes what Action News calls "trust-based relational interventions, the creation of new and positive experiences for students hailing from Jacksonville's urban core and the provision of girl-centered training" as well as "innovative research strategies and in-depth qualitative methodologies to identify gaps, assess existing programs, and recognize opportunities for building resiliency skills in students."
So far, this program has benefited 20,000 students in Duval County schools.
— Golf with cops —
The local police union will be on the links next week, and it's for a good cause.
Fraternal Order of Police (FOP) Jacksonville Lodge 5-30 will be the Title Sponsor of the third annual Mulligans for Hope Golf Tournament on Oct. 30, 2023, at the Atlantic Beach Country Club.
The money raised will go to support Operation New Hope. This nonprofit helps reformed felons with everything from training and mental health services to transitional housing to help them return to society and be productive.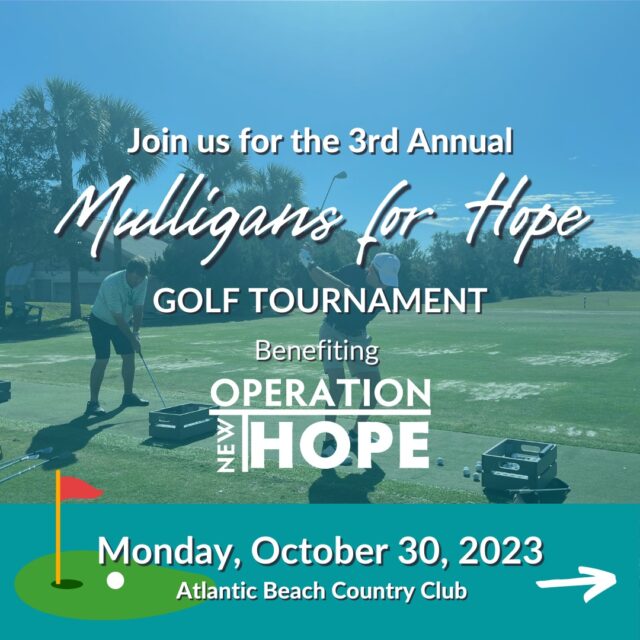 "We are in the business of giving people mulligans," said Operation New Hope's President and CEO Reggie Fullwood. "Like in golf, the practice of granting a mulligan is a kind gesture to make good on an otherwise bad shot — an opportunity to correct after making a mistake. And we are so thankful to the FOP for their service to our community and for supporting our mission to offer people second chances. It speaks volumes when the police are investing in helping to break the cycle of incarceration."
"We are proud to support Operation New Hope and all the work they do to help reconnect people with the workforce, their families and their communities," said Randy Reaves, Jacksonville FOP President. "We believe in the support they provide and know that their organization has a positive impact on our community."
— Spooky site —
This is our last issue before Halloween next week, and it's worth noting that a regional landmark is one of the reasons Florida ties the Green Mountain State as the third spookiest state in the country.
"Both Vermont and Florida have their fair share of ghost stories with haunted legends like the Green Mountain Inn in Stowe, Vermont, which is said to be haunted by the ghost of a former innkeeper and the St. Augustine Lighthouse in Florida, rumored to be haunted due to its long history of tragic incidents involving lighthouse keepers and their families," notes BonusFinder., which compiled this list of paranormal places and ranked the states along those lines.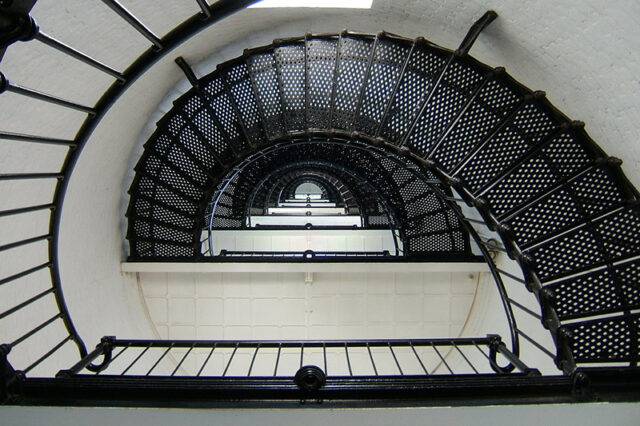 The local Ghost City Tours notes that people have seen a mysterious apparition called "The Man," which seems to be the ghost of a former 19th-century occupant.
The ghost is often seen dressed in a blue jacket and mariner's cap, walking his route up and down the spiral staircase or looking down from the catwalk above. Because of his tall, thin frame, some believe he is the ghost of William Russel, a protective and dutiful lighthouse keeper from the 1850s. Others point to Joseph Andreu, who fell from the top of a scaffolding in 1859 while putting on a fresh coat of paint."
Yet "the Man" isn't the only ghost in the cylindrical structure. Consider the case of the Pittee Girls. Two of them died during the construction of the new Lighthouse in the 19th century after a freak accident. While they were buried in Maine, their spirits are still reputed to be on the site in St. Augustine.
— The Cocktail Party —
RV's have rolled into town, and fans seeking brick-and-mortar accommodations have already begun arriving for Saturday's annual Georgia-Florida game (the city alternates which team comes first; we're sticking with giving last year's winner top billing).
While the annual neutral site game is an ongoing topic of conversation, the current contract to play at EverBank Stadium runs through 2025 after the two schools exercised the two-year option this Spring.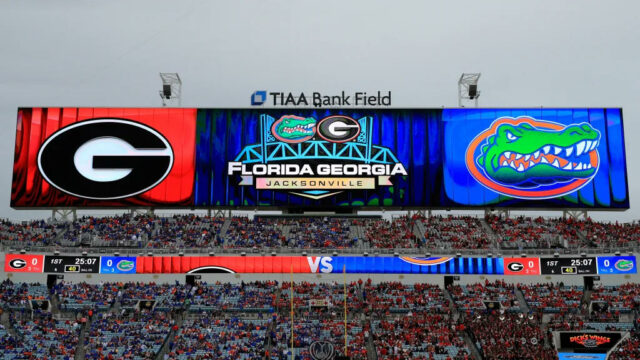 Where the Bulldogs and Gators will meet, when (and if) the stadium renovations are underway remains a decision to be made. It is possible that the two teams could still play in Jacksonville if the Jaguars opt to keep the NFL games in the stadium as renovations are ongoing in the offseason. Or the games could move on campus, as they did in 1994 and 1995 when the Gator Bowl was being renovated to become the Jaguars home stadium. There has also been some conversation about the game being played in Atlanta and Orlando, keeping it as a neutral site game before returning to Jacksonville after stadium renovations are complete.
There are a lot of moving parts.
As for the game on the field this year, Georgia comes in ranked No. 1 in the country and on track to compete for a third straight national championship.
Georgia (7-0) hasn't been dominant this year, but they are still winning games by an average of 40-14.
"I know our guys are excited to play in Jacksonville," Georgia head coach Kirby Smart said. "An incredible stadium and atmosphere. Our players love playing in this neutral site game. It's just kind of different in terms of the start of it, the fans, the split crowd. It seems to be a momentum flow type of game because the team that has momentum is really at home for that moment, but it goes back and forth. It's a game of momentum swings."
Georgia's biggest challenge this week is finding a way to replace the productivity of injured tight end Brock Bowers, who had ankle surgery and won't play in the game.
Saturday will also provide former Mandarin High School star Carson Beck with his first start in a Georgia-Florida game. Smart praised Beck's leadership, intelligence and confidence this week in preparing for the game.
Florida (5-2) has a chance to record a signature win in a season that has seen some ups and downs.
Wisconsin transfer quarterback Graham Mertz has settled into his role and has been particularly good at avoiding mistakes. He has thrown 10 touchdowns and just one interception this season.
"I think what we've learned is (Mertz) is a very capable player," Florida head coach Billy Napier said. "I think when given the opportunity, if we can protect him, if we can create separation, if we can win individual matchups, we've got a good, designed play; he can get it to the right guy? I do think that we are steadily improving around him."
Georgia has won 24 straight games, including the last two games in this rivalry. The Bulldogs are the 14-point favorites.