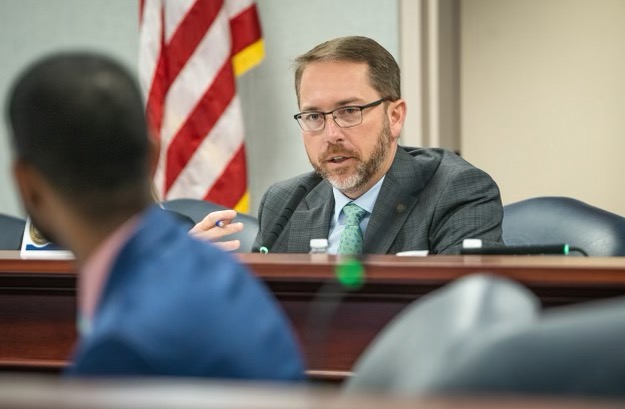 The bills are slated to be heard and voted on Tuesday by the full House.
This week's Special Session continued to move at a rapid clip as Florida House committees quickly advanced several bills and teed them up for a floor vote.
The House Appropriations Committee Monday afternoon unanimously approved bills to fund hurricane recovery in counties impacted by Hurricane Idalia (HB 1C); expand the Family Empowerment Scholarship Program (HB 3C); and spend millions for security grant programs, including money for Jewish Day schools and preschools.
The bills are slated to be heard and voted on Tuesday by the full House. The Senate is expected to take up the legislation on Wednesday and send it on to Gov. Ron DeSantis the same day he is participating in the next presidential debate in Miami.
Democrats tried unsuccessfully to amend the measure dealing with hurricane recovery and a program aimed at helping homeowners pay for storm hardening upgrades. Rep. Christine Hunschofsky sought to open the My Safe Florida Home program to residents who own condominiums while Rep. Dan Daley sought to get a tax refund to Broward County residents who purchased items to mitigate flood damage after historic flash floods hit the area last April.
Rep. Jason Shoaf, the main sponsor, urged committee members to vote down both amendments and said they could be considered during the 2024 Regular Session that starts in January.
HB 1C also provides a spate of tax cuts for Florida's agriculture industry adversely impacted by Hurricane Idalia, which is being lauded by those who will benefit.
"Y'all are the first Legislature in my lifetime to recognize any importance of agriculture to the state of Florida," Rod Land, a fifth-generation farmer from Lafayette County, told members of the House Appropriations Committee. "I thank you for it, I commend you for it. I ask you to give us the help we need to survive and to thrive in agriculture in the state of Florida."
The panel also gave the nod to HB 3C unanimously. The measure would lift a current cap on vouchers for disabled children, a move that is expected to add nearly 9,000 more students to the state's current program which already had nearly 41,000 students receiving help. The money is expected to come from a $350 million reserve account that legislators set aside during the 2023 Session in case demand for Florida's voucher program exceeded supply.
Bill sponsor and Polk City Republican Rep. Josie Tomkow said that while legislators won't know the final number of additional families who will receive the vouchers until mid-December, she predicted that "we are not foreseeing we will be blowing up that whole $350 million." 
Ahead of the vote, however, Mary Jospehine Walsh, a private school operator in West Palm Beach, spoke on behalf of a statewide group that represents 87 campuses and 7,000 students. She raised concerns about Step Up for Students, the scholarship funding organization that handles most of the vouchers for the state.
"Our current scholarship program is in crisis," said Walsh, who said she has had to max out her credit cards and forgo paying her mortgages to keep her school open.
Walsh said Step Up has had problems making timely payments to schools, putting many of them on the brink of closure. She asked legislators to put in new accountability measures to address the problem.
Rep. Kelly Skidmore called on legislators to put in "guardrails" during the upcoming Regular Session regarding Step Up for Students or there would be a "lot of students failing."