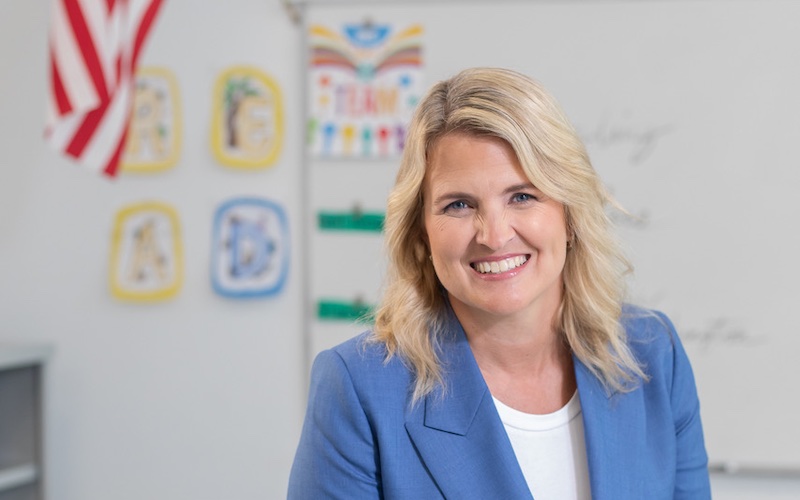 Republicans hope to defend the seat now in a Jan. 16 Special Election.
Osceola County School Board member Erika Booth won a costly fight for the Republican nomination in House District 35. Now, she advances to a Jan. 16 Special Election, where she hopes to defend a Central Florida swing seat.
Unofficial final election results, with all of Orange County votes and 44% of Osceola votes counted, show Booth won 49.7% of the vote, while former congressional candidate Scotty Moore won 33.6%. Real estate agent Ken Davenport also picked up 16.8%
"I'd like to thank everyone for their votes and the support. It's been a tough race but the results speak for themselves. I am beyond grateful — but this journey is not yet over," Booth said.
"Tallahassee needs leadership and our message will be loud and clear — Tallahassee needs a lesson in making Florida affordable and who better to give a lesson than a central Florida classroom teacher. I will not stop nor slowdown until we win this special election in January."
Booth now hopes to succeed Rep. Fred Hawkins, a St. Cloud Republican who resigned the seat to become South Florida State College's new President. She will face off against Democrat Tom Keen.
The fight for the Republican nomination, though, has been a messy affair involving unusual political committee activity.
Booth, an Osceola County School Board member, enjoys support in Tallahassee. The St. Cloud Republican announced her candidacy with the backing of the Florida House Republican Campaign Committee and Speaker-designate Daniel Perez.
The future Speaker quickly celebrated her win.
"Congratulations Erika Booth on your primary victory tonight!" Perez posted on X. "Onward to victory in January!"
She's also married to Osceola County Commissioner Ricky Booth, so she knows the campaign trail well.
"Folks know me from my work on the School Board. I've served the community for years," she said. "I've always been one with the grassroots in Osceola."
Of note, Booth just won her seat on the School Board in November, but said voters have not voiced frustration about her seeking another office, largely because of the importance of education in this race, she said.
She's also discussed matters like property insurance and affordability in the region.
Moore also walked into the race with notoriety. He won the Republican nomination for Congress in Florida's 9th Congressional District, where he lost but came closer to defeating a Democratic incumbent Congressman than any candidate in Florida.
He ran with the backing of social conservatives like John Stemberger and Florida Family Action, and from Peter Rourke, the Veterans Affairs Secretary under former President Donald Trump.
"Now is the time to protect our Christian, conservative values," Moore said in a campaign video.
Davenport, a real estate agent and flight attendant, ran against Hawkins in a Primary last year, and was taking another shot.
Most of the fighting in the race has been between supporters of Moore and Booth.
That included some bizarre political activity, with an Osceola consultant founding one political committee that endorsed Booth and then immediately used another committee to slam her for the endorsement.
Moore also faced criticism for a prior affiliation to Cru, a college Christian ministry that has accepted money tied to liberal megadonor George Soros. It also has come under criticism within the Christian community for adopting social justice rhetoric in its outreach.
Both Booth and Moore dismissed the conversations and concerns around other groups' activities as something unrelated to them or their campaigns.
Booth has raised and spent the most of any candidate in the HD 35 field, spending more than $193,000 on the Primary out of the almost $207,000 she raised through Nov. 3.
Moore spent upward of $96,000 on the race, and raised almost $111,000.
Davenport, meanwhile, spent just under $1,300 and raised over $3,300.
Republicans have invested more into the race than Democrats, but the weeks leading to a Special Election could see massive efforts on both sides.
Hawkins won the district by 10 percentage points in November, in a Republican-friendly environment where the GOP overperformed statewide. But Democrat Joe Biden won the support of a majority of HD 35 voters in 2020 and Democrat Andrew Gillum won the district when he ran for Governor in 2018.
As a Presidential Election year kicks off, both parties are expressing confidence they can win the district come January.