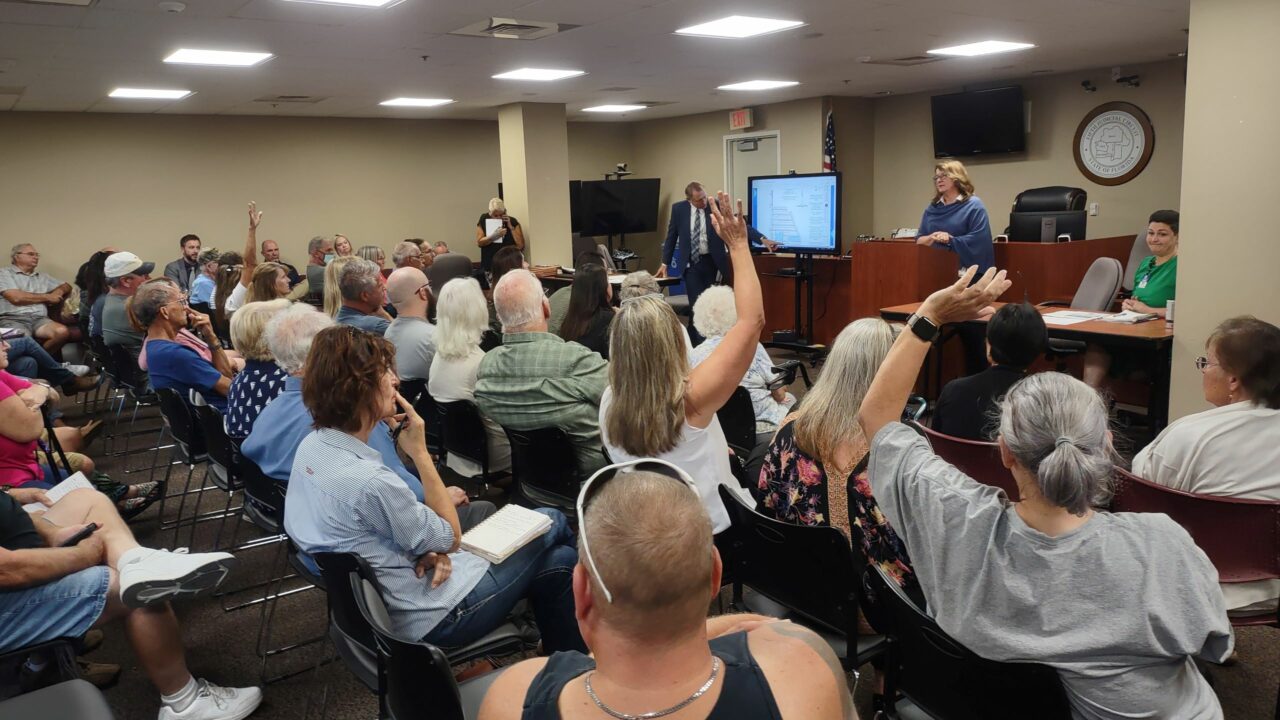 'I am devastated with the number.'
Just when it seemed the news couldn't get worse in the embattled Inverness Villages 4 community … it did.
Neighbors gathered at the Citrus County Courthouse on Thursday to hear the county's estimated special assessment to pave dirt roads that have so far been unmaintained: $109,000 per lot, or $8,000 a year.
"I am devastated with the number," said Citrus County Commissioner Holly Davis, who led the meeting that included the big reveal. "No way this Board of Commissioners is voting to force this on you."
The proposed municipal services benefit unit, or MSBU, was a blow to property owners who had waited months for Citrus County officials to complete the study.
Oddly, county officials did not have handouts or copies of the study for the property owners. When one asked about that, a county official suggested residents file a public records request for it.
A Citrus County blogger, Just Wright Citrus, requested the study on Nov. 1 and received it only five minutes before the end of business Thursday. The county provided no explanation why the report was not available for eight days after the requests or why it didn't have copies for citizens attending Thursday's meeting.
The matter is also on the Tuesday County Commission agenda although with no backup. Residents who pleaded for copies of the study were rebuffed by county officials who said they should show up at Tuesday's board meeting to see the report.
The history of Inverness Villages 4 is long and convoluted. The issue has always centered on who is responsible for the roads, which are public streets but not publicly maintained. 
Some homeowners said they expected a special assessment, but one much less.
County officials estimate the project of paving 3.8 miles of streets at $35 million. The biggest costs are buying individual lots for drainage; the estimate is based on paying three times the property's value.
They also peg construction costs at $11.5 million — $3.5 million per mile.
What happens next, other than Tuesday's commission meeting when the matter is on the agenda for discussion, is unknown.
One thing commissioners must decide, Davis said, is whether to continue a building moratorium in Inverness Villages 4 that's been in place since May. Commissioners placed the moratorium in hopes of stopping landowner Anton Van Usen from selling lots that the county could use for drainage.
While residents said the county should not have allowed development in Inverness Villages 4 with dirt roads and no drainage, Davis blamed the city of Inverness for installing water lines in the community, opening it up for home construction.
Davis claimed the city did so without notifying the county.
"Far as I'm concerned, laying water lines made all this possible," she said.
Reached later Thursday, Inverness City Manager Eric Williams said that isn't the case. He provided an email string from 2019 showing city officials asked the county if they needed permission to place water pipes along Inverness Villages 4 streets.
County's answer: The roads are not public.
"This project will not require a right of way permit from Citrus County since it is not our right of way," the county's response reads.
Williams said he tried to explain this to Davis several months ago.
"It's unfortunate she would make those statements," he said. "They're not true."