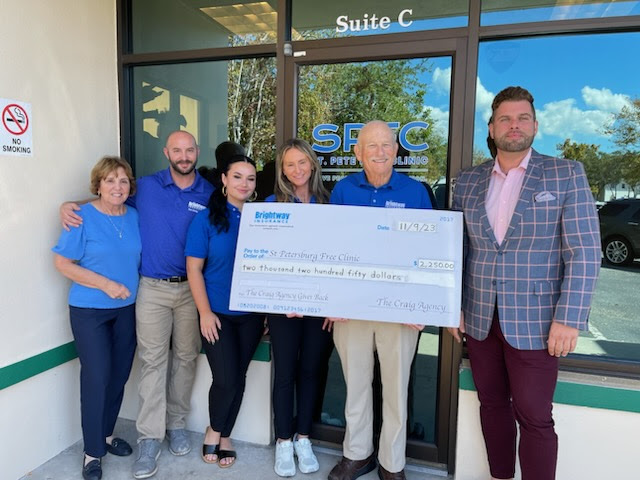 The business is providing a monetary donation in addition to its year 'round volunteerism.
A father and son duo behind a local insurance agency are giving back this Thanksgiving, for the fourth year in a row, with a check to the St. Petersburg Free Clinic in the amount of $2,250.
Dr. Joe Craig and his son, Chris, opened Brightway, the Craig Agency in 2019. Since then, they have provided charitable donations to the St. Petersburg Free Clinic each year.
Joe Craig is a retired dentist and has been volunteering his services to the clinic for more than 20 years. The clinic is located just blocks from the agency's Fourth Street location.
"Our hearts are with the clinic all year long," Dr. Craig said. "It only makes sense to give in other ways at this time of year."
The clinic has dental and medical services available to those in need year-round, five days a week, and is staffed by volunteers who provide thousands of patients with basic health care.
Brightway, The Craig Agency writes customized home, flood, auto, boat, condo, renters, personal articles, RV, motorcycle, umbrella and life insurance policies for customers through a variety of different insurers. The office is located at 5001 4th St. N. in Suite B.
The St. Petersburg Free Clinic is located at 5501 4th St. N. The nonprofit organization accepts donations from individuals, businesses and other organizations year-round.
In addition to providing dental and health services, the clinic also provides food and shelter to those in need, under the mission to change lives by meeting basic, unserved human needs.