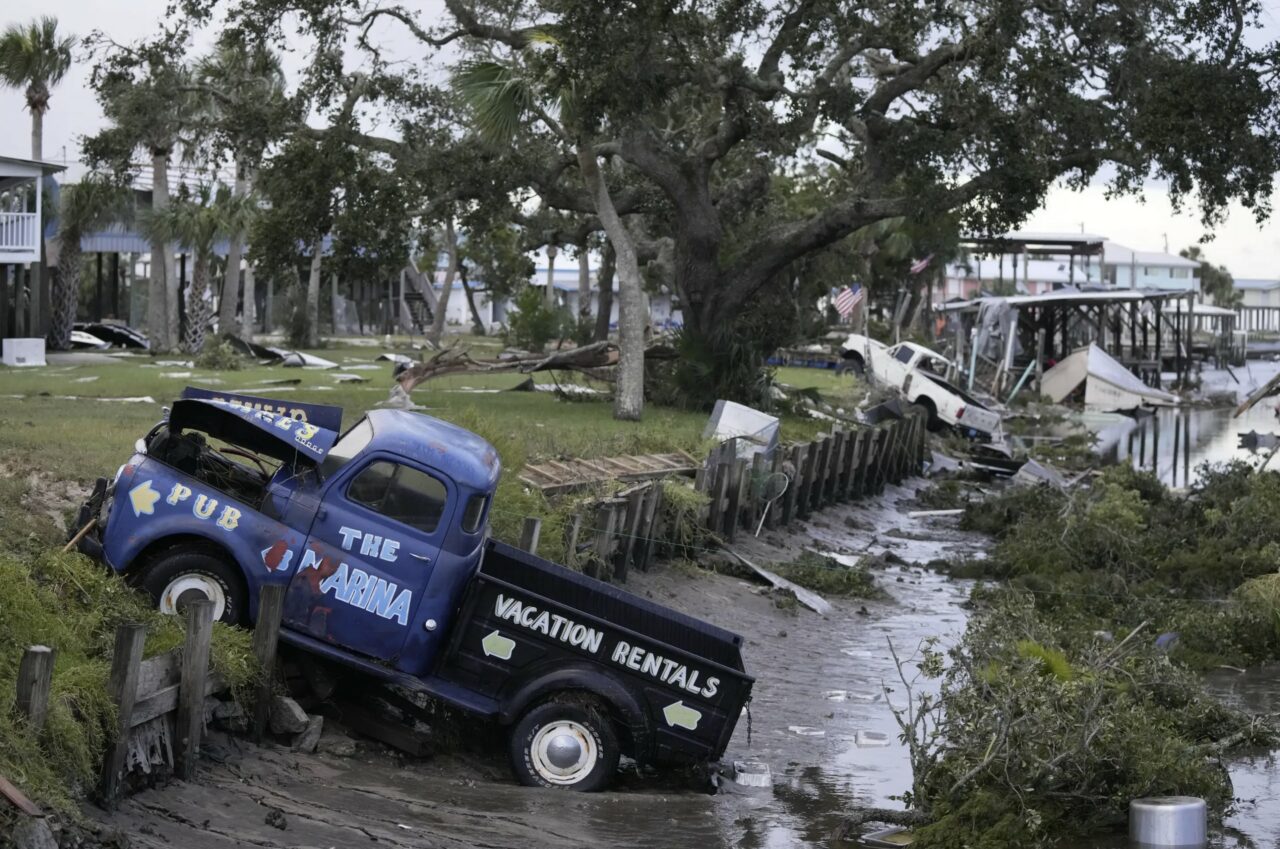 Clearing roads that aren't county maintained remains a challenge for some communities months after the storm.
Cedar Key Mayor Heath Davis knows family stories about the last massive storm to strike his community. His great-grandmother would talk about the Cedar Key Hurricane, one that swept away local shacks and took her aunt to sea.
When Hurricane Idalia struck on Aug. 30, forecasting allowed evacuations and storm preparation to avoid the same loss of life. Storms still hit, though none since that century-old storm delivered the same strength winds as those felt this fall. Each time, Davis said community leaders woke up the day after the hurricane, rolling up their sleeves and seeking to help — at least as much as possible.
"As a small town, you do what you can," Davis said.
The Florida House Select Committee on Hurricane Resiliency & Recovery met with community leaders from seven counties significantly impacted by the storm. The constant theme: Rural Florida simply can't front the cost of recovery as readily as wealthier counties.
Unlike some of Florida's most infamous historical storms, Idalia primarily struck low-population counties. The fiscally constrained county governments had to respond to a storm with little revenue. Many do not have dedicated emergency operations centers.
Shayne Morgan, Columbia County's Emergency Management Director, noted many people in his line of work in small counties run a shop of one. Earlier this year, officials authorized a fire captain to assist Morgan part-time, so he boasts a Department now of one and a half. That makes it all the more critical to see state officials arrive and help with recovery.
"There's a lot to take on for one, two or three people, especially when skies are gray and we're having to deal with these recovery efforts like we have right now," he said.
County officials primarily brought praise for state government to Tallahassee, including for Reps. Jason Shoaf, a Port St. Joe Republican, and Allison Tant, a Tallahassee Democrat. The lawmakers for the region became fixtures in emergency centers after the storm, and at the committee meeting pressed officials for policy needs in addition to budget concerns.
Both noted that in rural counties, the public relies on access to roads that are not county maintained.
Taylor County Administrator LaWanda Pemberton said there are 300 miles of publicly accessible roads in her county, all with homes located within 1,000 feet, that aren't maintained through government funding. That means federal reimbursement money isn't accessible for cleaning up debris. While the country is grateful for trucks coming in to help clean up those roadways, that also means there will be damage done to the roadways from the heavy vehicles.
"I'm afraid some of our citizens are being disenfranchised," Pemberton said, noting all residents were taxpayers. Unlike homeowner associations in more populated areas, the private associations that own many of these private roads don't collect fees or maintain budgets for community upkeep.
Leaders did have good news to share in terms of best practices that appeared to work at the state and local level. Lafayette Sheriff's Lt. Bobby Lawson said a "volunteer village" had been set up in that small county that provided a place for out-of-area volunteers to sleep, as well as food available around the clock. That proved valuable in marshaling philanthropic relief efforts after the storm.
Leigh Basford, Madison County's Emergency Management Director, said the state was able to help clear major roadways so that resources could reach impacted counties. He also said bridge funding programs for local governments made it possible to address needs with urgency despite a sometimes yearslong wait for federal funds.
But some needs were exposed by the hurricane as well. Hamilton County Emergency Operations Deputy Manager Pam Allen shared an especially macabre challenge facing her community. The rural area has many largely abandoned cemeteries, some full since before the Civil War, that had tombs and vaults opened by the wind. While open graves have been temporarily covered by tarps and sand, they will likely remain unsealed for months.
"We can't take that on as a county when we are taking care of living people," she said.
For some areas, communications became paralyzed at a critical moment when Idalia made landfall. Suwannee County Commissioner Travis Land said his whole county lost cell phone service when power went out for the entire region.
"Losing cell phone service for lack of generators in today's world, there should be legislation that prohibits that," he said.
Allen similarly said gas stations should be required to have, if not generators, then transfer switches to allow emergency county generators to power pumps. She noted for many patients with medical demands, perpetual access to power is a life necessity, and having gas stations down for two weeks could cost lives.