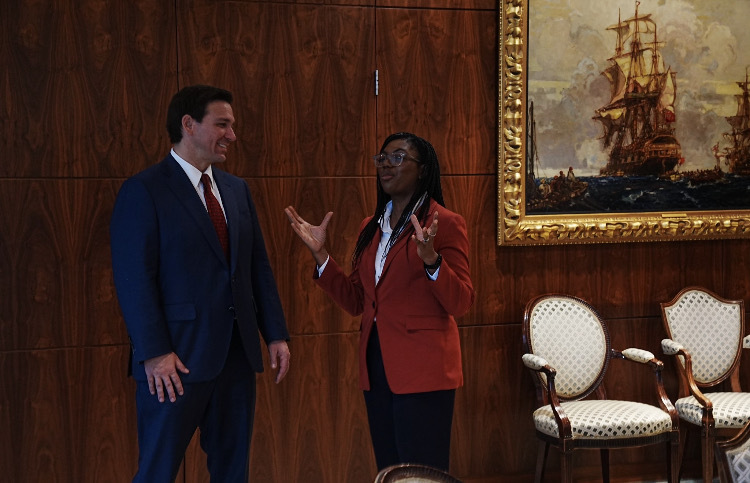 Florida and Great Britain agreed to a memorandum of understanding, representing a payoff from the Governor's trip to the UK.
Florida's Governor is in the state this week, but an event in Jacksonville showed him as a global figure, engaged in statecraft well beyond the state's borders.
Among the figures Ron DeSantis hosted during a presser at JAXPORT rolling out a memorandum of understanding (MOU) between Florida and Great Britain: Business Secretary Kemi Badenoch, who DeSantis credited with supporting his "war on woke" in comments to the British press this Spring, with a tweet lauding her as a "strong, outspoken leader."
While DeSantis said Badenoch blamed the United States for "exporting" woke at the time, the conversation at JAXPORT largely focused on the more conventional trade and commercial ties between the state of Florida and the United Kingdom.
That said, political ideology did pop up in the DeSantis preamble remarks.
"The Secretary and I have also done work in our own spheres on making sure that our institutions and our society are governed by sound and not some of the outlandish ideology that we're seeing," DeSantis said.
"We're seeing some of this in some of these college campuses in other parts of this country in relation to the Hamas attacks on Israel and you kind of just shake your head when you see some of them out there doing what they're doing, burning American flags, taking American flags down. And it's like, you know, you know, that's not, I think, the best of America," he continued
"So we've worked really hard to found our institutions and ground them on really sound enduring principles and not go on logical joy rides like we've seen in some other parts of the country. And I think it's something that's really significant because ultimately the institutions get captured by ideology, they're just not going to be dependable for our society's advancement."
MOUs between Florida and certain other nations are commonplace. During 2019's Enterprise Florida trade mission to Israel, the state and its entities inked numerous memorandums with its counterparts in the country.
The Messenger, which got an advance look at the document that it published when the press conference was to begin Tuesday afternoon, notes the MOU covers "space, financial technology, medical tech, supply chains and logistics, transportation, infrastructure and cybersecurity, legal services, agricultural biotechnology and semiconductors and photonics."
In comments Tuesday, DeSantis credited the "trade mission" with spurring this "really, really significant" agreement, noting that a MOU with Japan also has been inked already due to the global junket.
"These agreements here are really, really good," the Governor said.
DeSantis said the U.K. was Florida's "top global investor" with $18 billion of total holdings in the state, and is Florida's top bilateral trade partner globally, with a "strong tourism relationship" and a "great potential" to expand business ties further via the MOU.
DeSantis said the U.K. was a "second home" for Americans, given "how the country was birthed" and the "rule of law," driven by the fact our "Founding Fathers considered themselves Englishmen," and a "special relationship" writ large.
Badenoch lauded Jacksonville as a city built on "free trade, free markets, and freedom itself," and credited DeSantis with facilitating the "most efficient" MOU in her experience. Britain has signed six other MOUs with states, she said.
She discussed the "freedom" Britain embraced via Brexit as well.
"The U.K.'s decision to gain independence from the EU and take back control of our trading policy is something that I know resonated with a lot of Americans and it's that freedom that underpins the deal which we are signing today," Badenoch said.