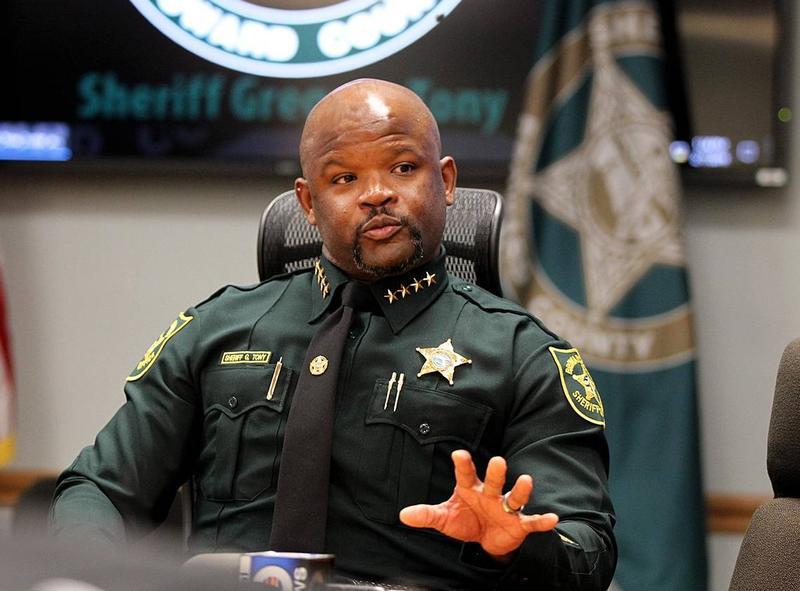 'We strive to endorse the very best candidates. We believe that Sheriff Tony is the one.'
Gregory Tony's re-election campaign now has the backing of three sizable unions in the county.
The embattled Broward County Sheriff says it's because they trust his leadership.
Between Sept. 28 and Nov. 13, the Broward County Police Benevolent Association, Broward Teachers Union and Broward County Professional Firefighters and Paramedics Local 4231 all formally endorsed Tony.
Each issued a follow-up statement Thursday explaining their support.
"Law enforcement relies on public officials, and we strive to endorse the very best candidates. We believe that Sheriff Tony is the one, and we wish him a successful campaign," Broward PBA President Rod Skirvin said in a statement.
"Our decision is based on our belief that Sheriff Tony will make a positive difference in Broward County by working toward stronger and more effective public schools, and that his decisions will reflect his support of higher salaries and improved working conditions for all public school system employees," said Broward Teachers Union President Anna Fusco.
Local 4231 President Steve Bertuccio added, "Because of the rapid growth we are experiencing in this county, decisions being made now will affect us for many years. Sheriff Tony, an experienced public servant, has the wisdom and insight to make the right decisions as Broward County Sheriff."
Tony took over the 5,800-employee Sheriff's Office in January 2019, when Ron DeSantis appointed him to replace Scott Israel during his first week as Governor.
After the disastrous response to the mass shooting at Marjory Stoneman Douglas High School the year before under Israel's leadership, DeSantis said residents needed "accountable, competent leaders who can safeguard communities."
"Gregory Tony will be a champion for Broward County who will work tirelessly to safeguard our schools and our streets while ensuring accountability," he said at the time.
But Tony has been under fire — and the focus of a state ethics case — since it was revealed he did not disclose a juvenile arrest and committed other omissions at the time he was being selected for Sheriff. He also failed to mention those details when he applied for a job at the Coral Springs Police Department.
The case is now on hold, according to the South Florida Sun-Sentinel.
Tony retained office in the 2020 election, despite revelations that he had failed to disclose his killing of another many in 1993, when he was a juvenile living in Philadelphia.
The state Commission on Ethics determined Tony misused his office and lied because he did not disclose the incidents. He opted for a hearing before the Division of Administrative Hearings (DOAH) instead of negotiating a settlement of the ethics finding. That hearing reached an impasse last May and may portend a full trial on the case, according to Florida Bulldog. The DOAH website shows the agency denied Tony's motion to dismiss the case on Aug. 24.
Tony switched his political affiliation from Republican to Democrat soon after his appointment. Voters in Broward, which leans heavily Democratic, narrowly chose him over Israel in the 2020 Primary before overwhelmingly supporting him in the General Election.
His campaign says that under his leadership, the Broward Sheriff's Office has made "significant improvements to school safety, training and equipment, transparency and accountability, and community policing." It also lists the development of a Real Time Crime Center, Threat Management Division" and a new "Research, Development and Training Center" among his achievements.
By Sept. 30, less than a month after he launched his re-election bid, Tony had $628,000 in cash to defend his post.
Of the three groups voicing their support for him, he said in a statement, "I am truly honored to receive the endorsements from these three unions, each dedicated to advocating tirelessly for the rights and well-being of our hard-working public servants across Broward County. Their commitment to ensuring fair wages and improved working conditions for Broward's most dedicated individuals is commendable. I am humbled by their trust in my leadership and look forward to working together to keep fighting for fair treatment and better conditions for everyone serving our community."
Three Democrats — former Florida Department of Law Enforcement agent Steven Geller, former Broward Sheriff's Office colonel Al Pollack and David Howard, who lasted less than a month as Chief of the Pembroke Park Police Department — have filed to challenge him in next year's Primary race.
Independent candidate Charles Whatley is running as well. Pollack and Whatley also ran in 2020.
The 2024 Primary Election is on Aug. 20, followed by the General Election Nov. 5.
A press release from Tony's campaign only listed the General Election date, after he'll have faced his Primary opponents.
___
Anne Geggis of Florida Politics contributed to this report.