We all get it done together here in the Sunshine State.
Another year is heading for the finish line and the holidays are approaching at Millennium Falcon speeds (the Kessel-Run-in-12-parsecs fast) so it's time to ponder the events of 2023 as we await Santa. My reflection shows what we all see: The world is in a strange place and some headlines from 2023 are impossible to get past.
Terrorists murdering and kidnapping civilians at a music festival and all over Israel? A war with no end in sight in Ukraine. China/Taiwan boiling over. Syria. It's grim out there, and it is a good time to be thankful for peace here in the U.S. and a good time to serve our communities where we can.
On the service front, there are awesome events highlighting the positives of humanity all over our state, and I want to put the spotlight on a couple today.
Last week, I participated in a community gathering supporting all things youth mentorship.
I have been blessed to serve Big Brothers Big Sisters of the Big Bend for the past seven years and Sunday was our 2023 Bowl for Kids' Sake Event. I asked our Aegis staff in a meeting the first time we held this event: "Who would like to join me for it?" Half the hands in the company went up. Usually, a few hands go up for community events and this show of hands was so high I figured we needed to do it up with a team name and some bowling shirts, and the Lucky Strikes became a thing seven years and counting.
To see my comrades at Aegis head out on their Sunday to support me (and the cause) is far beyond inspiring; it was pure magic to have them all there. Shoutout to Aegis Nation for being involved; we fight the good fight every day and to step out together after hours for the greater good (plus beer and bowling) was next level.
We took over the whole bowling alley, and there were friends everywhere. Fellow Board member Mary Stafford and Prime Meridian Bank were right next to us, my friend Drew at Sachs Media was a few lanes down, Board Rock Star — Eddie from Ruvos was also in the house, Tri-Eagle provided the beverages and a gazillion others were all-out and doing their part.
BBBS is led by Molly Lord who took the agency's reins in a turbulent time and is shining as a leader. Her staff is strong and the kids they impact and help each day are amazing.
To those who dedicate their careers to youth mentorship, we salute you, and if you want to be a youth mentor, there is always a need.
Nice job BBBS staff: Molly, Erin, Lisa, Lateef, Krystal, Carter, and Breanna; you all are first class. Thank you.
My time with BBBS has been special; we all know how charitable work stays with us for the long haul. I was talking to Cameron Williams on our podcast this week about service. Specifically, another powerful not-for-profit that his band, Tishamingo, is supporting in Tampa next month.
The organization is called Frameworks.
Their mission is to empower educators, youth services professionals, parents and guardians through training, coaching and research-based resources to equip youth with emotional intelligence skills. This leads to better decision-making, relationships and overall life skills.
With mental health being top of so many people's lists these days, helping youth develop their EI is not just important — it's imperative.
Come on out to the Tampa Oyster Fest on Sunday, Dec. 10, and you can enjoy live music, have your fill of oysters and support the good work being done by Frameworks.
Oysters are provided by B&D Oysters, which was dreamed up by visionary Doug Iverson, who thought up the B&D idea by the firepit. I checked in with one of the festival organizers and Frameworks Board Chair John Wakefield about the event. "People love this festival because it is unlike any other event in Tampa. The vibe is so fun and friendly where people can be themselves and have a real Sunday Funday."
"I challenge anyone to find a festival this unique where everything — and I mean everything — is included. For $125, festivalgoers get all-you-can-eat oysters (raw, chargrilled, steamed and shooters), award-winning BBQ, world-class low country boil, live music from three bands, cocktails, mocktails, ice cream, parking, and the Bucs game on a big screen. I love the Tampa Oyster Fest and I love Frameworks of Tampa Bay!"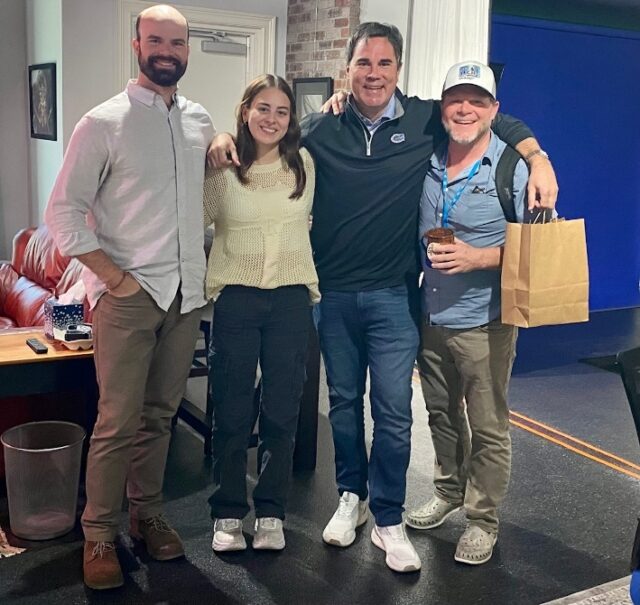 Sounds good to me, and I suppose it's time to get out the Christmas decorations and just embrace the moment. Let "Love Actually" take over the TV and Mariah Carey the sound system as all things joy to the world are knocking on the door post haste. And you know what, that's awesome. We live in the best state in the nation, and despite global issues, my vibe today is one of thanks. I hope you can handle a ladle full of corniness as it's a blessing to write this for you today (Thanks to Peter, Phil and everyone at Florida Politics.com, too).
We all get it done together here in the Sunshine State, so thank you to everyone for the volunteer work you do, the boards you serve on, the money you give, and the posts you share online.
All of that is what makes the world a safer and more positive place.
We toast you John, Molly, Doug, Cameron, and everyone in this column. Happy Thanksgiving week to all; long live the Lucky Strikes.
See you at Oyster Fest!
___
Blake Dowling is CEO of Aegis Business Technologies and can be reached at [email protected].