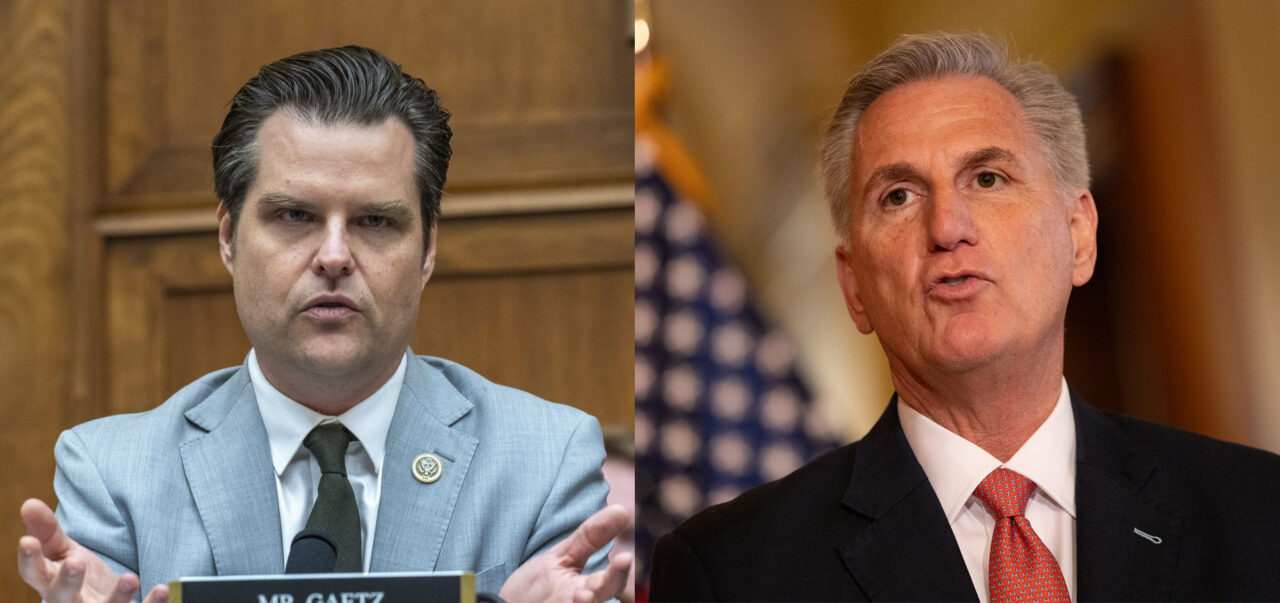 'Once that Ethics complaint comes forward, he could have the same problem.'
Former Speaker Kevin McCarthy said a House investigation could leave U.S. Rep. Matt Gaetz without his current relevancy.
During an interview with Fox Business' Maria Bartiromo, the California Republican unprompted added further fuel to his ongoing feud with Gaetz.
McCarthy became the first lawmaker ousted as U.S. Speaker of the House after Gaetz in October made a motion to vacate the leadership post. That set off a 22-day leadership fight in Congress, ultimately resulting in U.S. Rep. Mike Johnson, a Louisiana Republican, becoming Speaker.
Bartiromo asked McCarthy about progress in the House since the transition, and the former Speaker suggested dissent within the GOP caucus continued to stall action.
"Unfortunately, we have a number of members doing the exact same thing they did before, stopping bills from moving forward," McCarthy said. "We're going to have to come together."
Then he made clear he believes Gaetz continues to stall policy advancement. And he repeated an assertion that's mostly to scuttle a House Ethics investigation into Gaetz's personal sex scandal.
Gaetz, for his part, repeatedly said his motivation for ousting McCarthy stemmed from a refusal to advance individual appropriations bills and stand up to President Joe Biden and Senate Democrats on budget talks. He criticized McCarthy as beholden to special interests in Washington.
"Did people actually believe we were going to take power away from a corrupted person like Kevin McCarthy and the swamp creatures?" Gaetz said at the Florida Freedom Summit earlier this month to cheers.
While McCarthy has suggested as much before, he now has compared Gaetz's ethical quandaries to those of U.S. Rep. George Santos, a New York Republican on the verge of expulsion from Congress.
"We do know this is really driven, as you know and you've had on your show, (by) Matt Gaetz's ethics complaint," McCarthy said. "I think once that Ethics complaint comes forward, he could have the same problem as Santos has."
House Ethics Committee Chair Michael Guest, a Mississippi Republican, on Friday introduced a resolution to expel Santos. The move came after the Ethics Committee released a detailed report outlining campaign fundraising allegations and willful lying on financial disclosures. Under McCarthy, Santos in January voluntarily stepped away from any committee assignments amid scrutiny of numerous elements of apparent fabrication about his personal background.
Gaetz's office responded on Sunday, and referenced a complaint Gaetz filed against Gaetz for reportedly shoving U.S. Rep. Tim Burchett.
"The ethics complaint against Congressman Matt Gaetz emerged from a years old, anonymous, debunked New York Times story. Since then, Rep. Gaetz has been exonerated by the DOJ, the FEC and through the criminal convictions of those spreading lies about him," the statement reads.
"By contrast, the ethics complaint against the former Speaker emerges from an assault, two eyewitnesses, an audio recording, and a pattern of allegations regarding the same conduct, reduced to writing and published. Yet, the dispositive difference is that McCarthy personally appointed every Republican on the Ethics Committee, some of whom have expressed explicit desire to retaliate against Rep. Gaetz."
He specifically noted U.S. Rep. John Rutherford, a Jacksonville Republican, who heavily criticized Gaetz for spearheading McCarthy's removal as Speaker.
"Notably, Rep. Rutherford explicitly referenced retaliation against Rep. Gaetz as his driving motivation in opposing Rep. Jim Jordan to become Speaker," the statement from Gaetz's office reads. "'I'm a no on allowing Matt Gaetz…to win,' Rep. Rutherford said. He went on to release an even stronger retaliatory statement about Rep. Gaetz, concluding: '[Gaetz's] disrespect for his colleagues, this institution, and the people we serve is a clear reflection of his lacking fitness to serve in Congress…' All this over removing McCarthy. Sad!"
McCarthy asserted House Republicans would be healthier once Santos and Gaetz were isolated or removed.
"I think the conference would be probably better united to be able to move forward and get this all done," he said.