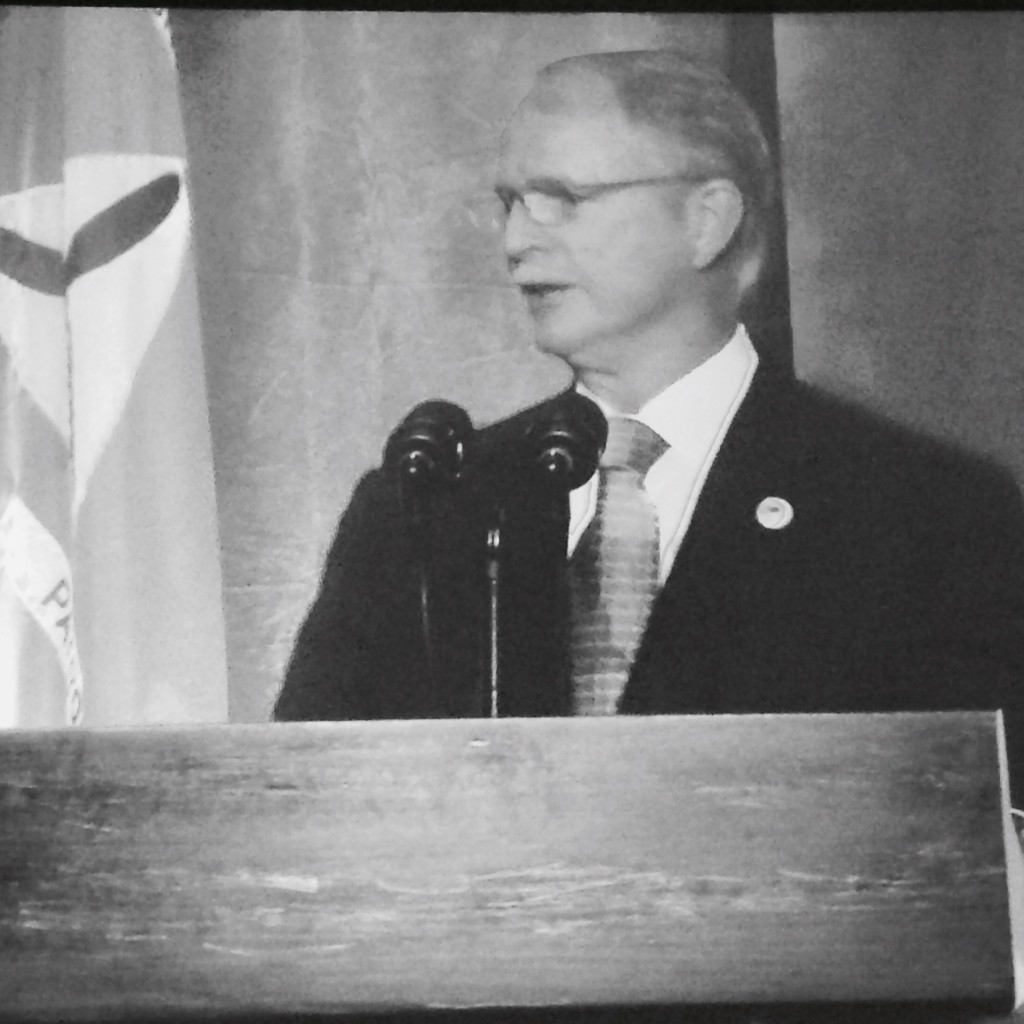 Though the Red State Gathering and the Erick Erickson/Donald Trump contretemps commanded the movement conservative headlines over the weekend, in Jacksonville a couple hundred conservatives of the Tea Party type gathered at the Downtown Hyatt for the "Let's Put US Back in the USA" rally.
Sponsored by Grassroots 4 Victory and helmed by First Coast Tea Party founder Billie Tucker, the event is the first of 15 scheduled tour stops between now and January 2016. The event, which was an all day affair, involved everything from an hour long town hall meeting with State Representative Jay Fant and aspirant State Rep Jason Fischer to an evening program that was highlighted by former Duval County Sheriff John Rutherford, whose next move has been the subject of speculation among #jaxpol watchers since even before he left office at the end of June.
The Rutherford speech, which was near the end of the evening's program, started off with a video montage of news clips of the Baltimore riots months back in the wake of Freddie Gray's death. Then the former sheriff commented that the clips reminded him of a story from the 1787 Constitutional Convention, in which Benjamin Franklin remarks on an engraving of a sun that was on a chair used by George Washington during the Federal Convention.
"I have often looked at that behind the president without being able to tell whether it was rising or setting. But now I… know that it is a rising…sun," Franklin reportedly said.
Rutherford then mused: "I wonder if Benjamin Franklin had just watched that video, would he see a rising or a setting sun."
The former sheriff, who wasn't particularly known as an avatar of personal liberty during his tenure atop the Jacksonville Sheriff's Office, related his wondering to the "shrinking individual and states' rights" in recent years, along with the "abortion of 50,000 [SIC] babies since 1973," the "culture of death and violence" that has beset the United States, and the erosion of the God given "liberty from punishment exacted by the state."
The current threat, Rutherford continued, was posed by "no far away government, no oppressive empire," but by the malign specter of the federal "takeover of more and more police power."
Regarding the possibility of replacing sheriffs with police chiefs, a concern of his, Rutherford laid it bare.
"You never want to give up the power to elect the individual who can constrain your civil rights," Rutherford said. "Your liberty and mine depends on… being able to elect those who can constrain your civil rights."
While it is uncertain who might want anyone to constrain his or her civil rights, Rutherford argued that it's preferable for local government to fulfill this function, as it "speaks with one voice," which might be news to those who spent the last four years in Jacksonville.
"I ask again," Rutherford continued, "what happened to us?"
Then, in what likely is a first in his political career, the former sheriff, who was vocal in his opposition to Amendment 2 in 2014, quoted former Ethiopian emperor Haile Selassie, whom the Rastafarians regarded as God incarnate.
"Throughout history, it has been the inaction of those who could have acted; the indifference of those who should have known better; the silence of the voice of justice when it mattered most; that has made it possible for evil to triumph."
As mentioned, Rutherford was not the only conservative politician in attendance. But it was hard not to notice the paucity of politicians who are actually viable. Longshot Republican CD 5 candidate Glo Smith was on hand, a very friendly woman in a longshot race against incumbent Corrine Brown. And before the Town Hall, emcee Jason Hoyt made a reference to Fant and Fischer being "the two politicians who decided to show up for the event."
To which, Fant immediately objected to being called a politician; he prefers the sobriquet public servant.
There was one more State House candidate in the Hyatt: Don Redman, running against Richard Clark to replace Lake Ray (in a district that Rutherford was linked to a possible race in some months back).
Redman, trailing Clark in the fundraising race, mentioned that Clark missed many more meetings than he did on Council (Redman claims to have missed none). Then, looking at the room, which was fairly deserted around 3:00, he spoke a truth.
"Doesn't seem to be as many people here as I hoped."
The tour has ambitious plans, but given that Jacksonville was the home base for it, it probably should have had a more robust turnout. Aside from this outlet and one other, there was a paucity of media coverage.