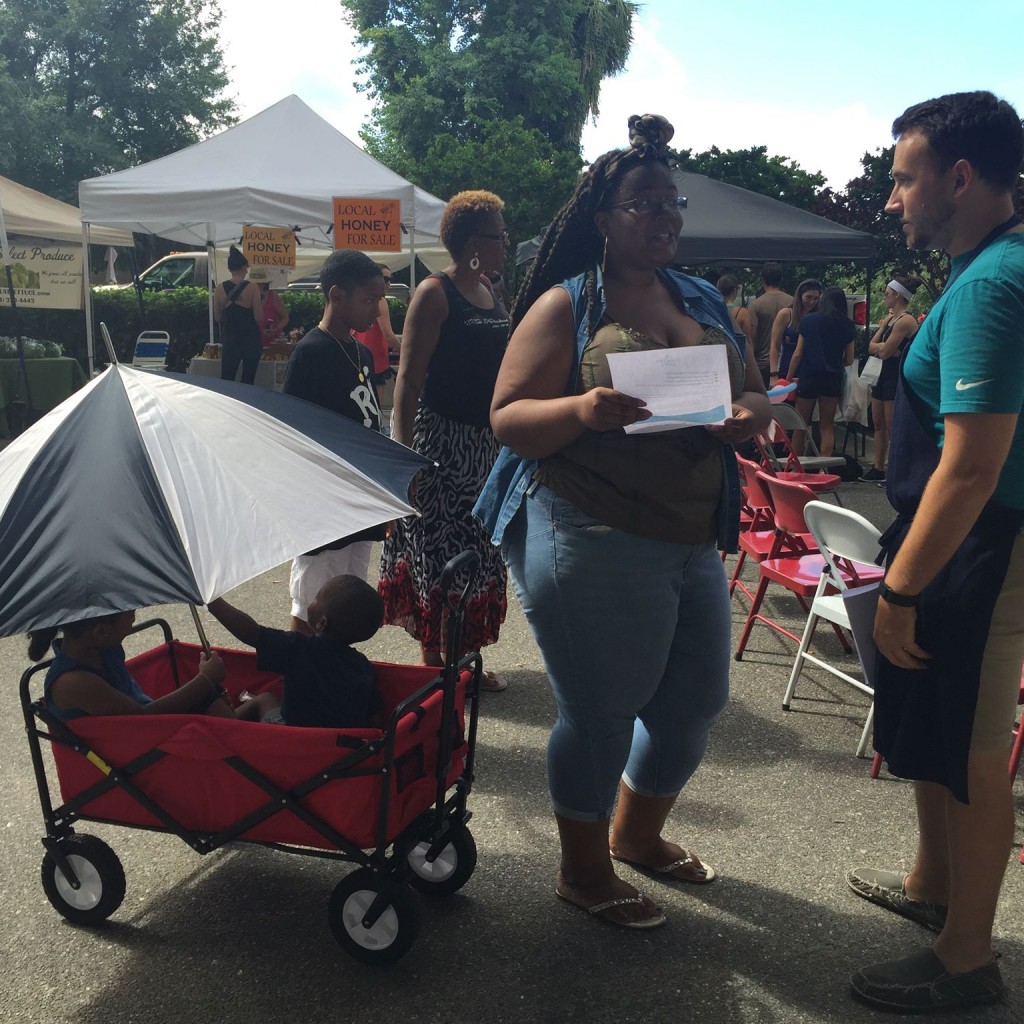 In its sixth year, Jacksonville's Riverside Arts Market has come to serve many purposes.
It anchors the community, giving residents of Riverside, and beyond, a destination on Saturdays, where they can buy local produce, crafts, and more, and listen to local music while they do so.
It also provides employment opportunities for the hundreds of vendors who participate in the market every Saturday.
However, a wrinkle has emerged, as a late October email from Carmen Godwin, the Executive Director of Riverside Avondale Preservation that has gone to city officials, including Policy Director Robin Lumb, suggests.
The crux of the issue: an early October letter to Krysten Bennett, Riverside Arts Market's director, along with the City's Office of Economic Development and Jacksonville Transportation Authority, notifying them of the suspension of their leases with FDOT for the property under the Fuller Warren Bridge.
FDOT's Jim Knight, a planner, told Godwin that "the lease suspension is not related to avoiding risk related to accidents or injuries, but rather to prevent legal action being taken against FDOT should an issue occur such as the failure for the construction company to clear the site of vehicles."
Godwin added that since "RAM operates in the space each week by special event permit (typically issued the middle of the previous month for each Saturday in the upcoming month), we want to ensure that there are protections in place for the continued operation of the market during the construction period, sans permit."
While Godwin told FloridaPolitics.com on Tuesday that she is hopeful that an accord will be reached, and that FDOT's main concern essentially boils down to wanting to be held harmless should there be a Saturday in which construction vehicles are in the parking area, there understandably are concerns.
"Mr. Knight has stated that if the City discontinues the issuing of permits, FDOT will enter into a written agreement directly with RAM.  Because FDOT has been adamant from the beginning that the project would minimally impact the market – and have demonstrated this commitment by writing numerous protections into the RFP for the project's construction company – we are optimistic that they will hold to their word. However, we believe we must be adequately prepared, should the City stop issuing permits for the space, with a team of individuals to step in to assist in ensuring the market's continued operation," wrote Godwin in October.
She then went on to "reinforce the importance of a lack of interruption to RAM's weekly operation," writing that  "a forced shut down of the site as an active space would effectively cause the closure of more than 250 small businesses that depend on the market as their storefront. RAM's closure would not only be a detrimental hit to the local economy and the livelihood of hundreds of families, but Jacksonville would lose a staple of its leisure offerings and suffer a significant loss to its cultural identity."
In an email to Lenny Curry's Chief of Staff Kerri Stewart, Lumb's language wasn't particularly reassuring.
"Frankly, if the city loses its leasehold rights to this space I don't see how it can continue to issue permits to RAM," Lumb wrote.
Well, what is the city doing? We've reached out to the mayor's office for guidance on this matter, and await word.
Lumb wrote to Stewart, and Godwin confirmed, that he is "happy to make inquiries" into this matter on behalf of RAM and the city.
What is clear though: an early test of the Lenny Curry administration, as it relates to the Riverside area (where Alvin Brown beat them in May) will be its ability to ensure a seamless resolution to this apparent issue.
One of the campaign tropes was that Curry would cut through the permitting red tape on behalf of businesses and outside investors; some might argue that this matter is not dissimilar to that, and finding a satisfactory resolution for FDOT, RAM, and the city would be paramount under that interpretation.