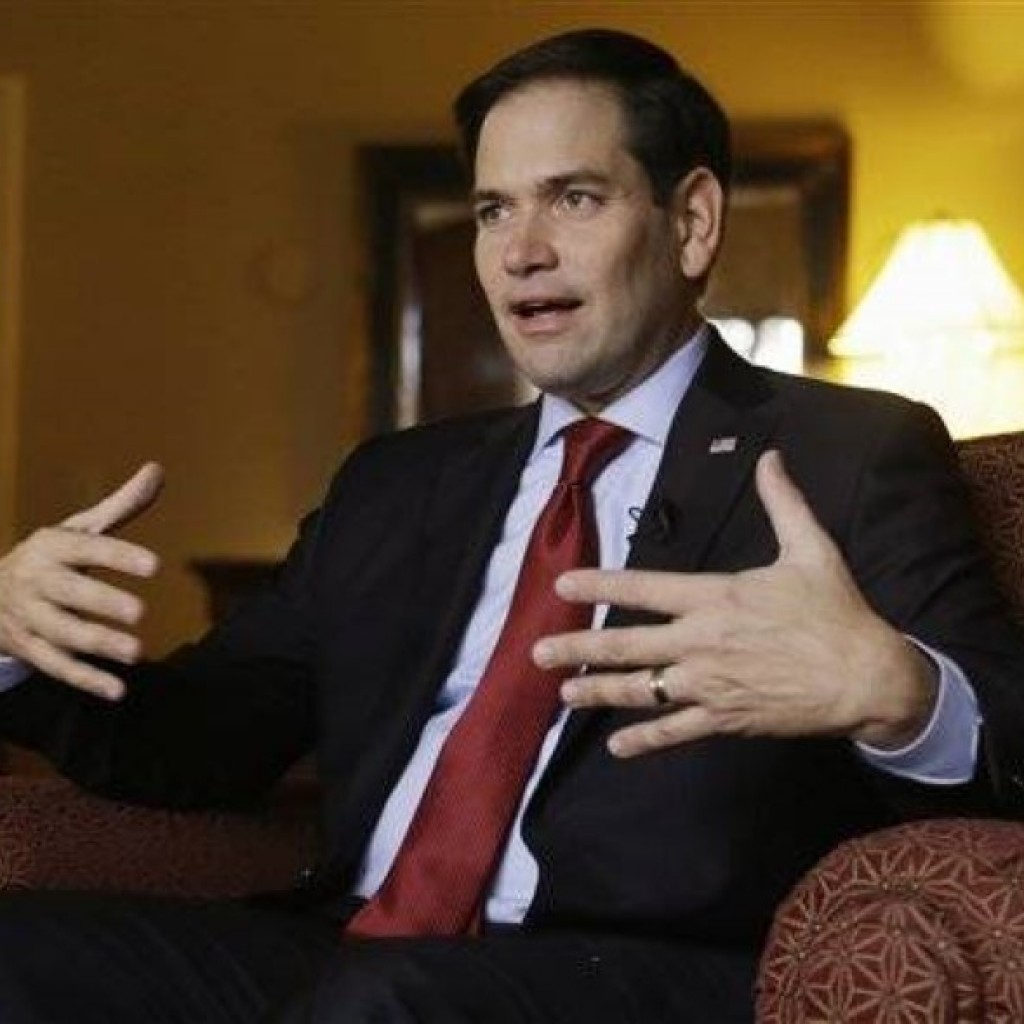 As Marco Rubio campaigns for the Republican presidential nomination, he's pledging to bring generational change to Washington. Yet Rubio's policy toward Cuba hinges on reinstating a half-century-old diplomatic freeze that failed to unseat the communist government on the island where his parents were born.
The U.S. senator from Florida sees no contradiction between his pledge to usher in new ideas and his call to restore an old, punitive relationship with Cuba.
"People think it's because we're being stubborn or holding on to old policies," Rubio, 44, said in an interview with The Associated Press. "I'm prepared to change strategies toward Cuba, but it has to be one that yields results."
In the traditional litany of promises candidates pledge to fulfill on "Day One" in the White House, rolling back President Barack Obama's detente with Cuba is near the top of Rubio's list. He'd downgrade the newly opened American Embassy in Havana to a diplomatic interests section – the status of bilateral relations before Obama's rapprochement with Cuba – and put back in place tougher limits on U.S. government and business dealings with the island.
Still, Rubio says there are ways to move forward. He would be willing to allow U.S. companies to invest in telecommunications in Cuba in exchange for free and unfettered Internet access on the island. He can envision restoring full diplomatic relations with Havana, but only if the government there allows opposition political parties and gives them freedom to organize.
Rubio says he's also open to modifying the Cuban Adjustment Act, more commonly known as the "wet foot, dry foot" policy. For Cubans fleeing to the U.S., it grants those who reach land permanent residency after one year, while most of those caught in the waters between the two countries are sent back. Rubio won't say what he would replace it with, but he calls the policy "hard to justify" when Cuban-Americans now have more ability to travel back and forth to the island.
"When you have people who are coming and a year and a day later are traveling back to Cuba 15 times a year, 12 times, 10 times, eight times, that doesn't look like someone who is fleeing oppression," Rubio said. "And other people turn to us and say, `What's the justification for this special status?' That's a very legitimate point."
Rubio speaks about Cuba with practiced fluency.
It's little surprise, given that his ties to the island have been central to his political rise. In his hometown of Miami, he forged political alliances with the city's Cuban-American kingmakers and rose to be speaker of the Florida House, then U.S. senator. In a presidential race where he's gaining momentum, his family's history gives his campaign a sweeping emotional core.
The outlines of that history are by now well-known. He rarely lets an event pass without mentioning his parents' decision to leave Cuba and how they worked to give their children a better life in the U.S., his father a bartender, his mother a maid.
"For them, Cuba was a place that had painful memories, but also obviously it was their homeland and they had love for it," Rubio said.
The story of the Rubio family's arrival in the U.S. has evolved. Rubio previously referred to himself as the son of exiles, using the words of those who fled the island after Fidel Castro took power in 1959. Under questioning from journalists, Rubio later changed the timeline, saying his parents came to the U.S. in 1956, before Castro's revolution.
Rubio's father died in 2010, but his mother still lives in Miami. The senator, his Colombian-American wife, Jeanette, and four children live in a home not far from where he grew up.
The senator has never traveled to Cuba, but he said he tries to keep the country's traditions alive for his young children. Meals at the Rubio house often include croquetas and other Cuban dishes. The family's main Christmas celebration is on Dec. 24 and includes a whole pig roast, a tradition many Cubans who fled have continued in their new homeland.
Still, even in a city like Miami that pulses with Cuban culture, Rubio sees the ways his children are becoming more a part of the country they live in than the one where their elders came from.
"America is a very powerful culture with very powerful values and traditions," he said. "You can see it. You see it within one generation, certainly by two generations."
Republished with permission of The Associated Press.