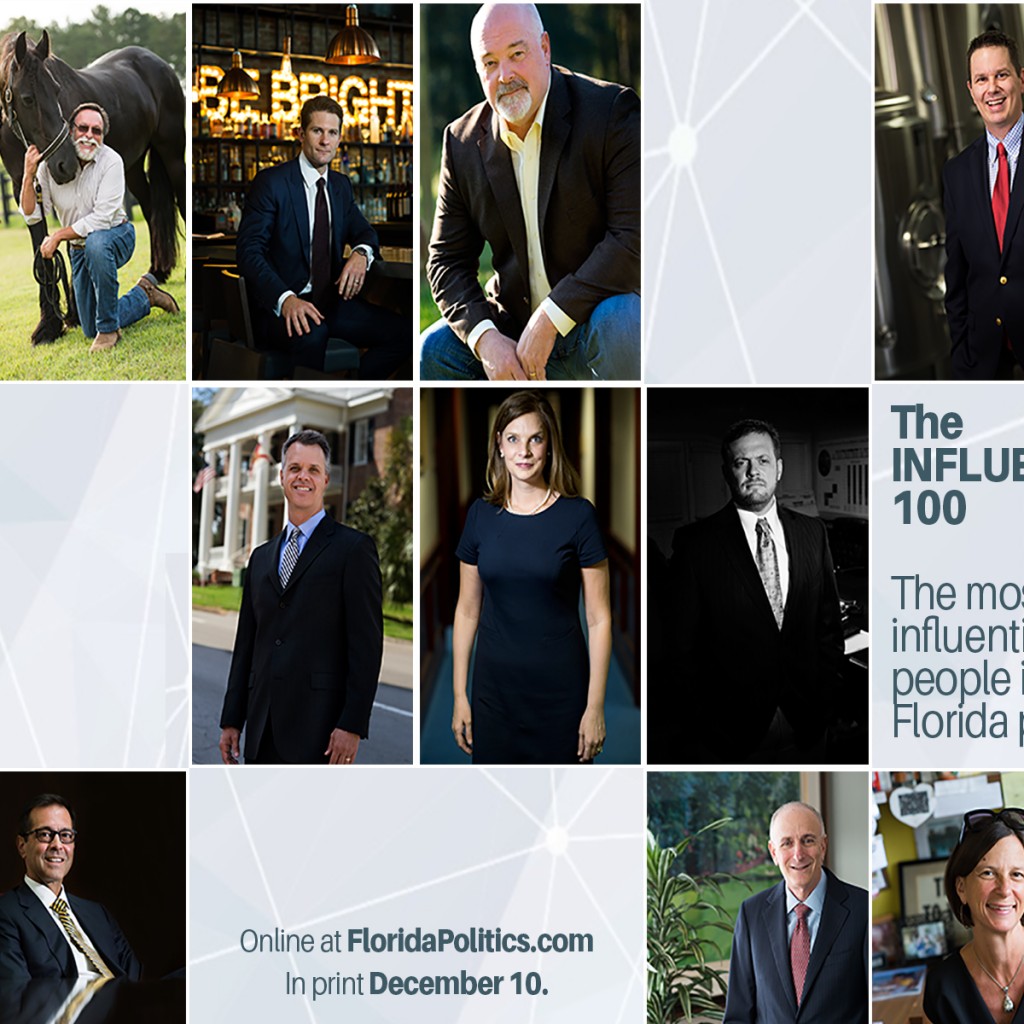 Before you scan through to see who made the very first INFLUENCE 100 list, please allow me to make something very clear.
It's my list.
I'm responsible for the facepalming, out-of-left-field choices, as well as the glaring sins of omission.
I'm the crazy one who – clearly with not enough to do already – decided to compile a list as ambitious as the INFLUENCE 100.
Like it, love it, or hate it: The buck stops here.
At first I thought of inviting a blue-ribbon selection committee to help me sift through the avalanche of nominations. I attempted to set a firm criteria for how someone would be included. I spent countless hours on the phone, picking the brains of much smarter people than myself, including the legendary Lucy Morgan. She used to compile her own list of 100 most important people in Florida politics in a still-worth-reading feature for the then-St. Petersburg Times.
At the end of the day, though, I realized it had to be my list. People won't discuss it and say, "The selection committee decided …" This is not March Madness.
I'm prepared to live with that.
The INFLUENCE 100 list of the most influential people in Florida politics does not include any elected officials. Instead, it includes all the other masters of the universe: The Players, The Thought Leaders, The Lobbyists, The Titans, The Counselors, The Media, The Industry Leaders, The Advocates, The Wonks, and The Legends.
I admit that the inspiration for the INFLUENCE 100 is Time Magazine's annual list of the most influential people in the world, which, rather than ranking also breaks its list down into sectors.
The INFLUENCE 100's two favorite aspects for me – beyond the parlor games it will inspire – are the superb photographs that accompany many of the profiles and that those bios were written by the subjects' peers, competitors, and admirers.
After all, who knows the 100 better?
So CFO Jeff Atwater writes about the Florida Chamber of Commerce's Mark Wilson. Current Speaker of the House Steve Crisafulli pays homage to one of his distinguished predecessors, Allan Bense. Former Senate President Don Gaetz explains why Lewis Bear is so important. And so on.
As with any list, there had to be a cutoff point. At first, I considered an INFLUENCE 250: There really are at least that many people with a hand in The Process. But that magazine would have run about 300 pages, so I settled on the more accessible INFLUENCE 100.
My goal is that in a few years Florida politicos will be as excited to make it onto this compilation as billionaires are to read their name in Fortune.
Meanwhile, though, I just hope you're psyched about reading the inaugural list.
If not, you know who to blame.