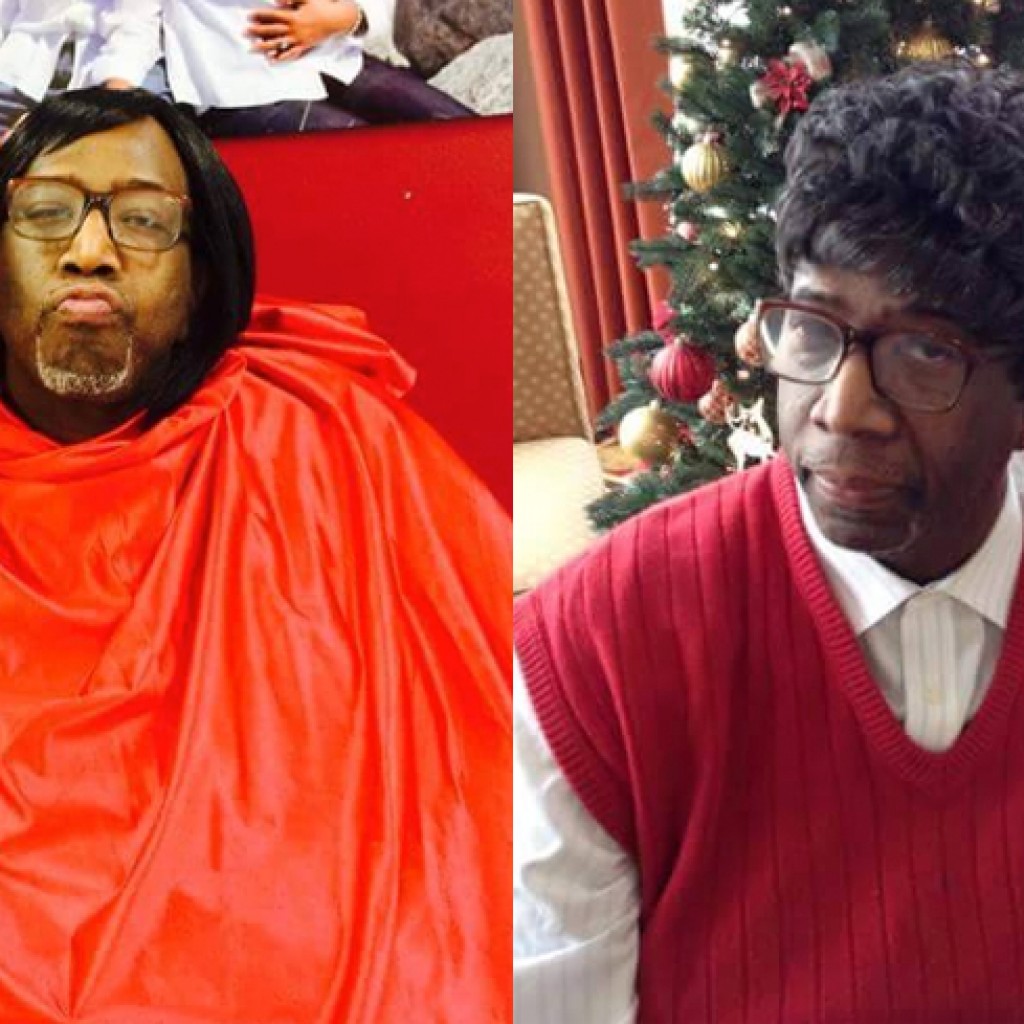 FloridaPolitics.com has obtained a list of panelists for the third Community Conversation on the Jax Human Rights Ordinance expansion.
One of the names is familiar: Roger Gannam, of the Liberty Counsel, who has been a often lonely voice on the first two panels opposing HRO expansion.
Though Gannam's inclusion on a third consecutive panel will no doubt cause consternation to those who support expansion, those who might be tempted to vilify him will want to be careful.
Gannam's former pastor and Mayor Lenny Curry's current one, Bruce Jones, emphasized that " Roger Gannam — even though we disagree on this issue — is a man of great integrity and faith. The way he has been baited and jeered at the HRO forums is a real shame."
Of note: Jones supports HRO expansion, a cause of consternation to some in Curry's political orbit.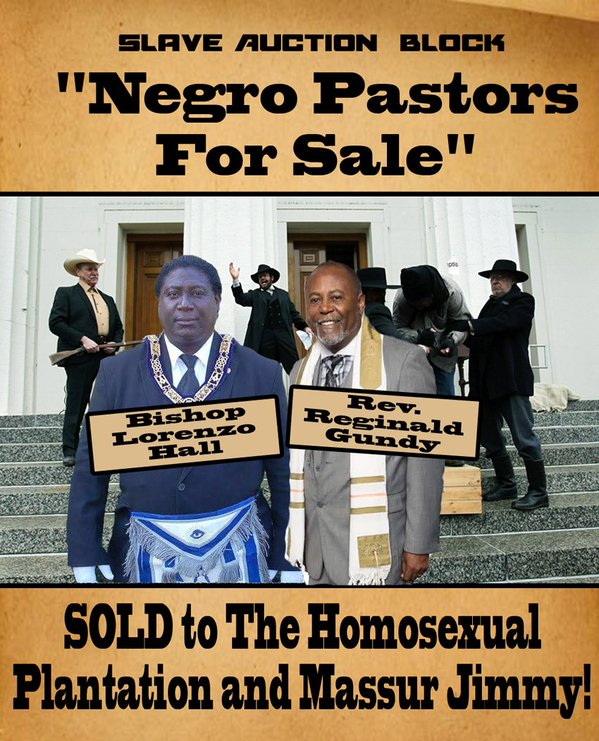 The second name on the panel arguably is the most interesting: Reverend Kenneth Adkins, a noteworthy addition because just a few months back, he called for Council to expand the HRO in Public Comment one night.
Since then, Adkins has had a change of heart. conferring with pastors from Houston on strategy, and posting a number of virulent messages on Facebook, including graphics comparing the enlistment of pro-HRO African American pastors with a slave auction, and postings of messages that, given the apparent disappearance of his Facebook account of late, may have constituted actionable hate speech.
Adkins also said he would attend a local Democratic Party fundraiser in drag, solely to use the women's restroom to make a point about how an expanded HRO would affect the sanctity of public restrooms.
As well, Adkins created a similar meme as above (see below) about pro-HRO Councilman Tommy Hazouri. Hazouri, not an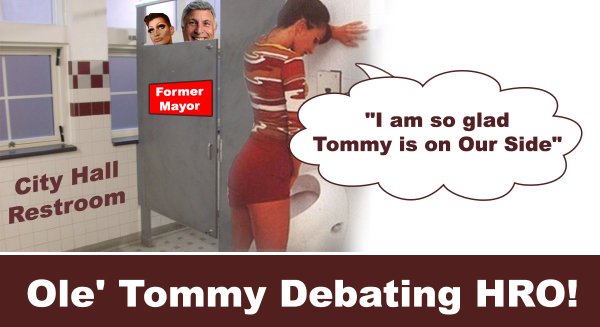 especially tall man, would have to be standing on a stepladder to achieve that angle.
Also slated for inclusion, reportedly: local business owner and Republican stalwart Diann Catlin, who made her feelings known on the first Conversation being rigged, and cast aspersions at the moderator and the mayor's spokeswoman while doing so.
I expect whoever organized the [first Community Conversation] wanted 4 against 2. Next time, we would like those odds (2 for the HRO, and 4 against). Mr. Boylan was Ms. [Marsha] Oliver's choice for the Forrest HS event [NOTE: when Olive was Duval County Schools spox, there was controversy over renaming Forrest High School, named after the father of the KKK], and his bias and hers showed once again last night. Green cards for those questioners who are against HRO and yellow cards for those for it making every other one a fair questioning lineup. Please let me know you rec'd this.

"Lastly Roger Gannon [SIC] should be on every panel. Until you hear what has happened all over the country with HRO's, you cannot possibly understand the detriment to people of faith and small businesses."

"[p]lease consider that because the odds were not even the first night, and because Mr. Boylan and Ms. Oliver showed their bias, you have the Christians riled (myself and my husband included). I just received communication from a fellow soldier who believes the next location will not hold everyone and parking is an issue. They said lighting is also an issue, and since I will be traveling alone, I hope you have considered safety."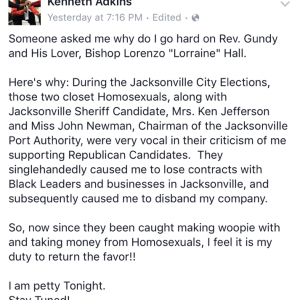 The folks on the other side of the discussion, meanwhile, include Hugh Greene of Baptist Health, Amy Ruth of Blue Cross Blue Shield, and former GOP Councilman Jack Webb, who has sparred with some of the more socially conservative elements in the local GOP in recent months.
Look for the fun, frivolity, and fellowship to start promptly at 6:00 p.m. And expect Adkins to make his push for a referendum then.
The open question: will Adkins' words be quoted to him, though, in public comment?