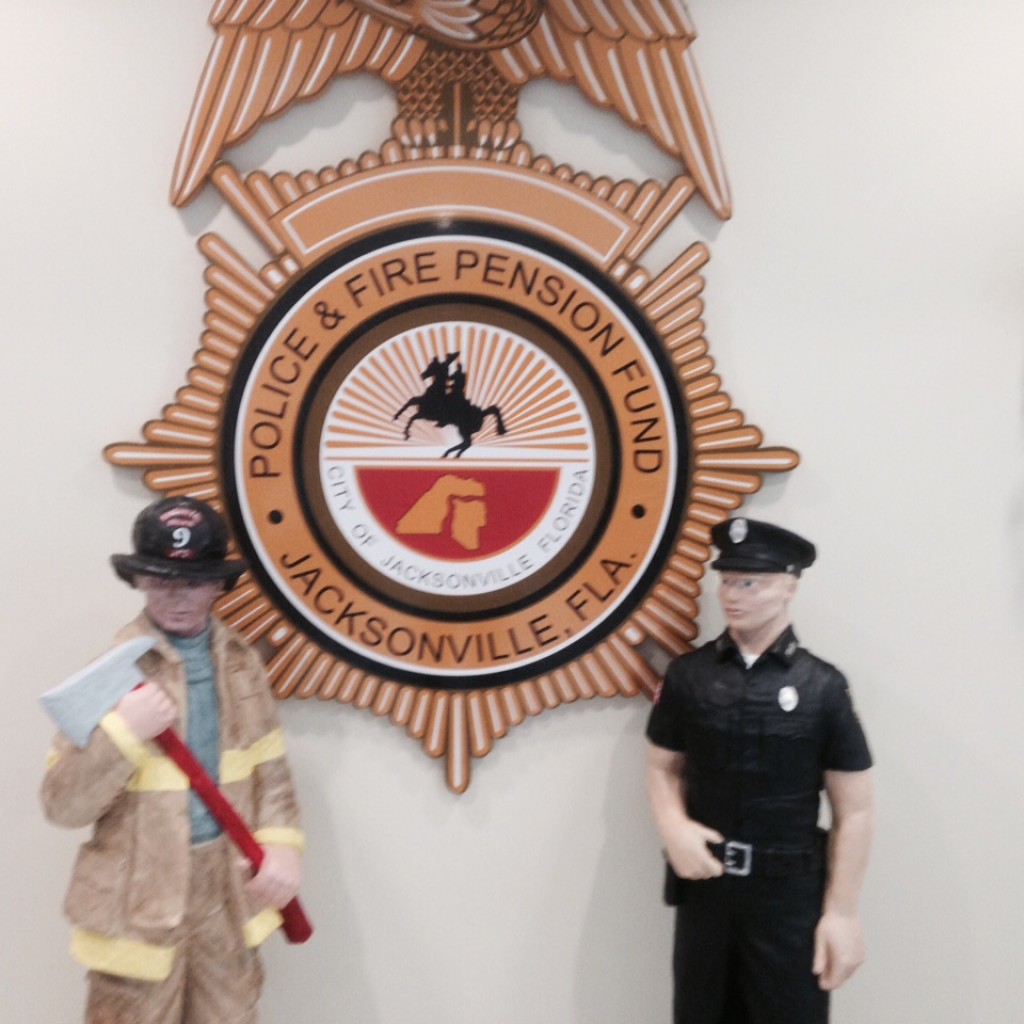 As Sam Mousa walked into the Police and Fire Pension Fund building on a misty Friday morning to sell the board on the Lenny Curry plan, FloridaPolitics.com asked him his thoughts on Rick Scott not committing to support the Jacksonville mayor's pension sales tax plan to address the unfunded actuarial liability.
Mousa's answer was typically economical,
"The mayor never asked the governor to support the plan," said the city's Chief Administrative Officer.
Given the tortoise pace of Tallahassee, there may be a new governor before this goes through, Curry staffers said Friday morning.
Mousa, along with Chief of Staff Kerri Stewart and Chief Financial Officer Mike Weinstein, was on hand to make the pitch of the plan, on which police and fire unions thus far have been taciturn, even as attorneys with an interest in pension (most notably, Tad DeLegal, who was part of Mayor Brown's Pension Task Force and Fraternal Order of Police counsel for 14 years) said that the initially proposed defined contribution requirement for new hires may lead to force attrition.
Stewart led off, giving an overview of the Tallahassee legislation, which had material changes from the proposal reviewed and approved by City Council. She pointed out the $2.6 billion unfunded liability which, if the plan doesn't go through, will eat up a fifth of the General Fund.
Stewart described the bills as "fairly simple," precluding new hires from the defined benefit plan. The bill also noted that the county, as Duval does, must already have a dedicated sales surtax, as the BJP tax is.
She also pointed out the referendum piece, and City Council being completely on board.
Then she passed the baton to Mike Weinstein, the architect of the plan.
Weinstein noted that for this year's budget, "normal costs" should be $75 million, but "we're putting in $260 million." The difference, he added, is the unfunded liability.
The "pension liability surtax," he noted, has a prerequisite of an extant infrastructure surtax.
"If we have to borrow and place dollars into the… unfunded liability, the statute will allow us to repay ourselves using the future revenue stream," from the BJP sunset until 2060, Weinstein said, estimating the total money generated from 2030 to 2060 would be $8 billion.
"That is the long-term solution," Weinstein said, pivoting to immediate relief from amortization based on the future revenue stream.
"The more we lock it in," Weinstein said, "the better the argument to the actuary."
"We tried to take in almost every option we could think of," Weinstein said, moving to the "liquidity question."
"If it is an issue," Weinstein said, "we have ways to deal with it."
The PFPF, 57 percent of the UL, would get 57 percent of the value of the plan.
"We don't have to take the full value of the benefit," Weinstein said, saying that "we can prevent a liquidity problem from putting in enough money at all times," and if that's not possible, borrowing is an option.
The defined benefit program for current employees would continue as long as those current employees live.
Weinstein issued a note of caution, saying 75 to 80 percent of bills don't get out of Tallahassee, and "ours has a little bit of controversy."
He said that it could be 2 or 3 years before it gets out, which would lead to next steps, including Council approval and collective bargaining, in what he called a "difficult" process.
"The analysis will be how do we try to get immediate advantage," getting this issue off the "front page," and also dealing with city infrastructure and public safety needs that have been neglected.
If this doesn't go through? A quarter century of austerity.
"I can't tell you how uphill this still is," Weinstein said of Tallahassee, where "it's not easy to get things through."
Weinstein cited the amendment process, the need for bills to line up, and Rick Scott's active veto pen as potential sticking points. Still, "ultimately we may get to a point where the pensions are solvent."
Beth McCague, executive director, spoke up, wanting to know if there was a possibility that the 30 year amortization may not fly.
Weinstein noted that borrowed money would extend to relief on the General Fund, not added resources from it.
"Whatever it comes out being," Weinstein added, "we don't have to take the entire relief."
Weinstein's projection: this could start FY18-19 at the earliest.
"We're probably putting in what we anticipate putting in for the next couple of years, which is a burden."
However, "it at least is a solution."
Worries were expressed from board members that the "safety net" might be frayed in a defined contribution plan; Weinstein said that "we don't know if we're going into defined contribution," and any speculation is "premature" in light of the process.
Mousa jumped in: "the bills as submitted do not reference defined contribution."
But what happens at the end of the day may be "a different story" and "currently, we have the most flexibility you can ask for," which opens the door to FRS, defined contribution, or "some other type of defined benefit plan."
"It's a sausage making process,' Mousa said.
Weinstein noted that the bill effectively is a local bill; one or two communities elsewhere in the state may qualify.
"When it comes to Council," Weinstein said to Tommy Hazouri, "Council will ultimately have to approve."
Weinstein noted that, due to collective bargaining, Council can't lock a specific plan in once/if this passes Tallahassee.
Bill Scheu, a major architect of last year's pension deal, gave his endorsement over the phone, saying "this is very creative."
A whisper in the room: "creative's the word."
He asked a question about force recruitment in defined contribution.
Weinstein: "we can create it in a way that is very lucrative. The only limitation is that it can't take in any more than $53,000 a year. We at the table could make a very attractive defined contribution plan and increase the salaries."
"The goal, ultimately, is to get to the money stream … to get this thing funded so it's not a newspaper issue all the time," Weinstein said.
To that end, the CFO added, "everything is on the table" as "both sides get comfortable with where we're going."
"It's closer to $3 billion today," Weinstein said of the UL, "and it's only going to get worse."
Weinstein also floated the idea of changing the $32 million city contribution down the road, pending negotiations with the unions.
Whatever the case, "we're taking the assumptions that have been voted on and locked in," Weinstein said, citing that any numbers necessarily are "guesses."
McCague spoke up: "Do you feel like you've got the leadership of the key committees in Tallahassee?"
The staff huddled, briefly, and Stewart said "he's simply asking everyone to be open and to listen," and Curry will be back in Tallahassee next week to meet with the Duval Delegation collectively.
Weinstein emphasized, once again, "the goal is to get this funded."
Mousa chimed in: "we're just looking for another funding source.
Larry Schmitt, board chair, spoke up next, saying that the negotiations of the current pension deal decreased benefits for some employees, with the tradeoff being that the city promises liquidity.
"Now we're hearing … that the city's not going to pay its fair share," Schmitt said.
Mousa and Weinstein cut him off, saying it would being both sides to the table.
Schmitt was undeterred.
"What we're saying today is … those employees who took a haircut, aren't going to have to take a haircut," Mousa said, citing the role of collective bargaining.
"We're not saying the haircuts are going to continue," Mousa added.
"Everything is on the table."
Schmitt pivoted to the liquidity question.
"Starting in 2030, we're betting that the great financial minds of 2030" can solve the issue, which is "troubling" for our members.
Mousa's response: everyone had responsibility, and "let's not get back to how we got where we got."
"It doesn't do us any good to dwell on it," Mousa added.
"What we're looking toward is the future."
Schmitt continued, saying waiting until 2030 made no sense; Mousa said an earlier start is an "option" after actuarial analysis.
"If we see a potential problem," Mousa said, borrowing money is an option, "and we pay ourselves back with interest,"
"We don't want you to find every potential way this won't work," Mousa said, going into hard sell mode.
Bill Scheu, then Larry Schmitt, raised concerns, with Schmitt saying these "concerns need to be discussed and addressed."
McCague then jumped in.
"I love it that there is a dedicated revenue source being sought," she said, but "details" matter.
Those details, said Weinstein, are "hypothetical" until "the Governor signs the bill."
"The referendum will take time, the Council decisions will take time. The goal," said Weinstein, "is to get to the money."
"If we don't get to this money, we're in for 23 or 24 years of basically stall," the CFO added.
Weinstein noted that actuarial analysis will be available later this month on the projected impact of the bill with current projections, but "we don't know how it's going to work."
Weinstein and Stewart's ask: political help.
"Be open. Be supportive to the extent that you can," Stewart said. "Continue to watch. Continue to express your concerns …. Let's have an open dialogue going forward, because this thing is going to be fast and furious over the next couple of months.
Mousa noted that media reports are sometimes "not true," for example, on the "defined contribution" piece being in the bill.
"Let's get after this pot of cash. We really need a dedicated funding source. Otherwise, Jacksonville's going to go backwards. It's getting more difficult every day to provide our citizens with the resources they need," said the CAO.
"We're just looking for a way to improve our services at the same time," Mousa said, as paying the pension obligation.
Mousa noted that last Friday, mayoral staff met with the unions, telling them that the mayor "believes he has a moral obligation to protect the current employees' retirement."
"We know what they were promised," Mousa said.
After their segment of the meeting, the mayor's staff talked to media.
"It went as well as we hoped," Stewart said.
"As we continue to have conversations," Stewart added, "each stakeholder has different concerns. The questions were not surprises" and they "keep coming up."
When asked about the change of the plan, from the Finance Committee presentation that stipulated the Defined Contribution condition to the current bills, Stewart was candid, saying that the "bullet points" in Finance were "needed and politically palatable."
"What we [got] back were filed bills with more flexibility," Stewart added.
"These are their bills right now," Stewart continued, "and they have to match exactly.
Weinstein posited that Unions, the administration, and Council "could agree on Defined Contribution."
"Anything can happen," Mousa said. "If the bill comes out of Tallahassee, Council still has to agree," which is not a given.
Asked about the Union response from the Friday meeting, Stewart was candid, saying "it was very similar to what you saw in there … a great dialogue between fears and realities."
The goal of the administration: open dialogue with all stakeholders; Unions, Council, and the PFPF on the city side, and the executive and legislative branches in Tallahassee.
Multiple committees will look at this bill in both houses.
As well, we asked Tommy Hazouri, Council's PFPF liaison and a former mayor, for his thoughts.
He noted the diminished strength of the Duval Delegation compared to years past, and when asked about Rick Scott's non-endorsement of the bill, he likened it to Lenny Curry's sluggishness on the HRO expansion, saying that that approach is "part of the MO of the GOP."
Hazouri noted that something to watch would be the reactions of the rank and file, many of whom, he noted, are expediting their retirements.
A worry among some who are opposed to reforms along the lines proposed: that there is diminished incentive for Fire and Safety officers to make these jobs careers.
What is clear: as Lenny Curry says, on the pension sales tax deal, there is a lot of ball to be played, on more than one field.