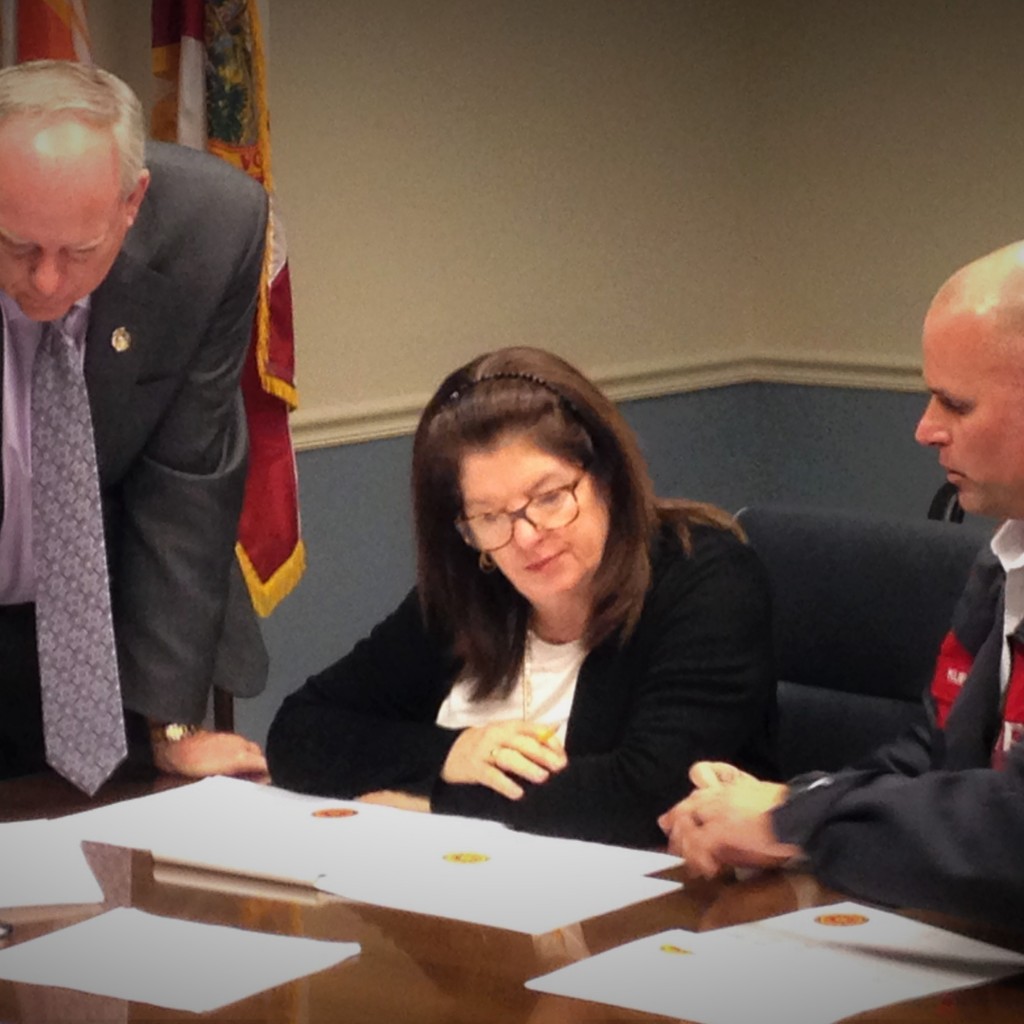 On Thursday, Jacksonville City Council members Lori Boyer and Aaron Bowman convened to discuss a piece of cure legislation, intended to resolve Council's budget night decision to move $330,799 from stormwater to safety officer salaries.
Before that meeting, I talked with Fire Chief Kurtis Wilson about the need for safety officers, something that has gotten obscured in the procedural drama that followed the Council vote in September.
Safety officers, Wilson said, are essential for a variety of functions.
In responding to fires, a safety officer on the scene is necessary for risk management functions, reducing injuries by ensuring that officers aren't using the ladders of homeowners to get on roofs, that they are wearing proper equipment as they go into burning structures and other issues.
They keep equipment in stock, delivering replacement helmets and such on an as-needed basis to trucks on the scene. And they serve as force multipliers, allowing Fire and Rescue to keep more crews on the road that they otherwise might be able to. And they help with other forms of cost avoidance and efficiency measures.
Health safety officers handle a variety of functions — everything from workers comp to transporting patients with communicable diseases under OSHA requirements.
So this is what they do. Uncontroversial enough. Yet the politics of the allocation have been somewhat more controversial.
Fire Union head Randy Wyse had texted various Council members before the decision was reached to have a second vote on the allocation; once that was reported on, a lawsuit from the Concerned Taxpayers of Duval County followed.
Finding a way to keep the $330,000 in the JFRD budget has caused Council committees headaches, with lengthy discussions not leading to any resolution.
There have been questions, also, as to whether the Cure Legislation is necessary; the legislative summary says that the bill was a "cautionary measure" issued not as an "admission of wrongdoing" but in an abundance of caution.
As politically unpalatable as voting on this issue may be for some on Council, a resolution has to be reached. To that end, Finance Committee members Bowman and Boyer convened to discuss the Boyer Amendment to the bill, which wouldn't demote anyone, which would keep the positions, and which would return $117,000 to Council contingency.
A goal, said Boyer, was to "keep everybody whole" without establishing a "precedent."
Boyer expressed concerns about the perception, created by these positions, that a top heavy structure was coming at the expense of the rank and file, which would create "unintended consequences" regarding pension liability.
Wilson's contention: the positions are necessary force multipliers, given Jacksonville's large size, and given the likelihood of multiple incidents requiring chiefs on the scene.
Without safety officers, the suboptimal solution of dispatching people out of headquarters can and does happen.
A safety officer, roughly speaking, is almost like a flex player in fantasy football, allowing for a chain of command and defined responsibilities that makes the "line of authority… operationally better," allowing crews to handle four events instead of three simultaneously.
"Captains manage crews," Wilson said, while "chiefs run the scene."
With three chiefs covering 840 square miles, the problem is stark: chiefs could not get on the scene 70 percent of the time.
This helps to create disparities and liability risks.
From here, Boyer and Bowman need to sell Finance on this, and of course, the rest of the Council.
Some Council members have postured on this issue, saying that they don't want to take stormwater funds and give them to high-ranking safety officers.
Ultimately, the JFRD case is that these positions are necessary for functioning, not administrative patronage.
The case is self-evident for those paying attention.