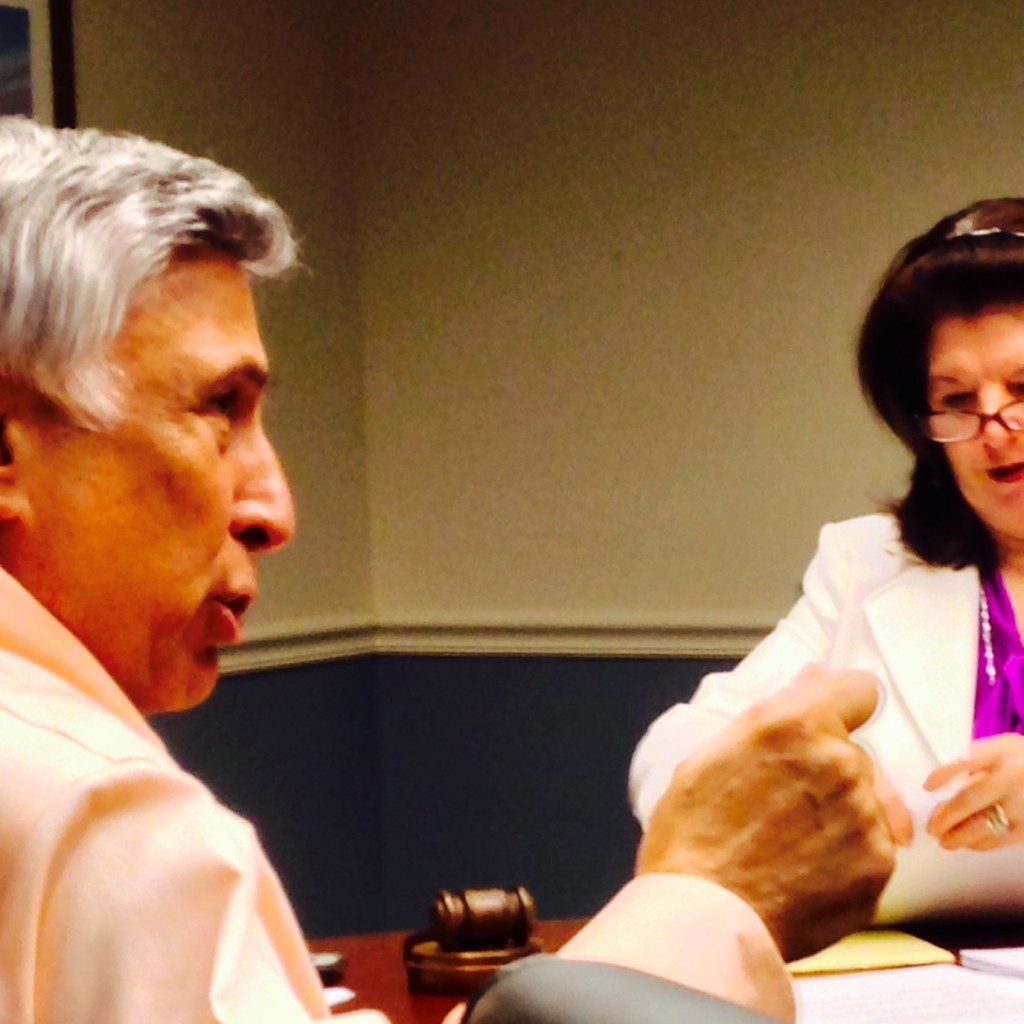 Barring the unexpected, Lori Boyer will be Jacksonville City Council President. Wednesday meetings with Council members (Anna Brosche, Matt Schellenberg, and Tommy Hazouri) were intended to let her make her case, while finding out what her colleagues' vision for Boyer's presidential year might be.
"We can change the face of this city," Boyer said in the meeting with Brosche.
In the meeting with Hazouri, Boyer expanded on that concept.
"Leadership is not about me," she said. "It's about how I let everyone else achieve their goals."
To that end, VP Boyer has a typically fleshed out version of what she believes the role of a Council President should be:
Orderly and efficient conducting of business, avoiding wasting too much time and avoiding unnecessary controversies.
Being Council's liaison to the mayor's office and to the business community
Being Council's spokesperson to the media, helping to "maintain and elevate the stature of the Council as a whole."
Helping others on Council achieve their goals. An example of such: addressing the shortfall in the stormwater fund, created on budget night with a $330,799 appropriation from that to Safety Officers in the Fire and Rescue Department, by backfilling unaddressed needs in other people's districts.
Helping to train newer Council members, which can be, she said, "touchy" as there must be a balance between passing on institutional knowledge to colleagues without implying that there are gaps in their knowledge.
Fostering mutual respect, via an effort to "maximize everyone's skill" set and finding a way to foster collaboration. This is, Boyer said, "something that took me a little while to learn."
An example of such mutual respect can be found with Boyer and some of the other Council members, such as Council cornerstones like Bill Gulliford, John Crescimbeni, and some others who seem to be central to resolution on most major issues. Boyer mentioned that, while they might have disagreed on certain issues such as pension reform votes, they work well together on issues, and when they disagree, they disagree "civilly."
Boyer's bona fides are established: she's served on every standing committee, and "been Vice Chair of everything." It's that broad based competence and intellectual curiosity that made her an easy sell for Vice President last year. And the same is true with the run for the Presidency now.
All three people she met with Wednesday morning lauded her.
Hazouri: "I signed on to support you [for VP] without even thinking about it."
Brosche: "You said exactly what I was looking for in terms of the Council President role" regarding "protecting the body" and making sure everyone's working together. "That's leadership."
Schellenberg: "I have been your advocate behind the scenes for many years."
Part of the reason for such support: Boyer's holistic vision.
When talking to Brosche about what she would want to do next year on Council, Brosche mentioned an interest in chairing Finance, as well as an interest in an "affordable housing community strategy," modeled after Detroit.
Boyer, saying it was a heavy lift, said to "make the heavy lift bigger" by considering infrastructure renewal in long-neglected areas, as well as the Jacksonville Journey.
All of this, however, is contingent on resolving the city's unfunded pension liability; a bill currently working through House and Senate committees in Tallahassee would allow for relief via amortization and a repurposing of the half-cent Better Jacksonville Plan infrastructural sales tax.
Boyer knows that bill passing through Tallahassee, and passing via referendum, and passing muster with the unions are all necessary conditions to remedying the issues of recent years.
That leadership is going to be essential to her term. Also essential: finding a way to solve the "puzzle" of where to put Council members, in terms of committees.
Hazouri, for example, wants to be on Finance.
Schellenberg wants to be chair of Land Use and Zoning.
As well, there is the balancing act between keeping known quantities in chair roles and breaking in new talent, a path that can foster some difficulty.
And there is the balance between a proactive agenda, modeled after what someone might have campaigned on, and the reactive reality of being on Council.
Issues ranging from the Hen ordinance earlier this decade, to the continuing controversy regarding Uber and Lyft, were on no candidate's platform. Yet to citizens, they are big ones.
As well, there is the issue of what to do with committees. Boyer is considering re-splitting Recreation and Community Development from Public Health and Safety. And also under consideration: what to do with the Neighborhood Improvement and Community Enhancement committee, which, as Hazouri put it, spent his first six months on Council bickering about snipe signs.
Boyer's leadership style will necessarily be different from that of current president Greg Anderson, described on Wednesday by Hazouri as a "Peyton Manning" style "game manager."
That said, she won't be a gunslinger.
A potential model, floated by Hazouri: the legendary Tillie Fowler, who was Council President when Hazouri was mayor.
Her agenda and Hazouri's meshed, and they worked well together.
Boyer and Mayor Lenny Curry, very likely, could build that kind of functional symbiosis also.
With Mayor Curry pledging to use as much "political capital" as he needs to in solving the unfunded pension liability, having a partner like Lori Boyer can only help.