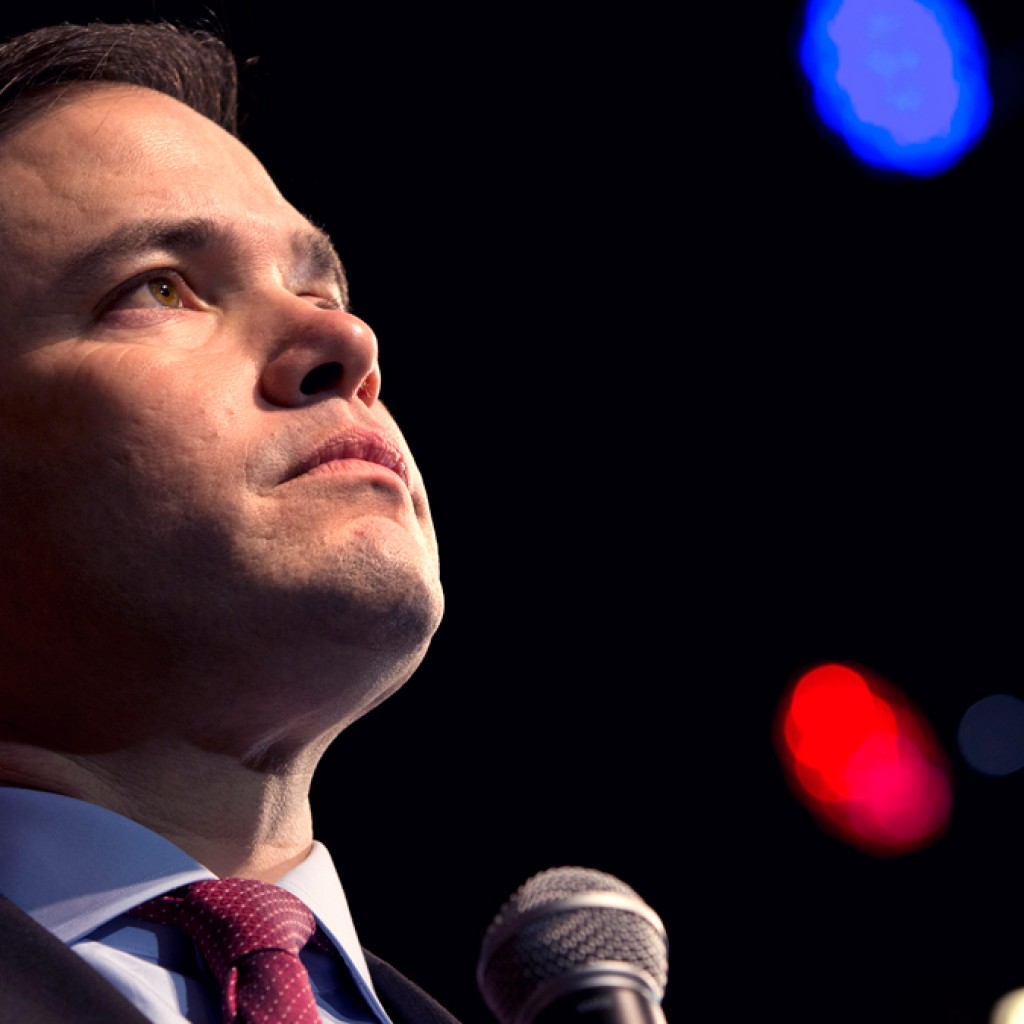 Just when Republican presidential candidate Marco Rubio needs them the most, big-dollar contributors from the party's wealthy mainstream are having second thoughts about his future in the 2016 race.
Fresh misgivings about Rubio's path forward are the latest — and potentially the most debilitating — in a series of obstacles that threatens the junior Florida senator's future in this roller coaster Republican campaign.
"Super Tuesday came and Rubio didn't do as well as some of us hoped. So people are saying, 'Let's see how this thing shakes out,'" said Craig Duchossois, who contributed $500,000 last year to a group that backed former Florida Gov. Jeb Bush.
 "I'm holding back," the Chicago-based investor said of his own plans.
Rubio campaign officials concede that Rubio likely cannot remain in the race without winning in Florida, where public polls show him second to Trump. Rubio's team says the campaign's polling shows the race tightening, with Trump leading by single digits, slightly less than recent public polling.
Rubio, elected to the Senate in 2010, also has not fully harnessed the financial muscle of the GOP old-guard eager to derail Trump, despite the shift in focus by many to Rubio after Bush quit the race last month.
The result is a Catch-22 for Rubio, who needs the money to win the March 15 primary in his home state of Florida, while donors wait out those results for signs of his long-term viability.
"We'll see what happens on next Tuesday in Florida," said Ron Gidwitz, another Chicago GOP donor who turned from Bush to Rubio. "We'll see how real he is at that point."
Rubio had about $5 million in available cash at the beginning of last month, less than half of what Cruz had on hand. Trump has said he can afford to finance his own campaign, though he has received contributions.
Duchossois and Gidwitz were among a wave of main stream GOP donors who moved quickly to Rubio when Bush quit the race on Feb. 20 after failing to meet expectations in Iowa, New Hampshire and South Carolina.
Rubio, on the other hand, finished in strong third in Iowa, rebounded from a disappointing fifth-place showing in New Hampshire to grab second place in South Carolina, feeding the GOP establishment's hopes.
And yet Rubio's momentum stalled again in the days leading up to March, when 11 states held Republican nominating contests. Afterward, Rubio turned from only indirectly critiquing Trump for months to an all-out assault on the businessman's character and ethics, as well as his appearance and manliness.
Duchossois and others who pinned their hopes to him said they were turned off by Rubio's taunts, including calling Trump's "the worst spray tan in America" and equating Trump's disproportionately small hands with his manhood.
"You just don't do that," said Bill Kunkler, another Chicago Republican who backed Bush but stopped short of the pivot to Rubio. "In Rubio, I don't see the presidential gravitas."
Some potential Rubio donors are also concerned that Rubio can't generate sufficient momentum for Florida based on his victories so far: Minnesota's lightly attended March 1 caucuses and the Puerto Rico primary on Sunday.
Rubio ceremonially relaunched his two-week campaign in Florida on March 1, and vowed he would never yield to pressure to step aside for Trump, especially in Florida where he was speaker of the state House before seeking the 2010 Senate seat.
Rubio insists he feels "real good about the map as we move forward," telling the Associated Press Sunday he believes voters across the GOP spectrum want "an optimistic message of conservatism," not just the "anger and frustration" Trump has tapped.
Rubio campaign officials also have said Florida races can swing quickly, especially when backed by a sustained advertising blitz. They point to the 2012 GOP primary when eventual nominee Mitt Romney surged past Newt Gingrich in part on the strength of $8.8 million in anti-Gingrich ads by a pro-Romney group.
Heading into the week, the top Republican advertiser in Florida was Conservative Solutions PAC, a group promoting Rubio, which this month planned to spend more than $4 million attacking Trump. Three other anti-Trump groups plan to spend a combined $4 million attacking the billionaire front runner before the March 15 primary.
Republished with permission of the Associated Press.