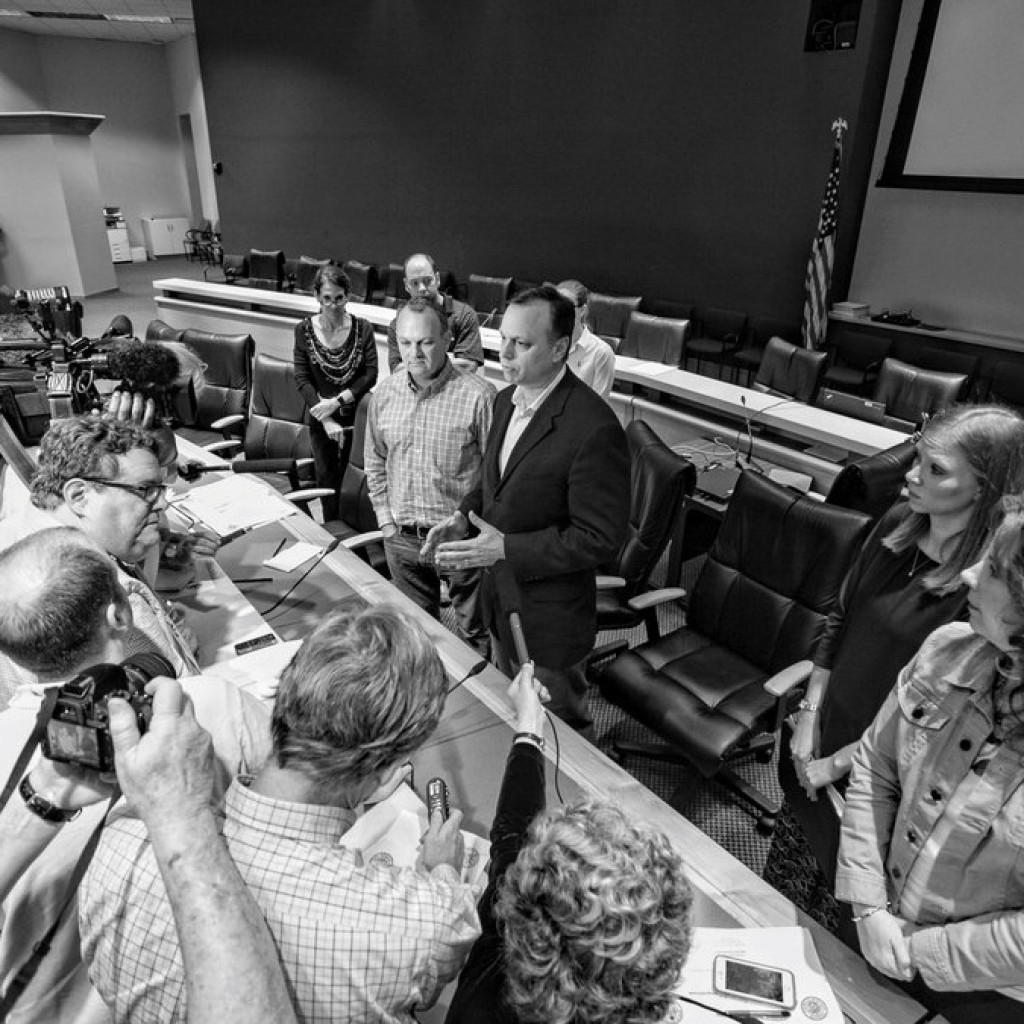 The Budget Conference Chairs held their final meeting Monday night, finalizing all remaining differences between House and Senate proposals and approving "supplemental funding issues" paid for with money from what is informally known as the "bill pot" or more informally still as — sprinkle money.
Chair Rep. Richard Corcoran and Vice Chair Sen. Tom Lee wrote into the budget a mixture of fixes for projects unintentionally not funded until now and last-minute items favored by legislative leadership, though too controversial to make it in otherwise.
An issue that immediately stands out is $7 million for "Radio Inventory Replacement" for law enforcement equipment, long the subject of an ongoing "vendor fist fight," as Lee put it over the weekend.
Corcoran repeated what has been the House's line on the subject – that state agencies have said they need money – but then added that the Legislature often appropriates funding not asked for by the executive branch, as they have the sole "power of the purse."
Lee distanced himself from the move, saying he moved to ensure the line item didn't appear in a spreadsheet that gave "any indication the Senate bought into" the notion that funding for new radios is required.
When asked point-blank whether the money was necessary or whether, as budget sub-chair Sen. Alan Hays put it, it was a "vendor-driven" matter, Lee waxed rhetorical.
"You're questioning whether this town is full of lobbyists who converge on the Legislature to try to get things in this budget? Of course that happens," said Lee. "There was no request for these radios, they don't want them, but there's going to get them anyway. We'll see if they take them."
Also in the 11th-hour House budget additions:
$4 million for the "Best and Brightest" teacher bonus program;
$4 million for school construction funding in Osceola County;
$2 million for operational support at Sante Fe College in Gainesville;
$2 million in additional funding for VISIT FLORIDA;
$1.5 million for Tuition Assistance for Health Professions Students at Nova Southeastern University;
$700,00 for Treasure Coast International Airport Expansion; and
$250,000 for a Florida-Israel Business Accelerator.
Senate supplemental items included:
$3 million for the Institute for the Commercialization of Public Research;
$12.25 million for cultural and arts grants through the Department of State;
$2 million for a Ludlam Redevelopment Project; and
$882,000 for Public Broadcast Learning Media.
$11 million was also added for a facility at the University of North Florida, but those funds were appropriated remedially in order to fix an earlier oversight.
All in all, more than 70 line items totaling approximately $100 million were tacked onto the budget Monday night.
Lee played down the purely discretionary aspect of the supplemental funding issues, saying while he and Corcoran didn't see eye to eye on every line of the final product – set to be taken up by the full Legislature tomorrow – the duo prevented myriad additional, often heavily lobbied-upon, issues from making it to the House and Senate floors.
Lee said he was glad Corcoran was able to see the budget up close and personal as Appropriations Chair this year, to become familiar with the "tremendous pressures both from the outside and internally" that attends the budget process.
"The things that you see in this budget don't tell the whole story," said Lee. "There are a good number of things you don't see in this budget that, but for Chair Corcoran and myself, would be in here, and they wouldn't be good government. And they come from a lot of different places."
"So it's not just what you see here in the budget tonight, it's what you keep out of it. And I'm glad Chair Corcoran was my partner in that process," said Lee.
Corcoran concurred, adding that supplemental funding list this year – an election year which will see all 160 legislative seats up for grabs – was smaller than last year's by about two-thirds.