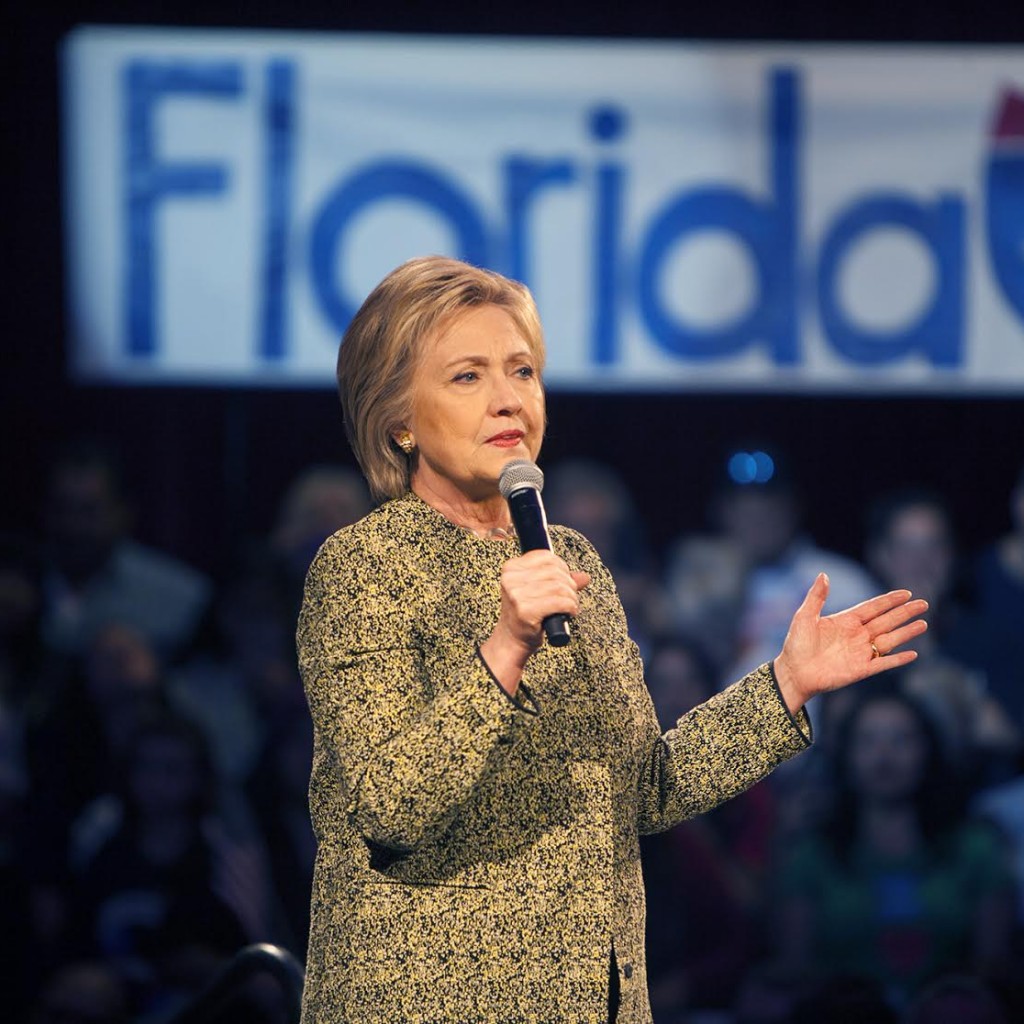 Hillary Clinton continued her three-day swing through the Sunshine State on Thursday by speaking to a rapturous crowd of approximately 600 admirers at the Ritz Ybor nightclub in Tampa's Ybor City, where she said that she was ready for whomever the Republicans will nominate for president in a general election contest.
"People ask me all the time who I want to run against," she said towards the end of her 23-minute long speech. "That's not for me to decide. But given what they've all said, I will take any one of them."
That attitude shows that the presumptive Democratic nominee isn't fretting too severely from her stunning loss to Bernie Sanders in Michigan on Tuesday night, a contest that has been depicted as one of the great political upsets ever, but yet one that her own campaign manager, Robbie Mook, predicted could go either way just a week before.
In fact, Clinton ended up winning more delegates than Sanders did because of her huge margin of victory in Mississippi on Tuesday night.
However, it's a fact  of her life that she won't be wrapping up the nomination anytime soon. Sanders has lots of money to spend, and now that most of the Southern states have already voted, the terrain looks better for him to win more states in the coming weeks and months.
Clinton again emphasized that she gets along just fine with her opponent, and the only policy difference she cared to point out during her speech was regarding student debt. Her plan calls for giving $175 billion in grants that would go to states that guarantee that students would not have to take out loans to cover tuition at four-year public colleges and universities. Sanders plan would make anyone who goes to a public college to have a tuition free experience.
"I want to spend your taxpayer dollars to send middle-class kids, and working class kids and poor kids to college debt-free," she said. "I just disagree with my opponent's idea to give free college to everybody, including Donald Trump's kids and grandkids. Let's keep focus on where the problem is."
She said she was running a campaign on getting results, not like the Republicans, who she said were running a campaign of insults. "And it is doing a great disservice to this country."
Clinton also got specific about how her plans for infrastructure spending would benefit Tampa and Florida, blasting Governor Rick Scott for rejecting high-speed rail back in 2011, a proposal that would have been funded by President Obama's stimulus plan.
"That would increase tourism, it would increase commerce, it would increase the opportunity for people to go back and forth," she said. "It makes absolutely no sense, especially when we know we're going to have to do high-speed rail if we're going to have a competitive economy in the 21st-century, and if we're going to do more to fight climate change by getting more cars off the road and more passengers into high-speed rail."
Clinton then referred to the upcoming widening of the Panama Canal, which local business and political officials realize will hurt Tampa's cruise ship industry. She said that it was incumbent that the Tampa Port itself be upgraded to contend with bigger ships that will now be coming through due to the expansion for commerce.
Looking over at Tampa Mayor Bob Buckhorn, who introduced Clinton, the former secretary of state said, "If I'm your president, we're going to make investments in this port. We're going to go back and look at high-speed rail," she said as the crowd erupted into cheers.
Clinton also said she would invest in the "Clean Economy," saying she wants to help lead a surge of creating renewable energy jobs. "Those jobs can't be exported. They've got to be done right here in Florida."
Clinton also had fun mocking Scott for his reported dictum to environmental state agency officials in 2014 to refuse to use the words "global warming" or "climate change," saying that was irresponsible since Florida was the most vulnerable state in the nation due to climate change.
"What were those people, like Governor Scott and Senator (Marco) Rubio thinking about? Can they not understand what we are facing as a nation?"
Members who were lucky enough to get admitted into the Ritz (fire department officials reportedly stopped allowing people entrance at one point, though others watched via closed circuit in an adjoining room) said they admire Clinton for her smarts and ability to work well with others.
"She's bulletproof," said St. Petersburg resident Anna Wilson, who will be opening her home as a staging office for people who will canvas for Clinton. Wilson said she did like the fact that Clinton would become the first female president, but said that wasn't the only reason she should be elected. "What woman do you know out there that has gained the respect and friendship of all the other world leaders?" she asked.
Alexis Stone is a 19-year-old from Bradenton who aspires to be a professional tennis player. Referring to how only recently has equal pay come to the tennis circuit, she says that's a "mindset" that Clinton would change. "I think she's going to help my life," she said.
"I think she's a very strong woman," said Tampa resident Michael Gonzalez, who said he was impressed how she gave Bill Clinton after the Monica Lewinsky scandal broke in 1998. "That's her strength. The fact that she was able to forgive her husband in spite of what happened."
There are 246 delegates up for grabs next Tuesday in the Florida Presidential primary, an election where over Clinton has a substantial lead in every poll taken, all showing her with at least a twenty-percentage point lead.
Although she emphasized throughout her twenty-three minute plus speech that her campaign about running for the White House was about "breaking barriers" in the lives of everyday Americans, she also linked it to her inextricable run for history in becoming the county's first female president. "If I'm so honored as to be your president, I will get up every single day thinking how I can knock down those barriers. How I can make it possible for any person, especially any boy or girl to live up to his or her God given potential, and to parents to be able tell their daughters, you can be anything you want," before the audience burst into cheers, crowding out her last few words.