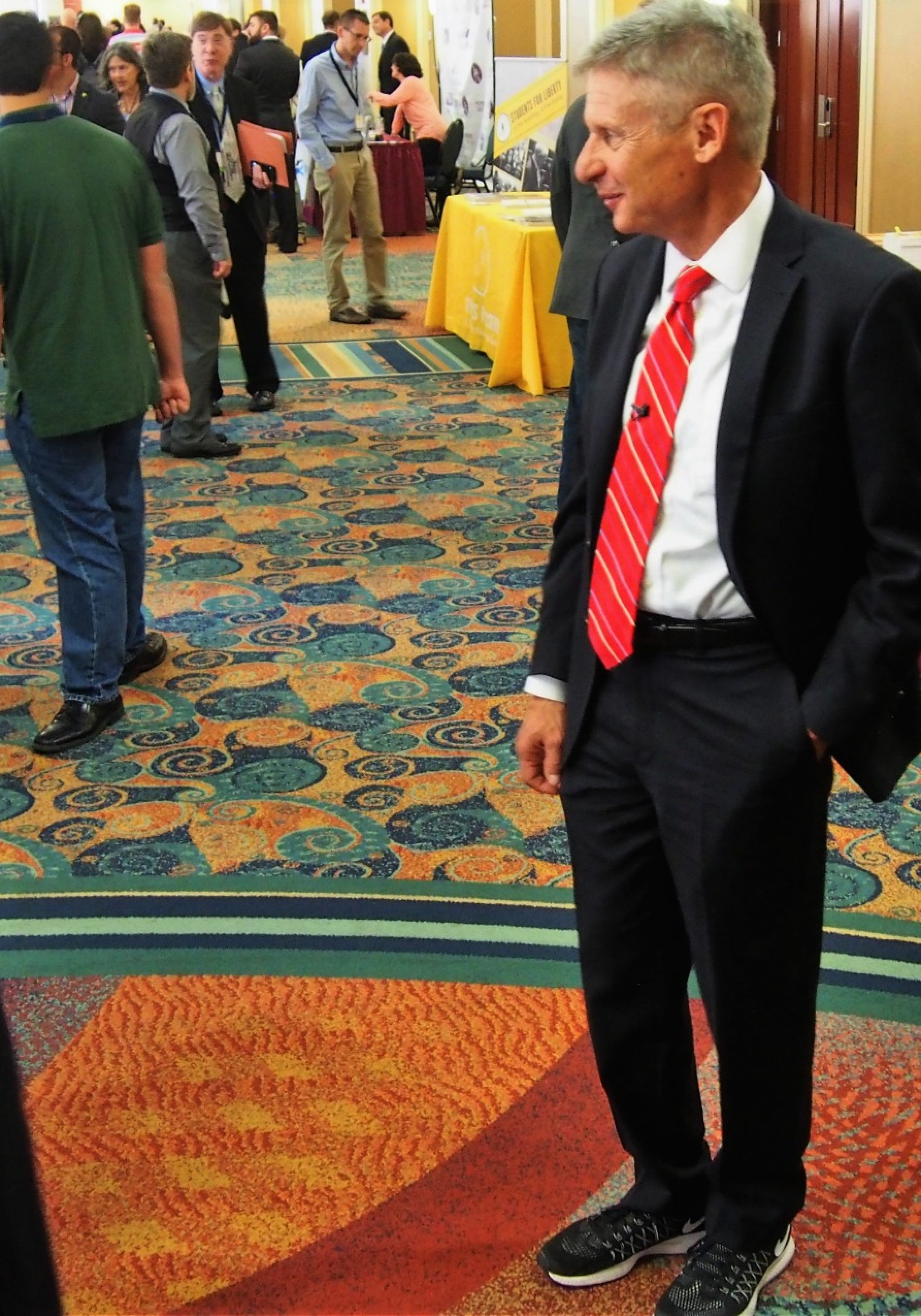 The Libertarian Party may leave Orlando Monday as emotionally divided as Republicans and Democrats after nominating what the majority of delegates believed was a powerful but not internally-popular ticket, two former Republican governors, to run for president and vice president this year.
Former New Mexico Gov. Gary Johnson was the heavy favorite to win the presidential nomination again, as he had done in 2012. While he won it, the nod came on a second ballot amidst harsh contention. And Johnson got the running mate he sought, former Massachusetts Gov. Bill Weld, but only after an even more bitter fight within the party.
Johnson drew 55 percent to beat four other candidates who appeared on both ballots. But Weld had to squeak out 50.6 percent on the second ballot after the field narrowed to just him and New York business consultant and professor Larry Sharpe.
Johnson hailed the ticket of himself and Weld as being formidable because both are savvy, experienced governors who can expect immediate respect and who know how to run campaigns.
But both are former Republicans, and in fact Weld only switched parties in early May. As a result each of hem drew Libertarian skepticism that they are true believers, especially Weld.  After Johnson's nomination, the opposition to Weld became a mission for the party's Radical Caucus. also All of Johnson's opponents spoke out against Weld. And even during his acceptance speech, Weld was heckled.
But with this ticket, Johnson said he sees the Libertarians gin position to go after votes that might otherwise go to Republican nominee Donald Trump, and votes that might go to likely Democratic nominee Hillary Clinton.
"Look, this is another voice at the table. It's arguably combining the best of what it is to be a Democrat, and the best of what it is to be a Republican, neither of which actually do very well at what they're supposed to be good at," Johnson said. "Look, I'm going to pose to people that most people are fiscally conservative, socially liberal, tolerant. And then there's the wars, the interventions. How about some skeptic at the table involving these interventions?"
Libertarian National Party Chairman Nicholas Sarwark said the party and Johnson's campaign expect to work closely and promised party unity.
Sarwarck saw the ticket as a chance for the party to overcome the image of being fringe, that it opposes government to the point of having no heart for anyone who thinks they need government help, and that it would allow almost any behavior.
"We want to focus on making sure the most people in this country hear our positive vision of a party that stands for the right of every American to pursue happiness any way they chose  – as long as they don't hurt people and they don't take their stuff," he said.
Sarwark also said the Libertarian Party is conducting "back channel" talks with the Koch brothers and other big-campaign money sponsors, to attract big money. Johnson, however, expressed discomfort with super PACs, saying that in his 2012 presidential race a super PAC that supported him had misrepresented him.
After securing the presidential nomination, Johnson saw the need to make not one or two, but three impassioned pleas for delegates to pick Weld for vice president. Johnson said he wanted Weld both because he thought Weld was the only Libertarian vice presidential candidate he considered qualified to become president if needed, and because he thought only Weld could draw significant and serious media attention. He also said Weld ha been both role model and mentor to him when both were governors in the 1990s.
There was the real possibility that Johnson could have wound up with a running mate who was so radical in his Libertarian views – and some of the initial vice presidential candidates filled that bill – that Johnson would not agree with him or her.
"I don't want to have to be debating my vice presidential candidate in this election," Johnson implored the delegates.
But the Johnson-Weld ticket disappointed a large portion of the party because neither appears to represent the party's hardcore.
The vice presidential ballots also brought out the most hostile criticism of the party itself, from software mogul John McAfee, who finished third in the presidential balloting. McAfee threw his support behind vice presidential candidate Derrick Grayson, who is black, and used that point to blast the party's lack of diversity and lack of women. [Grayson dropped out after the first ballot]
"Our party is 75 percent men and 99.2 percent white. Shame on you. Shame on you. And shame on me for never having mentioned it before," said McAfee, whose wife is black.
Johnson discussed an election strategy: In three polls that have actually included him versus Trump and Clinton, he has polled 10, 10 and 11 percent. If he can get that to 15 percent, and if the Libertarian Party can win its lawsuit against the Commission on Presidential Debates, he expects to get into three-way debates.
Then his strategy requires riding a wave from those debates to winning a few state electors in a close race between Clinton and Trump in the November election, just enough that both fall short of 50 percent, sending the contest into the U.S. House of Representatives.
Then his plan gets really dream-like: Congress, disliking both Trump and Clinton, picks him.
"We have a chance to win the presidency. It is a possibility. It is a possibility," Johnson said.