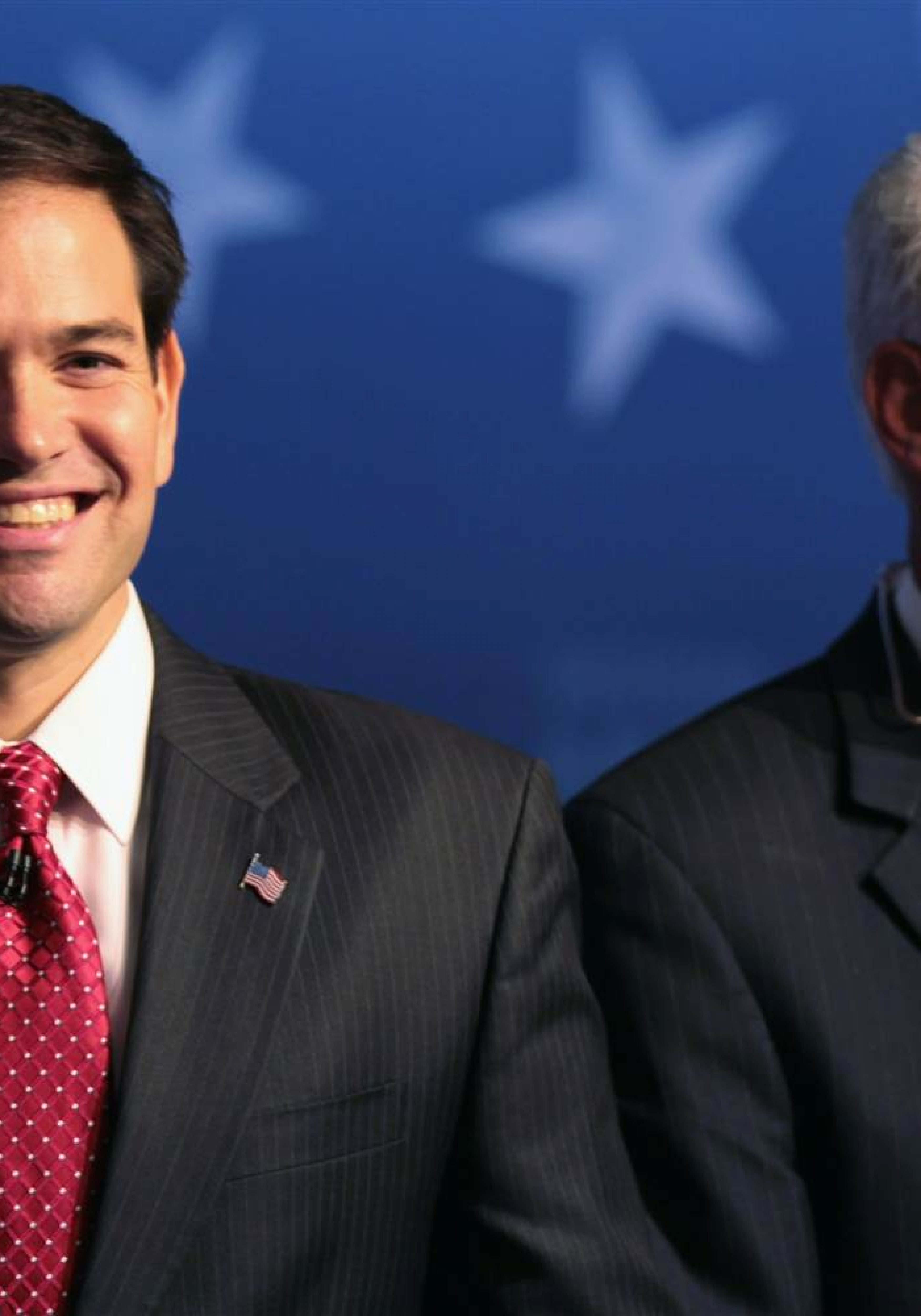 Going on seven years, the most consistent storyline in Florida politics — beyond the sheer craziness of #FloridaMan — is the linked, often inverted fates of Marco Rubio and Charlie Crist.
When Rubio is up, as he was at the end of Election Day in 2010, Crist was down. When Rubio's stock plummeted in 2012-13, Crist's was on the rise as he changed parties and snapped pictures from the White House.
Once again this year, what Rubio has done has created an opposite-and-equal reaction in Crist.
Rubio not running for re-election to the U.S. Senate created the open seat for U.S. Rep David Jolly to throw his hat in, thereby opening the door for Crist to win Jolly's seat in Congress.
Now, with candidate qualifying underway, there is intense pressure on Rubio to reconsider his decision not to run. Whatever Rubio decides, this process is already having an impact on Cristworld, as Jolly is being urged by many GOP leaders to do his own reconsidering about running in Congressional District 13.
Here are five things I think about the opposite-and-equal movements of Rubio, Jolly, and Crist.
1. I'm back in the camp that says Rubio will not run for re-election to the U.S. Senate.
This thinking has nothing to do with the fact that he's headlining a fundraiser for Carlos Lopez-Cantera on June 24. CLC is a very nice guy and a more savvy operator than his time as lieutenant governor/candidate for the U.S. Senate has allowed him to display, but he's a beta, not an alpha. Just look at how Rick Scott's office has treated him, for goodness' sake. If Rubio told him to scoot over, Lopez-Cantera would make room.
No, what tells me Rubio won't run for the Senate is that two of his top staffers, Terry Sullivan and Alex Conant, just launched their own consulting firm. Who knows better what Rubio is really thinking than those guys, right? Would they really have hung out their own shingle without checking with the boss? Sure, they could still help Rubio through their shop, but not as easily if they were free agents. Sullivan and Conant would appear to share one of the same goals as their principal: it's time to make some freakin' money!
1a. The most significant development about Jolly's thinking is not that he may or may not be reconsidering running for CD 13, it's that if he does reconsider, he would do so separate of whatever Rubio does. Jolly — the freakin' frontrunner, mind you and probably  —
2. Jolly is one of the best new members of Congress we've seen; too bad he didn't like campaigning
Why do so many Republicans want Jolly to run for re-election to Congress? Sure, some of it is to foil Crist's return to electoral politics, but hating Crist only gets you so far. The reality is that in his brief time in Congress the moderate, statesmanlike Jolly has demonstrated he is a caring, hard-working public servant. And to many other Republican elected officials, he is exactly what they'd like to be if they didn't have to worry about extremists on their right pulling them in that direction.
That said, Jolly has made it clear he detests campaigning. One might suggest he's allergic to the grip-and-grin of retail politics. He abhors raising money, so much so that he is proposing a law that, among other things, gives him an excuse not to spend all day dialing for dollars. Running for the U.S. Senate, he's been much less visible on the campaign trail than the ubiquitous Carlos Lopez-Cantera or as aggressive as Carlos Beruff. He doesn't excite the conservative establishment like U.S. Rep. Ron DeSantis and he does not have the personal story or resources of Todd Wilcox. Yet he's still the slight frontrunner. Why? Because if Central Casting were to send over what a member of the U.S. Senate was supposed to look and act like, they'd send over someone who looked and acted like Jolly.
3. Doesn't Jack Latvala have better things to do than screw with Charlie Crist?
Jack Latvala likes Charlie Crist about as much as David Jolly likes fundraising.
A few years back, Latvala told me he was going to do everything in his power to keep Crist from winning the Governor's Mansion in 2014 and, although Latvala did not have much impact on the race, Crist still lost. (It should be pointed out just how poorly Latvala slurping Gov. Scott paid off for the senator; in 2015, Scott specifically vetoed most of Latvala's legislative appropriations. Would a Governor Crist have done that?) Latvala even showed up at a stop on Crist's book tour to troll his former colleague. That's how much Latvala despises Crist. It goes back to when they both served in the Senate and pretty boy Charlie got all the headlines while the wonkish Latvala had not yet become a media darling.
Fast forward to 2016 and Latvala is in a stronger position than Crist — and he's not afraid of reminding Crist of that. So Latvala is rounding up his gang — Sheriff Bob Gualtieri, Rep. Kathleen Peters, etc. — and hosting a fundraiser for Jolly, who Latvala worked overtime to stop from winning the 2015 special election to succeed Bill Young.
It's amazing that Latvala — the incoming chairman of the Senate Appropriations Committee, printing company owner, newlywed among other titles — has the time to screw with Crist, but I guess he never sleeps.
Latvala's last-minute push to get Jolly to run against Crist foreshadows what life in Pinellas politics may be like once the senior senator from Pinellas is term-limited out of office in 2018. Latvala's gonna have his fingers in everyone else's pie, whether they like it or not.
4. The Republicans opposing Crist are the same ones who lost backing Bill Foster over Rick Kriseman in 2013
A last-minute push by local Republicans to stop a popular Democrat. If the storyline sounds familiar, it should because it's the same scenario that played out in 2013 when Latvala, Rick Baker and Co. reluctantly, then all at once backed Foster over Kriseman in St. Petersburg's mayoral race. Many of these folks are my friends and clients, so I can't dog them too much, but if they have a fault, it's that they wait until the last minute to prepare for a storm that has been on the radar for some time.
Kriseman and Kathleen Ford were identified threats for months before they were mayoral candidates, yet there was no effort to pre-emptively define them. Then, once the polls showed them up, the local Republicans half-heartedly attempted to rally around Foster. But by then it was too late.
Polls show Crist as popular as ice cream in CD 13 — and so what are local Republicans doing? A last-minute rallying around one of their own, when their best opportunity to stop Crist was six months ago.
5. Crist will narrowly defeat Jolly 
There are very few subject areas about which I consider myself an expert. G.I. Joe comic books. Truffle oil. Late-Republic Roman history. And St. Petersburg and Pinellas politics.
Just like I know the origins of Cobra Commander, how delicious Fabrique Delicies' white truffle oil is, and that Lucius Cornelis Sulla (not Caesar) was the first Roman general to march troops on the Eternal City, so too can I say with near certainty that my friend Charlie Crist will beat my friend David Jolly. Because it's a presidential year. And because the Republicans have nominated Donald Trump as their standard bearer.
Latvala is right when he says, "There are people that don't normally vote — people in places like Lealman, places like Pinellas Park, that are whipped up by Donald Trump, and those are people who will vote for David Jolly over Charlie Crist."
But want to know who will be "whipped up" to vote in the presidential election? Every Democrat who lives in Democratic-leaning CD 13, especially the tens of thousands of African American voters who are downright frightened by the Trump movement.
In 2015, Jolly narrowly defeated Alex Sink in a district more favorable to Republicans. Crist may have more baggage than Sink, but he also has considerably deeper roots in the community than Sink had.
As for money, there is this fantasy that national Republicans will pour money into this race like they did in 2015 because of how much they don't like Crist. Much of that money came from the National Republican Congressional Committee — the same NRCC Jolly just went on "60 Minutes" to insult.
There will be those who will say my family is too close to Crist to be objective about this race. That could not be further from the truth. In 2014, there was no more consistent critic of Crist's campaign tactics, so much so that I was all but ex-communicated from Cristworld for long stretches. And while we have raised a considerable amount for Crist's congressional campaign, my family has also donated $2,000 to Jolly's U.S. Senate campaign.
But that's the kind of year it is in Florida politics. One friend runs against another. And that's why, especially in Pinellas politics, it's important to remember that candidates come and go, but true friends remain that way.