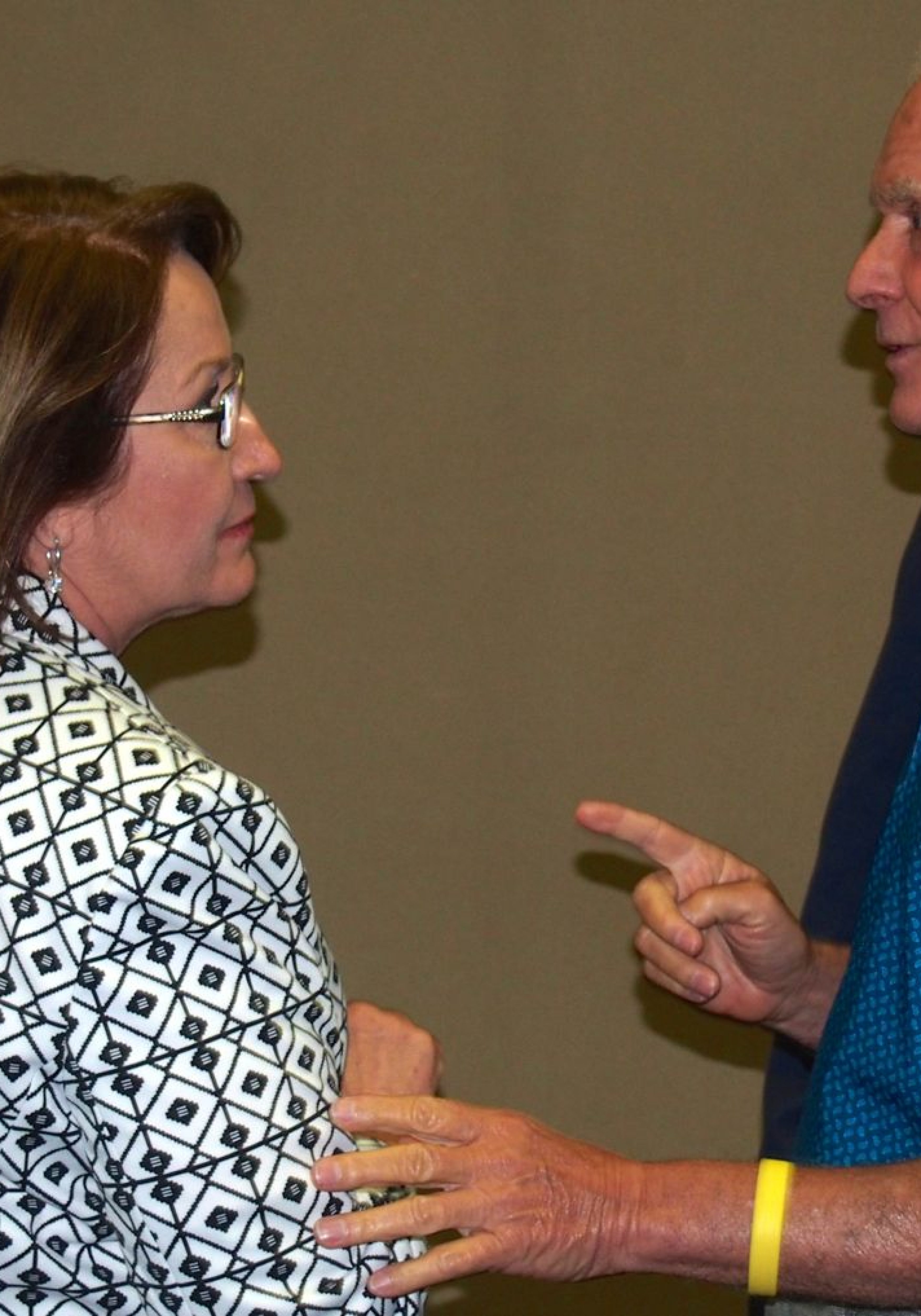 A critical vote on Orange County's tourist tax Thursday night virtually assured there will be no more changes anytime soon in how that money is spent, and led to a threatening, name-calling confrontation between Mayor Teresa Jacobs and hotel czar Harris Rosen.
Rosen is an influential outlier in Orlando's tourism industry and a big proponent of the Orange County Convention Center, which several of his hotels serve. He won.
Jacobs lost. And now she is left with the prospect that much of the rest of Central Florida's tourism industry, as well as its arts and sports communities, as well as Orlando Mayor Buddy Dyer, could be furious.
That broader tourism group's proposal to redistribute the lucrative tourist tax proceeds, kicking around Orlando for two months now, appears dead.
"Everything is off," Jacobs said.
Which pleases Rosen, who's long been the major holdout in Orange County-Orlando-tourism industry-arts-sports deals that spent the tourist tax for a new Orlando performing arts center, a new arena for the Orlando Magic and a complete makeover for Orlando's Florida Citrus Bowl, now called Camping World Stadium.
After Rosen had got what he wanted Thursday night, a deadlock vote at the Orange County Charter Review Commission, he and Jacobs bumped into each other in the corridor. She went to talk about him, but the meeting devolved quickly into a confrontation.
"This is not about me!" Jacobs told Rosen. "This is about you. This is about you!"
Rosen replied that people no longer trust politicians, citing a poll that said 82 percent of people do not trust Congress.
"I'm not Congress! I'm the mayor of Orange County, and I've never gone back on my word!" she snapped.
"What you just did just sealed your fate!" she added.
"I didn't vote," he replied.
"Oh, come on, Harris, we're not stupid," she said.
"You're just a very sore loser; that's what so sad," Rosen replied.
Moments earlier, the Orange County Charter Review Commission agreed to send a proposed charter amendment to voters in November. The amendment proposes locking in a process for dealing with the Orange County tourist tax, a massively-lucrative and growing pot of money that generates $226 million a year. The process, presumably, would make it far more difficult for elected officials to make changes on the fly.
Sometimes those changes can be as significant as new venues, and sometimes as small as three annual $1 million payments Orange County approved two weeks ago to attract the NFL's Pro Bowl All-Star Game to Orlando.
The Commission actually approved that charter proposal in February. Jacobs has never liked the idea. She agrees that codified rules governing spending changes are needed, but said she would prefer a county ordinance, which could then be easily revised if needed without having to go back to voters. But the tourism industry was united backing the charter amendment idea in February and so she did not oppose it.
The landscape changed dramatically on April 1. That's when she and Dyer got a letter from the Central Florida Hotel & Lodging Association, Walt Disney World, Universal Orlando and SeaWorld jointly proposing changes that could finish the Orlando's Dr. Phillips Performing Arts Center and provide for some other needs they wanted filling.
Dyer signed on to the plan. And, by the way, the hotel association advised Jacobs, they no longer liked the charter amendment idea anymore, if it was going to make such changes difficult.
Dyer signed on quickly. Jacobs had several financial concerns, but also raised the issue of the charter amendment. She said she would not approve any changes if that amendment were headed to voters, because it would look as if she were trying to run an end-around on voters.
So Jacobs was there Thursday night to ask the commission to rescind its February vote, while promising she would craft an ordinance to do much the same thing.
Rosen, who owns several huge convention hotels in the convention center district of International Drive, is the only major tourism industry holdout who still wants the charter amendment. He urged the commission to stick to its earlier vote. By a 7-7 deadlock Thursday, the original vote stands.
Afterward, Jacobs said she would stand by her earlier declaration, that she would back no tourist money changes until voters could have a chance to vote in November on the charter amendment.
Rosen sounded like he was victorious at last.
"Now we have something in stone. Now you guys can't be destructive," he later said to Jacobs. "That's what it's all about. You guys can't mess things up."
Then he went after the 2006 deal between Dyer and then-Orange County Mayor Rich Crotty, which led to a one-cent increase in the tourist tax and funneled money to the Dr. Phillips Center, the Citrus Bowl, and the Magic's Amway Centre. Jacobs was a county commission then, not mayor, though she has signed to amendments to that deal since becoming mayor six years ago.
"You pissed away $250 million for an arena for a multibillionaire," Rosen said. "How said is that? How incredibly pathetic is that?"