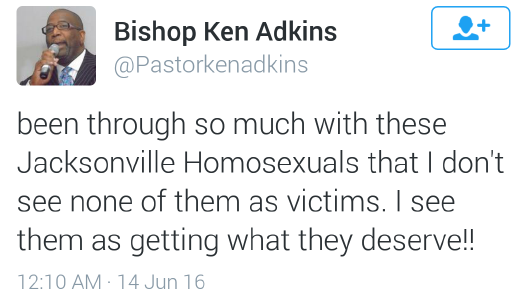 On June 14, Pastor Ken Adkins – whose hate speech about the LGBT community has become well-known in Jacksonville over the last year – let loose with another volley in the wake of the massacre of 49 people at Pulse in Orlando.
"Been through so much with these Jacksonville Homosexuals that I don't see none of them as victims. I see them as getting what they deserve!"
Adkins upset a lot of people with his latest foray into hate speech. None more so perhaps than Jacksonville Mayor Lenny Curry, who was deeply upset and angered by Adkins' "outrageous and appalling comments," as he said Tuesday to FloridaPolitics.com.
"We are on the heels of an attack on people," Curry said, a "terrorist attack" with "people killed and maimed in our state."
For Curry, this is personal. He has family and friends "hurting and grieving" in Orlando over personal and community losses, and "they know someone personally who was there that night, who is no longer with us."
"This has been a conversation in our house for two days," Curry said Tuesday, adding that any rhetoric that "suggests that people should be victims is appalling."
—
Curry hosted a series of community conversations regarding the potential expansion of the Human Rights Ordinance in his first year in his term, which had Adkins as a panelist representing opposition to the HRO expansion.
Curry did not pick Adkins for the panel, he said; the panelists were selected by staff in collaboration with interest groups on both sides of the HRO issue.
"He wasn't my handpicked guy," Curry said. "I would not choose someone with that kind of language."
Curry did not see Adkins' anti-LGBT rants on Twitter, he said.
"I don't pay attention to a lot of what goes on on Twitter," Curry said.
—
Curry's spokeswoman, Marsha Oliver, echoed the mayor's assertions in a separate conversation.
"The panelists in no way reflect the beliefs, shared values, or ideals of the mayor and his staff," Oliver said, adding that the "mayor is completely outraged by the comments Adkins made" and "in no ways supports them."
In fact, says Oliver, the mayor's first reaction was that of many people: "that's sick."
—
Though there are those who will seek to politicize this issue, Curry rejects that impulse as "shameful."
"There's no room for politics at this moment," Curry said.
—
The mayor's sister-in-law and brother-in-law own and operate a business in Orlando, Palmer's Garden and Goods, which posted the following to its Facebook page Monday morning:
The work family at Palmer's is deeply saddened by the acts of hate that occurred this weekend in our city. Orlando is the City Beautiful. We are beautiful because of our people, our uniquely beautiful people. Just like a gardener goes to sew her garden, she carefully chooses uniquely different flowers that compliment and coexist with one another. She carefully picks them for their color, texture, stature and size; each flower picked serves a purpose in her garden. Likewise, God created us uniquely different in this garden we call life. He never intended us to be the same, He even gave us each different finger prints to prove that. As a Palmer's Garden & Goods family, our thoughts and many, many prayers go out to the family and friends of those involved in this tragedy. Our thoughts and prayers also go out to the many uniquely beautiful flowers that create this garden we call Orlando, our city beautiful. We are saddened, but we are not going to let this define us. TOGETHER we are going to rise above and PLANT THIS CITY BEAUTIFUL.
And therein is the real discourse, the dividing line.
There are those who would use the atrocities that happened in Orlando as a platform for hatred and division.
And then there are those who seek to rise above the noise, the chaos, and the sickness, and rebuild.
In his forthright reaction to Adkins' comments, Mayor Curry cast his lot with those who seek to build, rather than destroy.
—
Curry expanded on the conversation with an official statement Tuesday afternoon from the mayor's office.
"On June 12, 2016, 49 people lost their lives, and just as many more were injured in the deadliest mass shooting in our country's history. While there has been much discussion and speculation about the victims, the single most defining characteristic for them all is that they are people – human beings who perished as a result of an individual's deliberate and cowardly attack. As federal investigations reveal to date, this was an attack on the United States of America. As an American, I hurt for our country. As a native Floridian, I hurt for our state. As a mayor, I hurt for city leaders. And as a husband and father, I hurt for humanity. I vehemently oppose violence and discrimination of any kind. I am as equally opposed to a historic tragedy such as this being used as a backdrop and platform to advance the goals and interests of any political agenda."