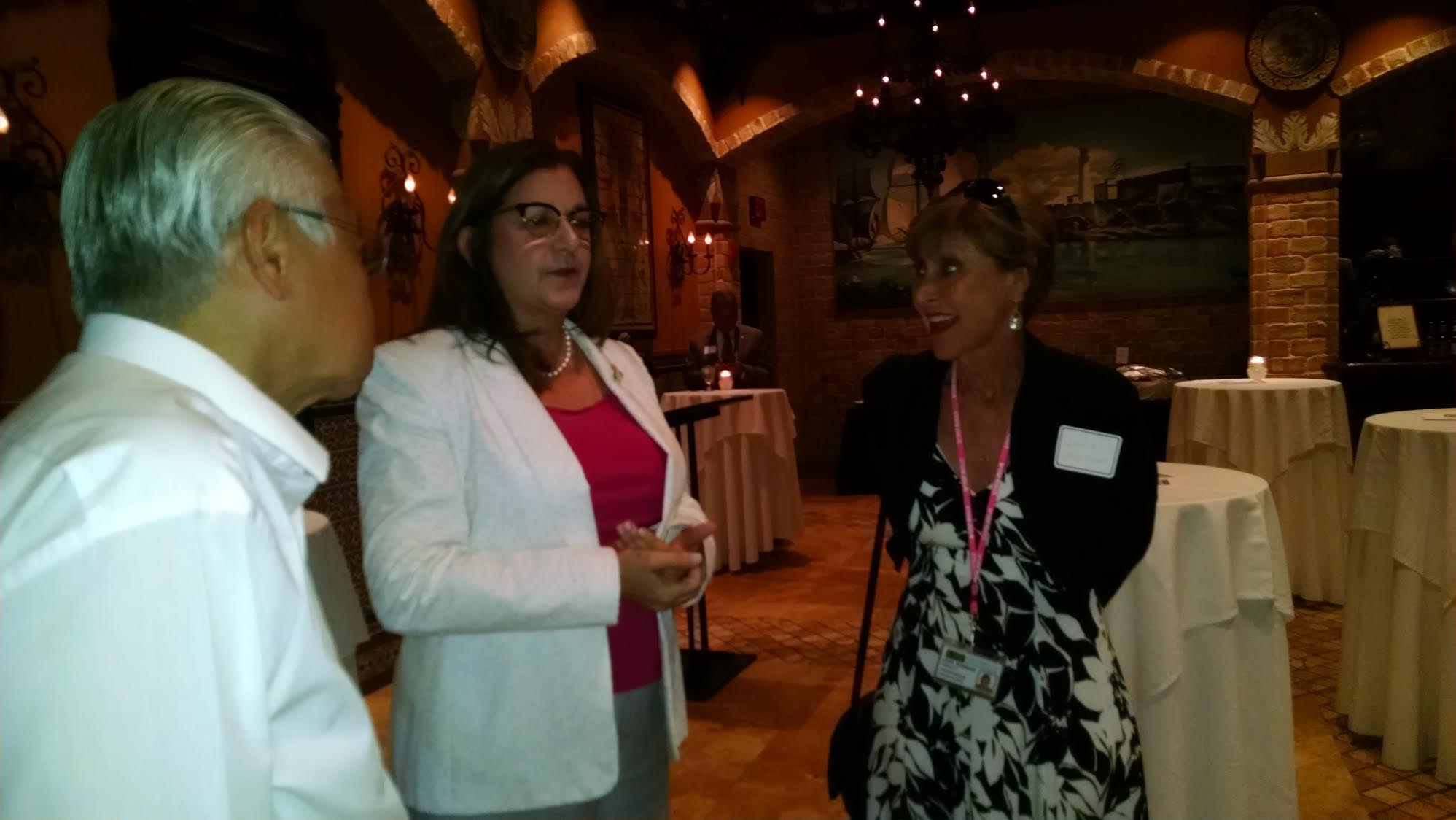 Although Lisa Montelione announced last fall that she would challenge fellow Democrat Mike Reedy in the House District 63 primary election this August, she didn't officially submit her resign-to-run letter announcing her departure from the Tampa City Council until last Friday.
She wrote she was submitting her resignation with "a heavy heart," and jokingly said Wednesday night that putting such sentiments on paper to formally resign "was a task and a half." But she quickly took exception to the idea she's hoping to move up and assume more power if she's able to win the primary and then be victorious over Republican incumbent Shawn Harrison in the fall.
"It's an increase in my public service so I'm able to represent more people in the area that I've been in for 37 years and work on bigger issues," she said, while taking a break from greeting guests at a fundraiser at the Columbia Restaurant in Ybor City.
There are only so many areas of public policy the City of Tampa's Charter allows council members to engage in, and because of that, Montelione says she is eager to work on issues she hasn't had the opportunity to engage in since being elected to represent her North/New Tampa district in 2011.
Those issues include education and health care. Like most Democrats, she says she hopes the idea of Medicaid expansion can be brought back for discussion. She also says while it's important to have a well-educated workforce, the state needs to find a way to work with the private sector on workforce training.
"We need to have them involved in crafting some of the programs that are going to serve their needs. Some of the largest employers know what they need in an employee, and are we preparing our students to enter those jobs?" she asks.
Montelione currently represents the USF area on the council and would do so if elected to Tallahassee. She says she absolutely opposes the idea of the "guns on campus" bill sponsored by Baker Republican Greg Evers in the state Senate and Sarasota House Republican Greg Steube.
As a member of the council as well as the Hillsborough County Metropolitan Planning Organization, Monteleone's opinion about the Florida Department of Transportation's $3.3 billion Tampa Bay Express project certainly matters, as she'll be voting on whether to approve the plan next week at the MPO. Last summer as an MPO member she supported its inclusion into the MPO's Transportation Improvement Project.
And this time around?
"Honestly, I can argue both sides," she says about the controversial project. She says there has been an "unprecedented effort" by FDOT to work behind the scenes, and credits the opposition the council has shown (voting as the Community Redevelopment Agency) as leverage to get the DOT to enhance their community engagement effort. She also says that's helped in the Transportation Department agreeing to conduct a premium transit study.
"I want to see people protected and I want to see neighborhoods protected," she says, adding she has a "philosophical issue" about having taxpayers pay twice for a public road, which would be the case for those who have to pay tolls on it (those prices have yet to be determined).
The Florida Democratic Party is assisting Montelione in her race against Reedy (who was unavailable for comment on Thursday), providing funding for a campaign aide. The winner of the Aug. 30 primary takes on GOP incumbent Harrison in what could be an extremely competitive election.
House District 63 encompasses parts of New Tampa, Pebble Creek, Lutz, Carrollwood, Lake Magdalene and the USF area.