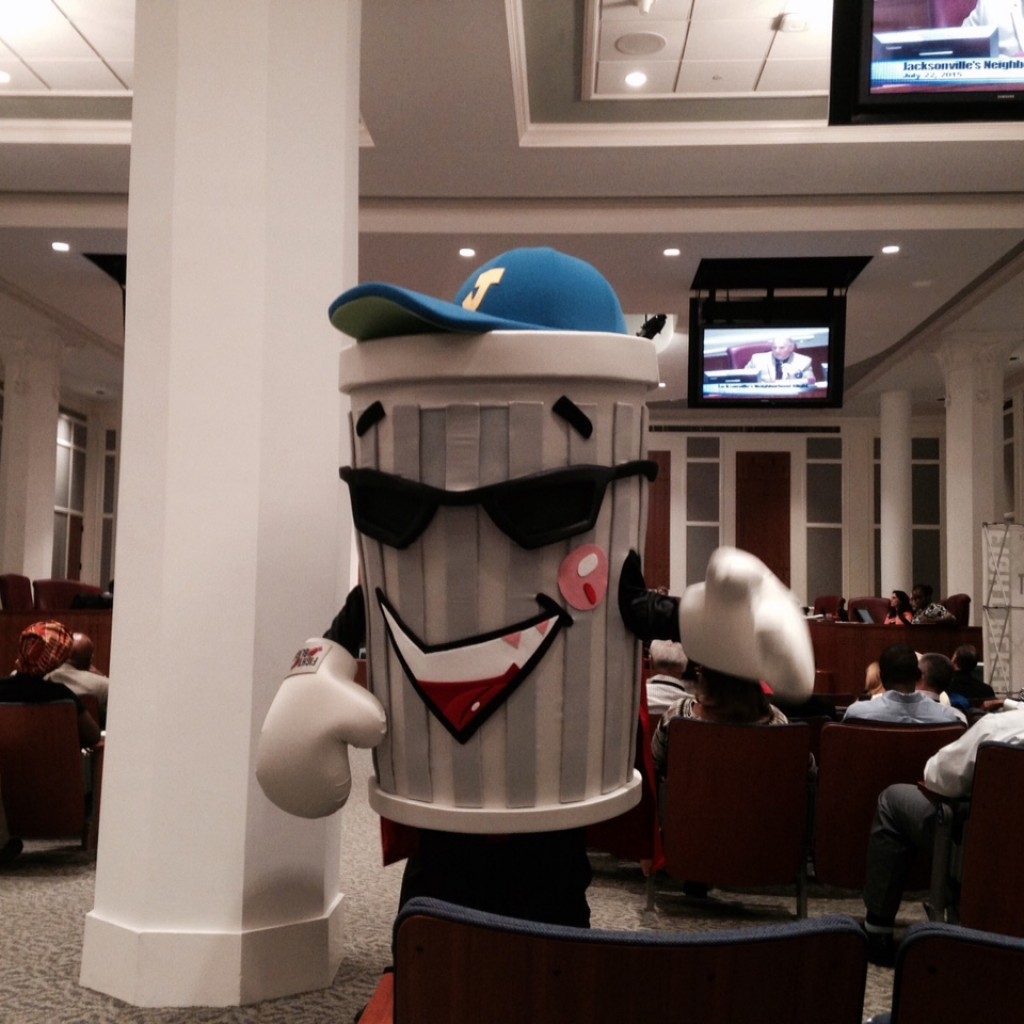 For the Jacksonville Neighborhood Improvement and Community Enhancement ad hoc committee, Monday afternoon was "closing time."
As the song goes, "every new beginning is some other beginning's end."
And this is especially true for the NICE committee.
Council President-Designate Lori Boyer noted last week that NICE would not return for another year, with its concerns rolled up into a standing committee.
As the committee wrapped up Monday, John Crescimbeni discussed the fate of historic ephemera like the infamous bill that would have banned Jacksonville residents from backing into driveways … a matter that, in terms of discussion from this council, got less attention than the HRO but more attention than the decision to spend $90 million on an amphitheater and covered practice field at EverBank Field.
And a discussion of the blight created by donation bins, which often brim with donated merchandise which may or may not have tangible value.
Freedom of speech and other issues — as in a restriction of companies' free speech issues — have so far stopped legislation on that front from passing.
Bill Gulliford, meanwhile, talked about the property donation bill, which finally passed after almost a year of discussion.
Glitches are still being worked out of that bill, which was heavily massaged in committee.
"We sure spent a lot of time on that," Gulliford said, "didn't we?"
Meanwhile, Denise Lee, who helped to spearhead blight reduction initiatives on the council before moving to do the same in the Lenny Curry administration, spoke at length about outreach initiatives, neighborhood stabilization cleanup events, and other initiatives designed to call attention to remedying the problem.
Tire buybacks? They were discussed as well.
Chairman Garrett Dennis said it was an "exciting year" chairing the committee, which "vetted some long-standing legislation," including on snipe signs and other matters mentioned above.
Councilman Tommy Hazouri spoke next, saying this committee was "very interesting."
"You did a lot. There was a lot done," Hazouri said.
Crescimbeni recalled the story of Hazouri calling a number on a snipe sign, to try to discern which business was illegally operating, in the middle of a meeting.
"You just can't write that stuff up," Crescimbeni said to scattered laughter.
Gulliford, meanwhile, lauded Dennis for "stepping in" and taking control of an established committee.
"I think Ms. Boyer's direction is going to be to pull things into standing committees … [the committee's] not going away, it's being redirected."