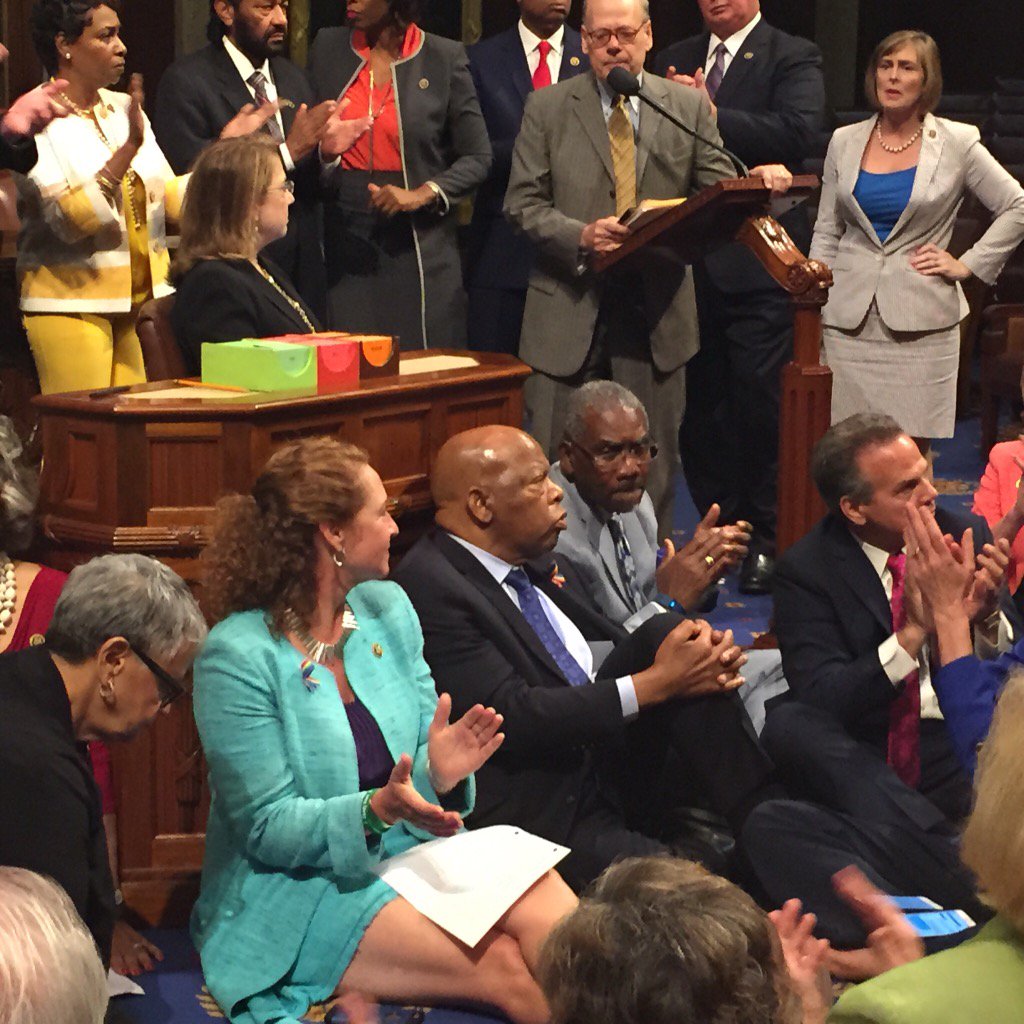 Dozens of House Democrats continue to stage a sit-in on the floor of the House chamber Wednesday afternoon, demanding the House Speaker Paul Ryan hold a vote on gun-control legislation in the days leading up to a weeklong congressional break that begins this Friday.
Many members of the Florida delegation were part of the action, with even Senator Bill Nelson sitting down with Tallahassee Representative Gwen Graham for awhile.
The sit-in started with remarks by Georgia Congressman John Lewis, who called out, "Newtown, Aurora, Charleston, San Bernardino, Orlando. What is the tipping point, Mr. Speaker?"
The legislation that Democrats want a vote on would be for expanded background checks and legislation preventing gun sales to suspected terrorists.
"My neighbors are still reeling from the Orlando massacre just over a week ago," said Tampa Bay area Representative Kathy Castor. "There have been too many tragedies like the Orlando massacre. The House doesn't need more moments of silence; it needs to speak up instead. We need commonsense solutions on gun safety aimed at protecting our country, communities, families and especially our children," U.S. Rep. Castor said. "My home state of Florida has some of the weakest gun laws; we lack expanded background checks that would prevent individuals on the terrorist watch list, criminals, domestic abusers and the dangerously mentally ill from purchasing guns – the so-called no fly/no buy law we are sitting in for would clearly help fill a big gap in my state."
"Since Florida's Republican legislature has refused to stand up to the powerful gun lobby, we must act to keep high-capacity, military-style weapons away from terrorists and others with violent pasts," Castor added.
"The message is simple – we demand a vote, and number two, we want to close the terrorist gun loophole at a minimum," said Jupiter Representative and Senate candidate Patrick Murphy, speaking to reporters on a conference call after leaving the House floor.
At one point in the afternoon, Pinellas County Republican Congressman David Jolly visited the House chambers.  Before he did that, Jolly appeared on CNN, where he said he disagreed with the tactics of the Democrats, but agreed with them that GOP House leaders should allow for debate on gun control measures, including his proposal, HR5544, that would ensure there is a no-fly no-buy policy while also ensuring due process and protecting the Second Amendment.
"My fear is that the politics of blame play well in November, and the architects see currency in this in November," Jolly told CNN's Brooke Baldwin, adding that it wasn't actually that hard to pass such legislation. Baldwin questioned that statement, it, saying if it was so easy, why did it require the House Democrats to make such a dramatic gesture.
Jolly said that if the Democrats would agree to the due process portions of his legislation, a bill could pass, but also pleaded with his GOP colleagues "to do something. Act in the wake of Orlando. Let's not play politics with this; it's heartbreaking."
Kentucky Democratic Representative John Yarmuth said he agreed with Jolly that it could be an easy fix. "Let's have the debate. Let's have the vote. And let the will of the Congress be done."