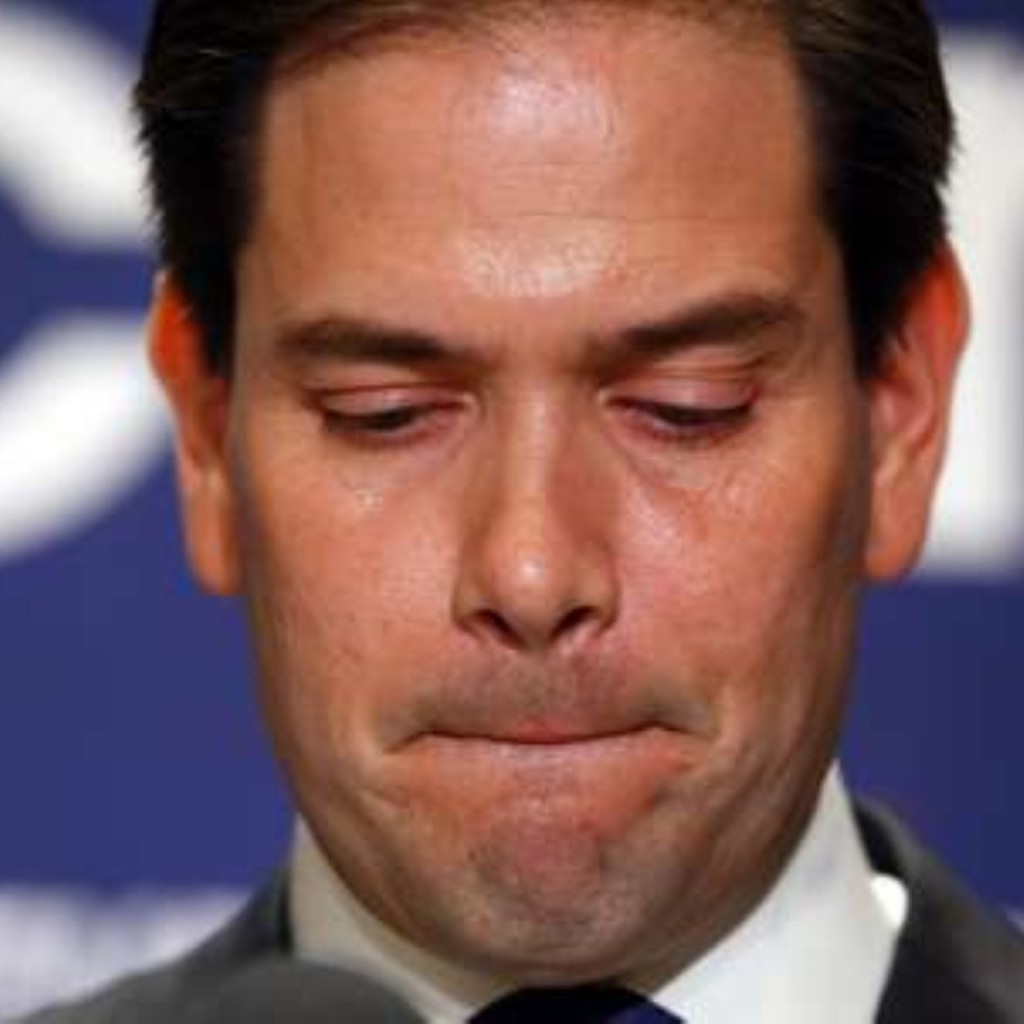 The fact Marco Rubio reneged on his vow not to run for re-election to the U.S. Senate isn't that big of a deal.
Politicians change their minds all the time.
A much bigger deal — and a reality Marco apologists choose to ignore — is the fact Rubio has done a spectacularly lousy job since elected to the Senate in 2010.
And then there is this: Part of his motivation to return to a job he loudly and often claimed to loathe was an "epiphany" after the June 12 Orlando massacre.
He signaled as much the day after the shootings.
"I've been deeply impacted by it," Rubio told radio host Hugh Hewitt. "And I think when it visits your home state, when it impacts a community you know well, it really gives you pause to think a little bit about your service to your country and where you can be most useful to your country."
The nation, of course, reacted with horror to the shooting that left 49 people dead in a gay nightclub. No one is saying Rubio wasn't horrified at the carnage, as was everyone else.
It does seem a bit disingenuous, though — given Rubio's voting record on gay issues — to use that as a reason for wanting to keep his job.
Lest we forget, the Orlando shooting was a hate crime specifically targeted against gays. Rubio has fought against marriage equality and gay parenting. He was against legislation banning workplace discrimination against gays.
He advocates appointing Supreme Court justices who will roll back many of the advances made by the LGBT community.
Even giving Rubio the benefit of the doubt, as he seeks a second term, the biggest question is whether he would even show up for work.
Rubio's consistently poor voting was a key point Donald Trump repeatedly hammered during the presidential campaign, en route to a nearly 19-point victory in Florida.
A Quinnipiac University poll is showing Rubio with a 7-to-8-point margin over Democratic challengers Patrick Murphy and Alan Grayson. Rubio cheerleaders trumpeted that.
However, they don't talk so much about a poll taken last month, also by Quinnipiac, showing him with an underwater disapproval rating with Florida voters of 49 percent. Only 42 percent approve of the job Rubio has done.
It's easy to see why. Rubio clearly seemed to believe the Senate was simply a staging area for a presidential run — so he trashed the body and the job — a ploy that didn't play well with voters.
So now he is asking Floridians to send him back?
Republicans love Rubio. They begged him to get into the race, fearing if he didn't, the GOP could lose control of the Senate.
Rubio does like to be courted. He also has going for him those boyish good looks and a compelling family narrative.
Points conceded.
Yet, at some point, it comes down to governing. Rubio hasn't provided evidence he knows how to do that.
Worse, he hasn't shown that he even really cares.
___
Joe Henderson has had a 45-year career in newspapers, including the last nearly 42 years at The Tampa Tribune. He has covered a large variety of things, primarily in sports but also hard news. The two intertwined in the decadelong search to bring Major League Baseball to the area. Henderson was also City Hall reporter for two years and covered all sides of the sales tax issue that ultimately led to the construction of Raymond James Stadium. He served as a full-time sports columnist for about 10 years before moving to the metro news columnist for the last 4 ½ years. Henderson has numerous local, state and national writing awards. He has been married to his wife, Elaine, for nearly 35 years and has two grown sons — Ben and Patrick.