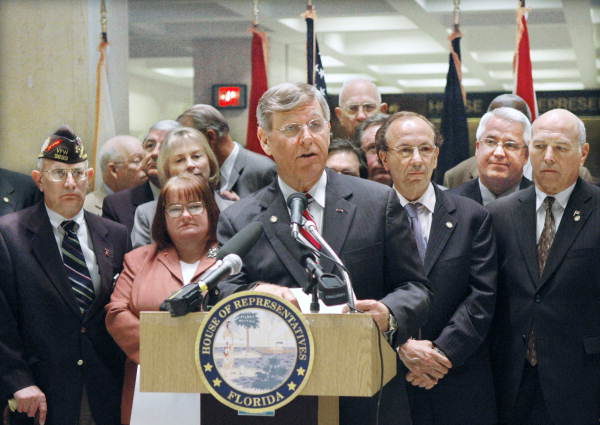 Jacksonville political lifer Stan Jordan, 78 years young, qualified to run for the Republican nomination in House District 12 last week.
However, the home in which Jordan has lived since 1971, on Grandview Drive, is actually in House District 13.
Jordan, for reasons that have piqued the curiosity of seasoned political hands, did declare residency in HD 12 — at an address on Birch Bark Court in 32246. But he doesn't exactly live there.
"My daughter lives there," said Jordan of the Birch Bark location, but he has agreed to pay her rent for two years, and has put down a deposit, he told FloridaPolitics.com Sunday.
Jordan, though he doesn't live in HD 12, is prepared to get a place there should he win.
Jordan's reason for moving, he said, would be personal.
"I lost my wife six years ago," he said, noting that the 3,500-square-foot house in which he lives is too big for just one person, and that losing his wife has been emotionally wrenching.
Still, he noted, he "wanted to run in 12."
Why?
"It doesn't make sense to run in 13. It reaches across the river. It's the one Reggie Fullwood is in," Jordan said.
He wasn't finished.
"District 13 is not like my old district," Jordan continued. "Have you looked at the geography of it on a map? It goes out to Moncrief and U.S. 1."
When asked if his decision to run outside of his current home district was driven by demographic qualms, Jordan denied that was the case.
"They're great people. I built schools out there," Jordan said of his time as chair of the Duval County School Board.
"The law provides that you can run anywhere," Jordan said, "but you have to live in the district to serve in the district."
Another factor in Jordan's decision to run again in HD 12, despite no longer living in the district, is that "they changed it [after] I left in '08."
"Lake Ray succeeded me," Jordan said, and "now I'll be succeeding him."
"It's the right thing to do at the right time, and I was going to relocate anyway."
However, he didn't want to "relocate" before the election results were "certified."
"If I relocated, it wouldn't make sense. What if I won 12 and they moved it again?"
One wonders if this residency topic will come up at the forum involving HD 12 candidates Tuesday evening, hosted by WOKV's Stephanie Smith and one of Jacksonville's best political reporters in any medium, Paige Kelton of Action News Jax.
The forum was first promoted weeks before the end of qualifying, and Jordan isn't advertised as being part of it.
He's not expecting much out of the forum.
"They just pass the mike back and forth, ask questions, and here we go," Jordan said.
Still, he says the other candidates will know he's there … whether he ends up on the stage or not.
And one wonders if residency, which is the unspoken issue over a lot of candidates in Jacksonville past and present, will become one about which someone might "ask questions" Tuesday evening.