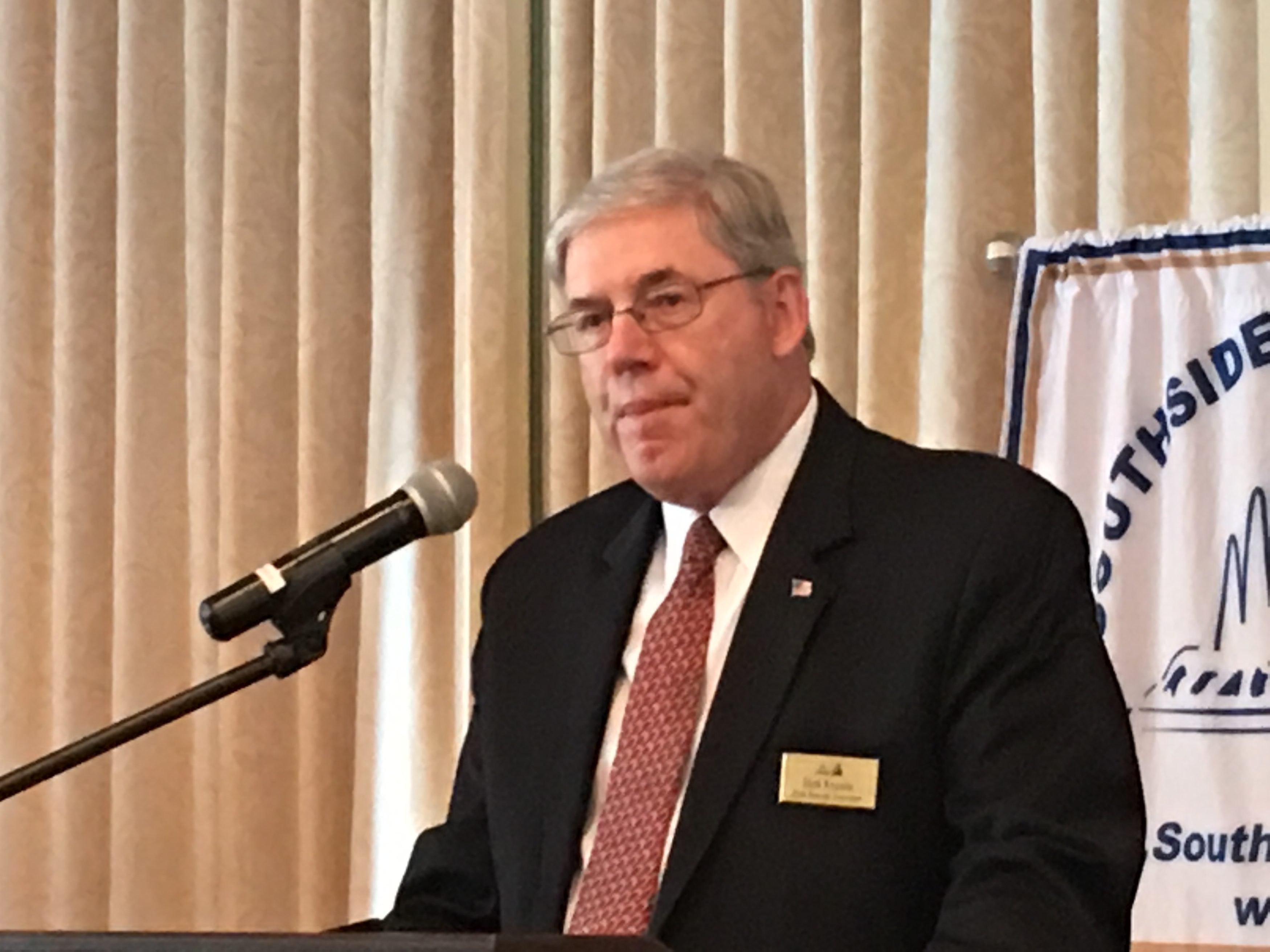 One of the most compelling debates in Northeast Florida this campaign season occurred Wednesday in Jacksonville in the House District 16 GOP race.
Jason Fischer, who resigned his school board seat last month, faced off against Dick Kravitz, a political perennial who once was general manager for Jacksonville's World Football Leagueteam, and who has been in elected politics since 1987 — roughly when Fischer was in elementary school.
The debate was personal.
One such personal moment was when Fischer, as the format dictated, asked Kravitz about an email that Kravitz inadvertently sent to Fischer in March.
The email was intended to be sent to Kravitz's campaign manager, though Kravitz, in a touch worthy of Dostoyevsky's "Crime and Punishment," sent it to Fischer. And it outlined a strategy of scorched-earth tactics designed to undermine Fischer, who is polling 13 points ahead in the Southside Jacksonville race, according to his internals.
Kravitz, who gave a strong performance, emphatically refuted the existence of the email, saying that it was a "lie" and that Fischer "gets an A-plus rating for deception."
Then Fischer produced the email for FloridaPolitics.com, sent purportedly from [email protected].
The lead sentence of the email laid out the challenge Kravitz believed he faced:
"Keep these and think about wording … Lets see if I can get the bucks BUT we have to do it anyway … We have to be on the offense and NOT LETB THEM DEFINE WHO WE ARE…." [sic]
Ironically, given that Kravitz spoke at some length during the debate about alleged "push polling" from the Fischer campaign — a method designed to influence voter reaction by framing candidates negatively ahead of the question — the email denoted the genesis of similar tactics.
Kravitz conceded "wording needs work by pollers," before laying out a series of assertions about Fischer that he framed as "facts."
The body of the email, in full:
Would your impression of Jason Fischer if you knew he printed misleading statements to voters suggesting that he was in the military and that he attended the Naval War College when he never was in the military.

Would you vote for Jason Fischer if you knew he posted on his website a misleading statement suggesting he was a member of the FBI TASK FORCE ON SECURITY.

Would you consider not voting for Jason Fischer if you knew that he violated the Florida Election Laws and tried to deceive elderly voters by sending them birthday cards with misleading information suggesting that he was the incumbent representative.

Would you consider not voting for Jason Fischer if you knew that the school board passed a COMMON CORE OBAMA FUNDED elementary school curriculum called ENGAGE NEW YORK which teaches ISLAM in our public schools because Jason Fischer sided with the Superintendent and failed to cast the deciding vote against it.
These statements lack backup. Or veracity. However, it's the oldest game in politics to throw poison memes out there and force an opponent to respond.
As Hunter S. Thompson observed in his "Fear and Loathing on the Campaign Trail 1972," President Lyndon Johnson, in a contentious early campaign, crystallized the approach.
The race was close and Johnson was getting worried. Finally he told his campaign manager to start a massive rumor campaign about his opponent's lifelong habit of enjoying carnal knowledge of his own barnyard sows.
"Christ, we can't get away with calling him a [expletive deleted] ," the campaign manager protested. "Nobody's going to believe a thing like that."
"I know," Johnson replied. "But let's make the [expletive deleted] deny it."
Indeed, as FloridaPolitics.com heard first hand, the Kravitz campaign has produced a robocall making points similar to those being workshopped in late March.
And Kravitz attempted to link Fischer, during Wednesday's debate, to the Duval County School Board's adoption of the EngageNY curriculum.
All of this is to say that there clearly are perceived advantages to going negative, especially for a candidate who is running behind and, at 74, probably is running his last major campaign.
Kravitz's approach boils down, in terms of these memes, to making Fischer deny them, knocking him off message and off course.
The question, of course, is one of whether House District 16 voters will respond favorably to what appears to be a concerted campaign of character assassination, launched by Kravitz, a candidate who has been losing the money race for months, and who appears to be trying the nuclear option against Fischer.