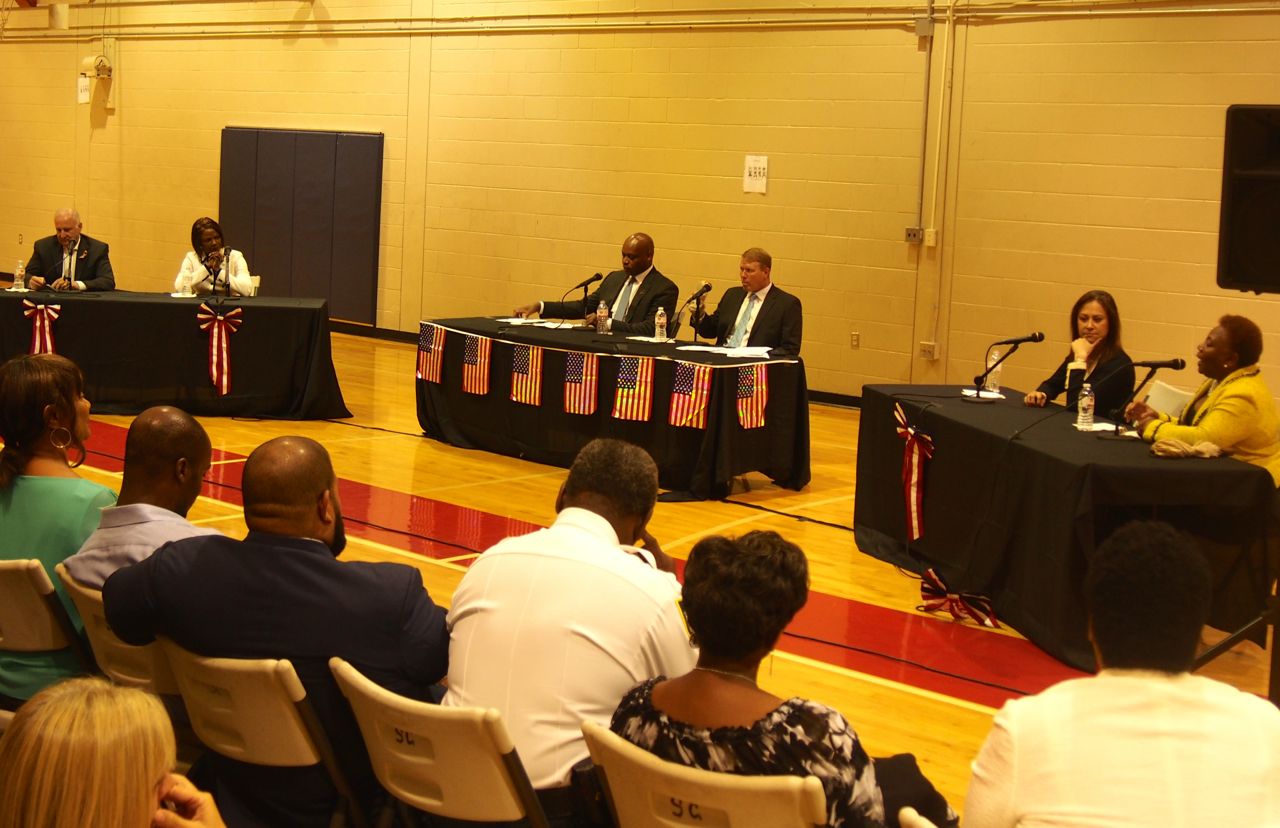 Four Democrats running for Congress in the Orlando-based 10th Congressional District shared plenty of outrage, yet disagreed on key points when pressed in a debate Thursday night about the two recent police shootings in Louisiana and Minnesota. (The deadly police shootings in Dallas occurred after the debate.)
Several questions about law enforcement, inspired by the fatal shootings the past two nights and the June 12 massacre at Orlando's popular gay nightclub Pulse, brought the most heat in a debate sponsored by the Orange County Democratic Executive Committee, and attended by a couple hundred people at the Dr. James R Smith Center in Orlando.
The questions should have played into the hands of presumed front-runner, Val Demings, considering she spent 27 years in the Orlando Police Department, retiring as police chief, and happens to be married to current Orange County Sheriff Jerry Demings.
Yet Demings' resume, including the line about being her being the presumed front-runner, put a target on her, and businessman Bob Poe, lawyer Fatima Rita Fahmy and state Sen. Geraldine Thompson fired away.
The three elicited strong applause with emphatic statements that in Congress they would support the Black Lives Matter movement, gun control, outside investigations of police shooting, banning of military police equipment in police departments, and "sending the right message," while Thompson made an impassioned appeal for more equitable policing.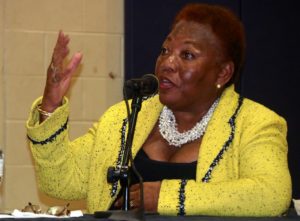 "Right now there is a difference in how communities are policed," Thompson said. "If you talk about wealthy individuals, you're talking about protection. If you're talking about a middle-class community, it's generally patrolling. But where you see policing, the hard-handed situations where people are stopped and questioned, and getting shot even though they are unarmed, that generally happens in minority and low-income communities."
She said nothing can change until policing is changed so officers involved in fatal shootings do not benefit from paid leaves, department-paid legal fees and lawsuit judgments, codes of silence and internal investigations "that never result in any kind of prosecution … we saw that culture here in Orlando, as well as nationwide."
That left Demings personally on the defensive, even as she could talk about her work to ease tensions and lower crime rates, emphasizing community policing and rigorous and regular training of officers, or to point out that she is the mother of three sons all at risk of potentially dangerous profiling incidents.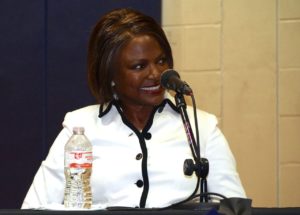 "I commend Fatima and Bob for at least saying that we do know the overwhelming majority of law enforcement officers are good, hard-working people who would risk their lives to protect the life of a stranger. When I became police chief … no one worked harder to hold men and women accountable. No one talked to officers more every day about getting out of their cars and build a rapport and relationships, and treating everybody — regardless if they were the suspect, the victim or the witness  — with dignity and respect," Demings said.
"When I look around this country, I'm not blind and I'm not deaf. We now we have some problems, whether from Ferguson to North Charleston, to Baltimore to Cleveland," Demings continued. "What can Congress do? Make sure all law enforcement officers receive sensitivity training, regardless of the size of their agency, so they can more effectively police diverse communities."
The debate also covered topics such as  the minimum wage, marijuana laws, banking reform, health care reform, veterans' benefits and taxes. The quartet generally agreed on most, all supporting hikes in the minimum wage, some form of legalized recreational use of marijuana, strengthening of the Affordable Care Act, Medicaid expansion, improvements to veterans' benefits, and increases in taxes for the wealthy — while none could or would name any taxes they would propose decreasing.
Poe took control of the minimum wage issue, one he's campaigning hard on, even paying his campaign staff a minimum of $15 an hour and challenging the others to do the same.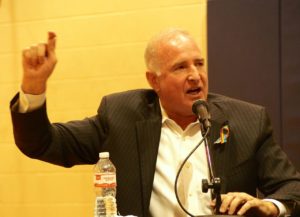 "I support the $15 minimum wage. I walk with our labor unions," said Poe, a self-made millionaire. "My opponents also say they support $15 an hour. I've asked them to walk the talk. They won't do it. They won't do it. Isn't that the kind of hypocrisy that people hate about politicians, telling McDonalds they need to pay $15 an hour but they won't do it themselves?"
Fox 35 News Political Reporter Mike Synan, one of two moderators along with Derek Bruce, a lawyer and lobbyist with Gunster, pressed Poe for a Plan B on increasing wages, considering that Republicans would never go for a $15 an hour minimum wage.
"There is no Plan B!" Poe declared with defiance. "Fifteen dollars an hour!"
Time and again Fahmy looked for opportunities to set herself apart from the others on issues. When Poe said he wanted a $15 an hour minimum wage, she said that's not enough in some parts of the country. When When Demings allied for banning assault weapons and high-capacity magazines, Fahmy called for a ban plus a federal voluntary buy-back to get existing ones out of circulation. When others talked about increasing tax rates on the wealthy, she added increasing taxes on the exportation of American jobs.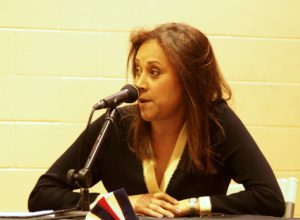 And when asked what to do for veterans, Fahmy replied, "We can start by ending these endless wars that we've been engaged in the last 15 years. We seem to be able to find the money to fund these wars, but we can't find the money to take care of our veterans? That's a disgrace! We need to reallocate our resources from defense spending — the United States spends more on defense than the next 10 countries combined. The next 10 happen to be our allies. Scale back the defense spending and invest that in our veterans who went overseas in good faith. We need to show the same good faith to them."