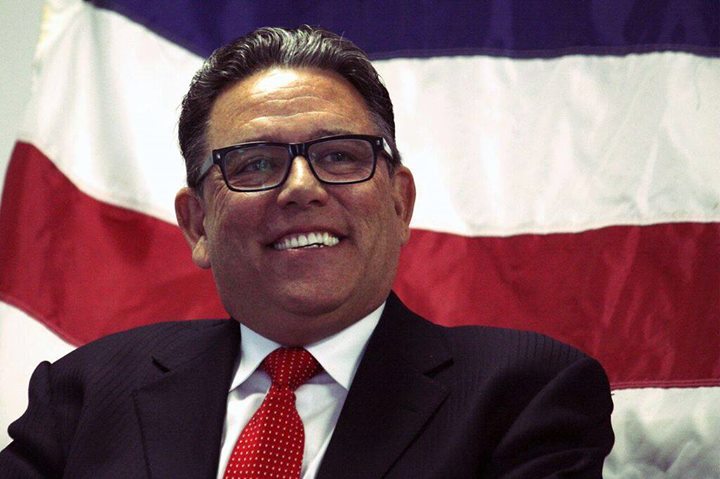 Florida's House District 70 is one of the most creatively designed districts in the state Legislature, encompassing parts of Sarasota, Manatee, Pinellas AND Hillsborough counties. With incumbent Darryl Rouson term-limited out later this year, four men are vying for the seat — Republican Cori Fournier, and Democrats Wengay Newton, Dan Florini and C.J. Czaia.
Czaia, a Palmetto-based attorney, says he can make a real difference if elected, and says he's the only person running in the race that knows the entire district that well.
"I've worked a long time empowering Latinos and African-Americans in Manatee and Sarasota counties. I've been in and out of Pinellas County since the late '70s, and I've also lived in Hillsborough County in the Ruskin area," he said Saturday night while attending the Pinellas County Democratic Party's "Prelude to Victory" dinner in Clearwater.
Among his achievements include founding the group UnidosNow.org, a 501(c)3 nonprofit designed to represent the integration needs of the region's Latino population. He's also worked with the Palmetto Youth Center and is a former chair of the Manatee County Democratic Party.
Czaia boasts of his work bringing blacks and Latinos together. "When I was on the CRA (Community Redevelopment Agency) of Palmetto, you'd go to the African-American side and the Latino side, and the ditches are smaller. There's no sidewalks. No lightning, no money has traditionally gone for the minority community, I will make that difference. I guarantee, I will bang the drum. I've been attacked, I can handle the heat. The judge is screaming at me, I don't care," he said, referring to his courtroom experience.
"You have to collaborate with people in power," he says when asked how he would work with Republicans to pass legislation, noting his friendship with Manatee County state Sen. Bill Galvano over the years.
"I think the other guys are just going to be same as usual," Czaia says about his opponents. "There's going to be a big difference in helping minorities coming forward, and we're going to really push to bring black and brown together to make difference in law enforcement, education and all of these really hot-button issues that are starting to bubble up but have always been there."
Florida's big cities have the lowest paying urban jobs in America, according to a recently released federal survey. Czaia says the problem that Florida has overall is that it's done "on the cheap."
"Republicans sell the sunshine," he says. "Low taxes, low wages, good sunshine. But that's cheap. Cheap will never bring anything to the state. We've gotten rid of intangible taxes. We're 46th in tax fairness. We've gotta figure out how to bring revenue in and reinvest in the areas that haven't been reinvested. If we're not going to raise the taxes, and we need to try if we're not going to do those things, then we have to aggressively raise the minimum wage."
He's pleased to see GOP legislators resist funding Gov. Rick Scott's request for Enterprise Florida earlier this year, calling that a "giveaway to corporations." Instead, he says, the state should create a program that empowers small and minority businesses.
He also says he'll work closely with the local governments in the district's four counties, saying to do otherwise is to leave people behind. "We all have a moral duty to all citizens. That's what government has to do. It's not cheap, and I think this (Scott administration) government has been a disaster."