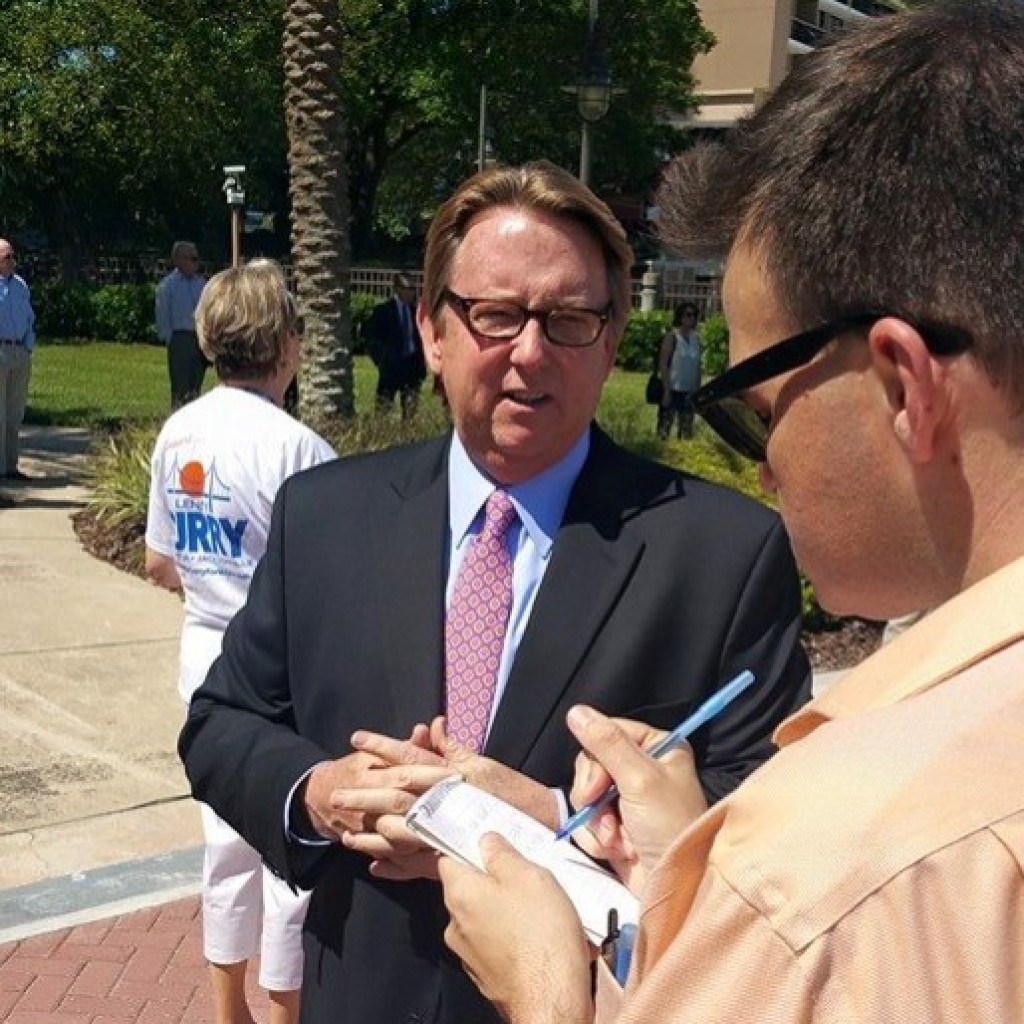 In a wide-ranging interview Monday, former Jacksonville Mayor John Delaney explained why he thinks Angela Corey is getting a bad rap, talked about the 4th Congressional District campaign, spoke about Corrine Brown and what the media's missing there, and opined on the pension-tax push.
And, as well, he left the door open to voting third-party in November, given the choices in the major parties.
****
Delaney has been politically active this election season, offering an endorsement at odds with much of the donor class.
That endorsement: Angela Corey for re-election as state attorney over Melissa Nelson.
Delaney, despite being in the non-political role of university president, has messaged for Corey as he did for Lenny Curry when he ran for mayor last year.
Among that messaging: a column in the Florida Times-Union in which he opined that "Angela Corey deserves credit, respect and praise for her work"
Delaney contends, in that guest column, that "a lot of people, including my dad, have asked me why I endorsed Angela Corey. There is a reason why Mayors John Peyton and Lenny Curry, Sheriffs John Rutherford and Mike Williams and the two other sheriffs in the judicial circuit endorsed her as well."
"We know Angela," said Delaney, "the chief assistant state attorney when she began her career."
For Delaney's money, Corey is "one of the best courtroom lawyers in town" and is being undermined by the Times-Union itself, a "house organ to defeat Angela Corey" with articles and columns that are too critical.
So why the gap between how public officials — past and present — regard Corey, and the regard in which media seems to hold her?
Part of it, believes Delaney, is perception.
"She does not view as part of her job explaining to the public [or the] newspaper," Delaney said, the rationale behind her decisions.
It is his hope that Corey will use her campaign to make that case to voters, though so far — if a poll from Delaney's own university is any indication — she is running 10 points down to Melissa Nelson less than two months before the primary.
"She's down 10 points to someone the public doesn't know," Delaney said of the two-term incumbent.
"The campaign is about defining yourself, defining your opponent. Neither have done either yet," Delaney said.
Delaney noted that the media, in fact, has defined Corey — with the press "beating up Corey for a campaign aide recruiting a write-in candidate" to close the primary.
Delaney contends Corey had no clue that was going down. And he also notes the irony that Corey would be polling better in an open primary, which he attributes to the connections Corey has built with African-American pastors over the years.
Delaney, meanwhile, demystifies some of the charges made via back channel regarding the separation of campaign operations and office operations.
"It's fairly common around an election to ask for resignations," Delaney said, and "it's not unusual for senior staff to contribute to a campaign."
The question, of course, is one of whether there was "pressure" and whether that pressure happened inside or outside the office.
So far, no on-record proof has been provided that pressure happened inside the office.
"You can't campaign from the [SAO] building," Delaney said, before wondering "why wasn't there more outrage eight years ago," when Jay Plotkin apparently did something similar.
Despite Delaney's belief that when it comes to campaign chicanery in state attorney races, there is nothing new under the sun, and despite his conviction the "Times-Union hasn't treated [Corey] fairly," Delaney believes Corey didn't properly mitigate such treatment.
"She's earned a lot of her problems," Delaney said, adding that "part of her job is to explain decisions … I would have a different management style," Delaney said.
****
The conversation then turned to the race in Florida's 4th Congressional District, one Delaney had briefly considered in the immediate wake of Ander Crenshaw deciding to stand down for re-election.
"I long ago wrote off Washington D.C.," Delaney said, the House especially.
Despite "emails and texts" urging him to jump in the race, his heart is in Neptune Beach.
"My two youngest are in college … I've got three grandkids five blocks away … all my kids are here … a niece and nephew we're helping to raise," Delaney said.
Regarding the race itself, Delaney called it a "horserace, more than we expected," alluding to the initial push for Rutherford that saw the entire Jacksonville political establishment line up behind him.
"The more people in the race, the better for Rutherford," said Delaney, who believes the race can be won with a vote total over 30 percent.
****
Another contested local House campaign is in Congressional District 5, where Corrine Brown faces an existential threat, some part of it posed by Al Lawson, and a not inconsiderable threat posed by 22 federal counts against her.
"If what they're saying happened," said Delaney, "it seems out of character with the Corrine I know."
And to Delaney, there is a tragedy beyond the fall of a politician at stake.
"We're losing both seats if the Congresswoman gets defeated or removed. Lawson's about Tallahassee."
And yet, word on the street is that there is copious video evidence backing up the indictment.
Delaney questioned the wisdom of using the One Door for Education fund to bankroll operations such as the indictment alleges.
"Some of the things she [allegedly] did could have been paid for by the campaign … where do you cross the line into the personal?"
Brown could allege, said Delaney, that there was "confusion" between her bank accounts.
One X-Factor, though: Von Alexander, the longtime Corrine Brown aide whom some say has "flipped" and is cooperating with prosecutors building a case against her former boss.
****
The tragedy, for Delaney, is a personal one.
"I know the good part of Corrine. Money didn't motivate her. Helping people did."
Delaney said that she was unfailingly helpful when he was mayor, providing all of her phone numbers.
"I've never not had Corrine return a call," Delaney said, adding that she would often call over and over again until she got hold of him.
Delaney had myriad stories of her generosity: supplying a plate of food for him during an office visit when he was mayor and gifting him a cellphone charger when his was lost; and, later on, when he had an eye issue when he was in D.C., Brown ensuring the Capitol Hill doctor treated him.
Her thoughts then were that it could have been something beyond the eye: high blood pressure, or even a stroke.
It was nothing like that. But her empathy stood out for Delaney as genuine.
"Human gestures go a long way," Delaney said.
****
The discussion then moved to the pension tax referendum.
"Free media coverage," said Delaney, "hasn't been helpful."
That coverage – from columnists like Ron Littlepage and news articles – has been more negative than positive.
In that context, the mixed poll numbers are actually above what he anticipated.
"When they really roll out the campaign," Delaney said of "Yes for Jacksonville" ads and mailers, "I think he's going to bring it home."
Delaney, who had his own Better Jacksonville Plan referendum (one which brought the half-cent sales tax to Jacksonville a decade and a half ago), says that effort may have been "lightning in a bottle," but like that effort, Curry has no serious opposition and no serious candidates on the ballot opposing it.
And to him, the pitch is simple.
"Whether the new tax [starts] tomorrow or in 14 years, actuaries take into account the new funding stream. If you had that coming in," Delaney said, "it eliminates the unfunded liability" as there is a dedicated revenue stream that "solves the problem" and "funds the unfunded liability."
****
The conversation then turned to the presidential election, which leaves an establishment Republican like Delaney without a place to go.
The "baseness and coarseness" of Trump's language, and unrealistic policy proposals like deporting 11 million illegal immigrants, don't match his approach to public policy.
"I was a Jeb guy," Delaney reminded this reporter.
On the other side, "the Clintons for 30 years have had grand juries" investigating them.
As a result of this choice, like Jeb, there is a distinct possibility Delaney could vote for the Gary Johnson/William Weld ticket in November, he said, though he didn't endorse or anything along those lines.