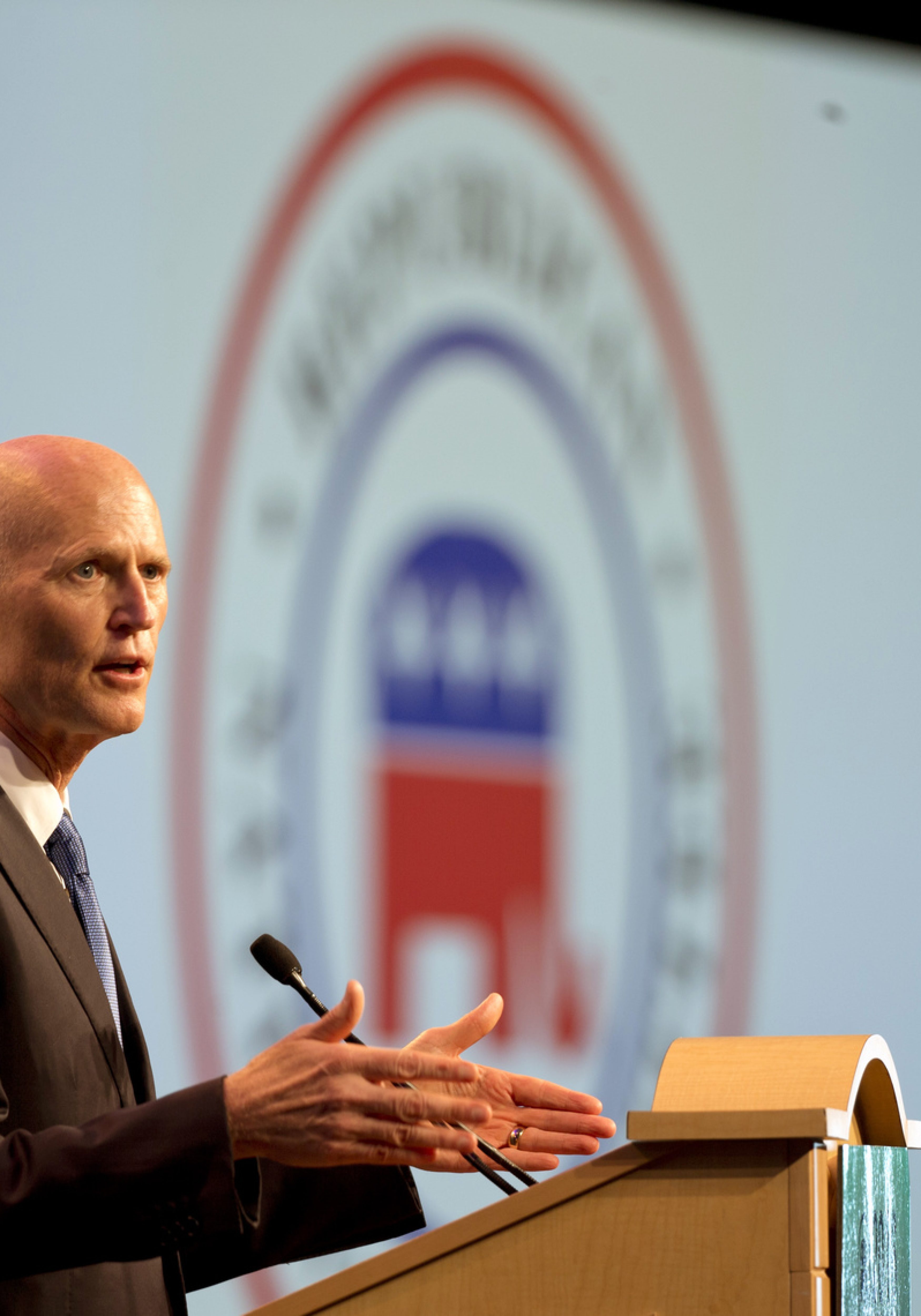 Gov. Rick Scott brushed off questions about whether Donald Trump would be able to secure the nomination next week, saying the New York Republican is the clear winner.
"He clearly won the delegates," said Scott during a stop in Naples Friday. "My goal is that we have a great convention, and we highlight where we're going as a country and a party, and we have a big win and change the direction of this country."
Scott is one of dozens of people slated to speak during the Republican National Convention next week. The Naples Republican praised Trump early in the primary cycle but did not endorse him until after Florida's March 15 primary. Since then, he has been a vocal supporter of the New York Republican and was often mentioned as a potential running mate.
Trump announced Friday he selected Indiana Gov. Mike Pence to be his running mate. During his stop in Naples, Scott told reporters he had made it clear to Trump he wasn't interested in the No. 2 spot.
"I've been clear all along," he said. "I have a great job, and I want to keep this job."
Scott said he is excited to go to the convention, noting he missed most of the 2012 Republican convention in Tampa because of a hurricane. Republicans cut the conference short by a day because of the storm threat. Scott also was scheduled to speak at that event.
"I'm going to talk about why we ought to elect Donald Trump," said Scott. "We need a business person. We need someone who is going to destroy ISIS. We need someone who is going to focus on jobs. And that's what he's going to do."
Florida Attorney General Pam Bondi also is scheduled to speak at the convention.
Floridians heading up to Cleveland for the event will have a jam-packed schedule, including breakfasts, tailgate parties and a reception.
The Republican Party of Florida released a rundown of events Friday morning. Delegates will be able to participate in a breakfast speaker series hosted by the state party and Speaker Designate Richard Corcoran. Speakers at the breakfasts include Frank Luntz, House Majority Leader Kevin McCarthy, Dick Morris, and former New York Mayor Rudy Giuliani.
Presidential hopeful Ben Carson is scheduled to attend a breakfast hosted by Agriculture Commissioner Adam Putnam.
"With Florida being front-and-center as the largest swing state, we are excited to welcome these great speakers to the conversation of Making Florida Red Again and Making America Great Again," said Blaise Ingoglia, chair of the Florida GOP and a state representative.