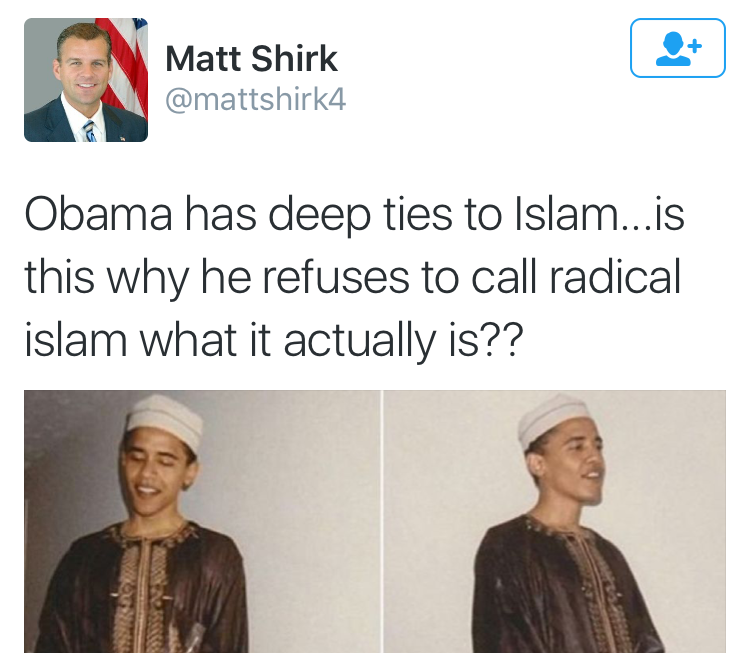 Earlier in July, 4th Circuit Public Defender Matt Shirk raised eyebrows with a tweet about President Barack Obama that many found inflammatory.
"Obama has deep ties to Islam," Shirk tweeted. "Is this why he refuses to call Radical Islam what it actually is??"
FloridaPolitics.com reached out to Shirk, and he doubled down on his position on Friday, in written responses.
"I completely and 100 percent agree with Bill O'Rielly's [sic] assessment of Barack Obama as having a deep 'emotional attachment to the Muslim world has hurt the USA,'" Shirk wrote.
"Barack Obama is comfortable with a certain level of violence. He is comfortable with a certain level of Americans dying at the hands of Islamic terrorists," Shirk added, saying he's "offended" by the recent incidents in Dallas, San Bernardino, Orlando, and Nice, France.
"What offends me is a president of the United States who spends more time playing golf than addressing the violence and mayhem in this country and around the world that is spiriling [sic] out of control," Shirk added, before comparing himself favorably to the commander in chief.
"As elected officials, both Barack Obama and I are duty bound to defend the Constitution of the United States and Obama's shredding of the Constitution is also what offends me … Barack Obama's complete abdication of his responsibility to defend Americans is literally deadly wrong," Shirk added.
When asked if the public defender's office had any Muslim clients, which may be relevant given his freewheeling tweets about Islam, Shirk pled ignorance.
"I have no idea if the Public Defenders Office currently has any Muslim clients, because I am constitutionally bound to ensure that justice is blind and that every one of our clients receives the excellent representation they deserve. Justice is blind and while Barack Obama refuses to do his constitutional duties I will always strive every day to live up to mine and honor the hallowed document our amazing founding fathers gifted to us," Shirk added.
Another difference between Obama and Shirk: fundraising prowess.
Whereas President Obama had little trouble raising enough money to win an election to the Senate and then two terms in the White House in a decade, Shirk is facing existential challenges in his re-election bid.
Shirk's Republican primary opponent, Charles Cofer, has $70,000 cash on hand as of July 8. Shirk, meanwhile, has just under $27,000 on hand.
In that context, Shirk's Obama-bashing may be seen as a strategy to serve red meat up to the base, which has little to do with the "excellent representation" offered by the two-term public defender, but which will likely resonate with the not inconsiderable swath of the GOP base that fervently believes President Obama is Muslim, either by profession or vague association.