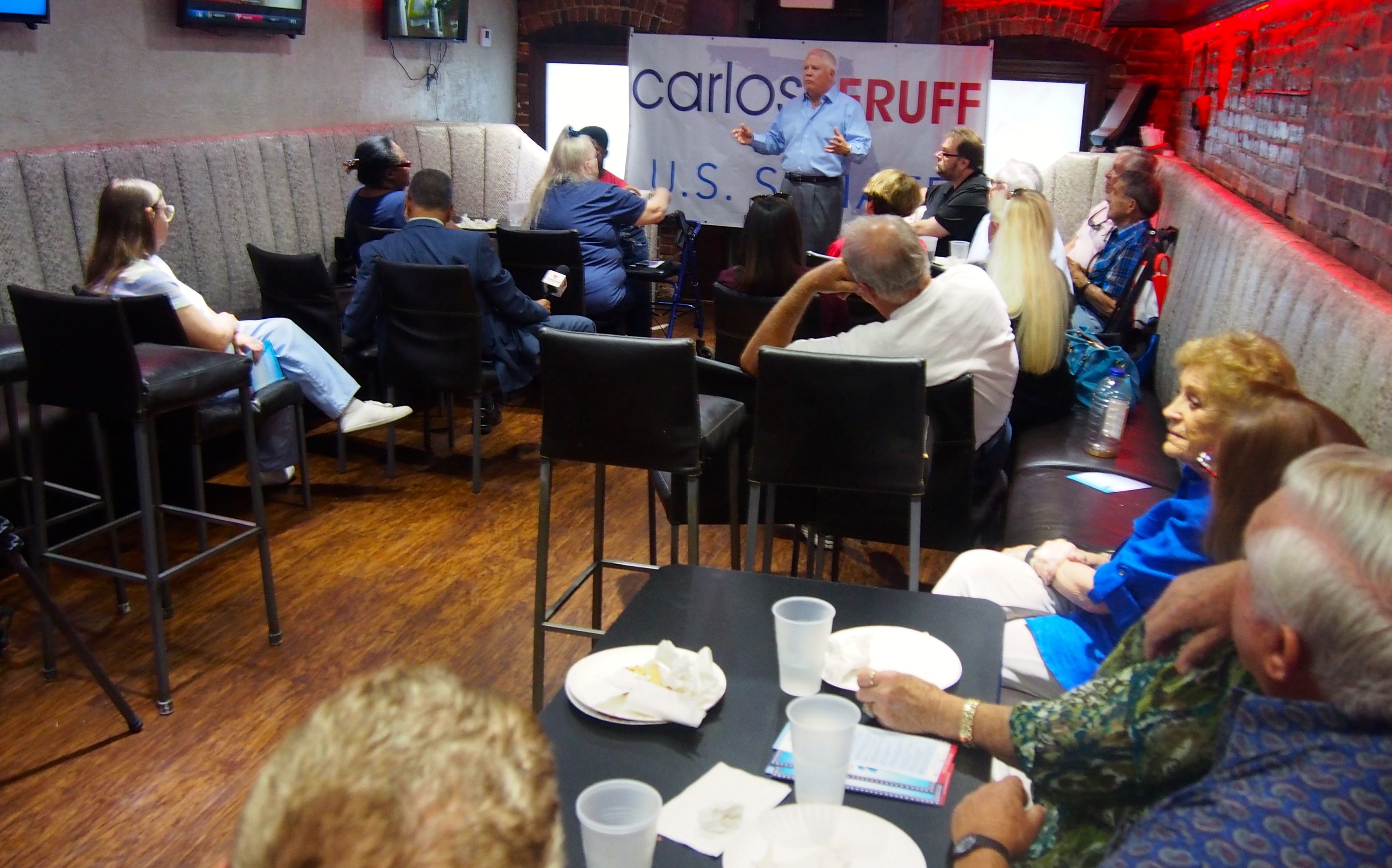 In a modestly housed and attended town hall meeting in Orlando, Republican U.S. Senate candidate Carlos Beruff made it clear he's still striving for that image identifying him as the outside warrior, Donald Trump/Rick Scott-style candidate.
Beruff, whose chances in the Aug. 30 Republican U.S. Senate primary plummeted when incumbent U.S. Sen. Marco Rubio filed late for re-election in late June, showed he has lost little of his "I'm-not-Washington" swagger, even as the appearance showed his campaign looking like it might have been in the opening days of a seven-month run, not in the closing weeks.
His town hall meeting was held in the backroom of a small, noisy downtown Orlando pizza parlor. It was attended by only 14 or 15 citizens, not including three or four local Republican officials and candidates who came to support or watch him. Almost all of the regular voters there were over 70. And many seethed the kind of anger common among Trump supporters, in this case, aimed almost equally at Democratic presidential candidate Hillary Clinton and Rubio, whom many blamed for having abandoned them and his conservative promises of 2010.
The 58-year-old homebuilder from Bradenton made it clear he felt their pain, as well as his own, after he saw Rubio jump in with millions of dollars and legions of party regulars.
"Me, I have to work to get people to come hear me," Beruff said. "I'm Carlos Nobody, right?"
He shouldn't be; not after hiring some of the smartest campaign team members in Florida, spending six months on the campaign trail, and spending hundreds of thousands of dollars — much of it his own money — on statewide television commercials and internet advertising linking to his campaign site.
But there he was, in a tiny venue five weeks out from the election, his voice sometimes competing with jovial diners just around the corner, and a waiter shouting, "Caesar salad? Who had the Caesar salad?"
Beruff's message was as straightforward and blunt as ever, with the new Rubio twist. Washington is broken. The Democrats are gambling away America's future. Gov. Rick Scott (whom he repeatedly cited as his friend and inspiration) and Trump have shown the way out. And he's a part of that way out, promising, among other things, putting a two-term limit on himself.
"Over the years what has happened is a lot of people have disappointed me. They come into my office. They want my support. They want my money. They get there, and now they worry about the next election and forget about what they said," he said.